Cambridge Cognition, a provider of cognitive assessment software for clinical trials, has secured several new contracts to support pharmaceutical clients with virtual clinical trials.
Free Case Study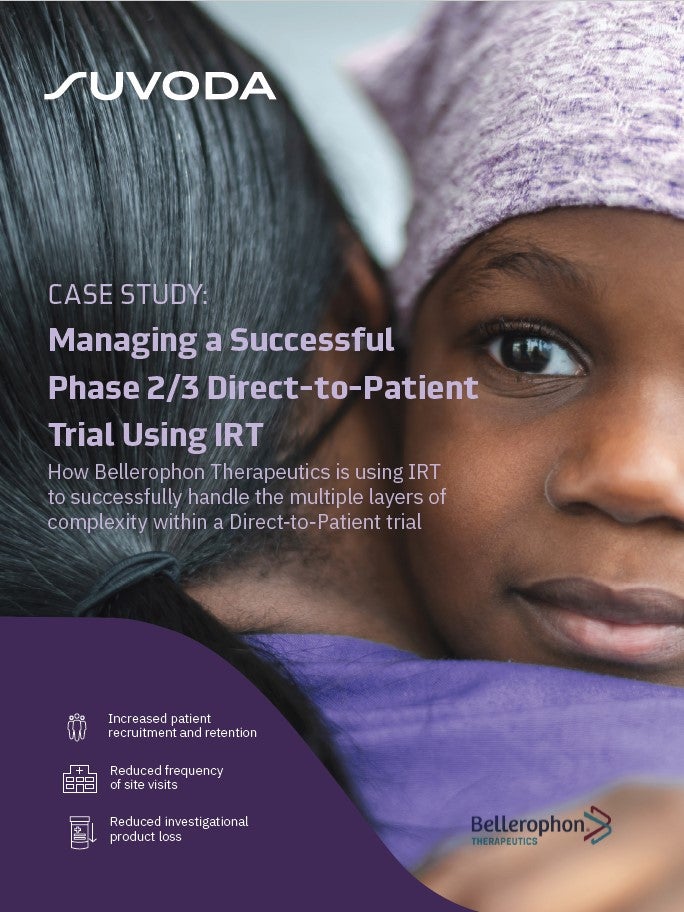 Direct-to-Patient Trials: How IRT Plays an Important Role in Bellerophon's Direct-to-Patient Trials
As the industry strengthens its focus on patient centricity, Direct-to-Patient clinical trials have emerged as a popular trial design that have the potential to increase patient recruitment and retention. IRT plays a crucial role in the success of a Direct-to-Patient trial. Because drug supplies are being managed and shipped from distribution facilities directly to patients' homes, a sponsor must have a high-quality system in place to accurately track the chain of custody, ensure patient-blinding and handle other logistical challenges. What You Will Learn Benefits and challenges associated with the Direct-to-Patient model Bellerophon's top considerations when implementing this trial design How IRT can equip study teams to successfully track chain of custody, ensure patient blinding, and handle logistical challenges
by Suvoda
The company has seen increased interest in virtual or part-virtual assessments since Covid-19-driven lockdowns began as part of efforts to limit the spread of the virus. Pharmaceutical firms started seeking options to continue trials outside of the clinic.
The company received two contracts collectively valued at £1m ($1.2m) to support pharmaceutical firms in delivering clinical trials virtually.
Since its Cloud-based platform launch in 2017, Cambridge Cognition delivered over 50,000 assessments online, supporting virtual clinical trials.
As part of these efforts, Cambridge Cognition has re-designed several ongoing trials for its customers so that they can continue the completion of virtual assessments in patients' homes rather than in clinics.
Cambridge Cognition CEO Matthew Stork said: "We are pleased to be able to offer virtual solutions for clinical trials to help drug development continue during this difficult time. There is a great interest being shown in moving to virtual trials and we expect this to be a fast growth segment of the market for years to come, even once the Covid-19 crisis has eased.
"During the pandemic, many businesses have learnt to adapt working practices. Virtual clinical trials have been considered for a long time, but the current crisis may be a catalyst towards change.
"The combination of our technological solutions for virtual trials, our regulatory compliant platforms, and experienced study management team have made us ideally placed to meet the evolving demands of the industry."
In July last year, Cambridge Cognition announced its second commercial partnership with a pharmaceutical company for its NeuroVocalix platform.
Free Case Study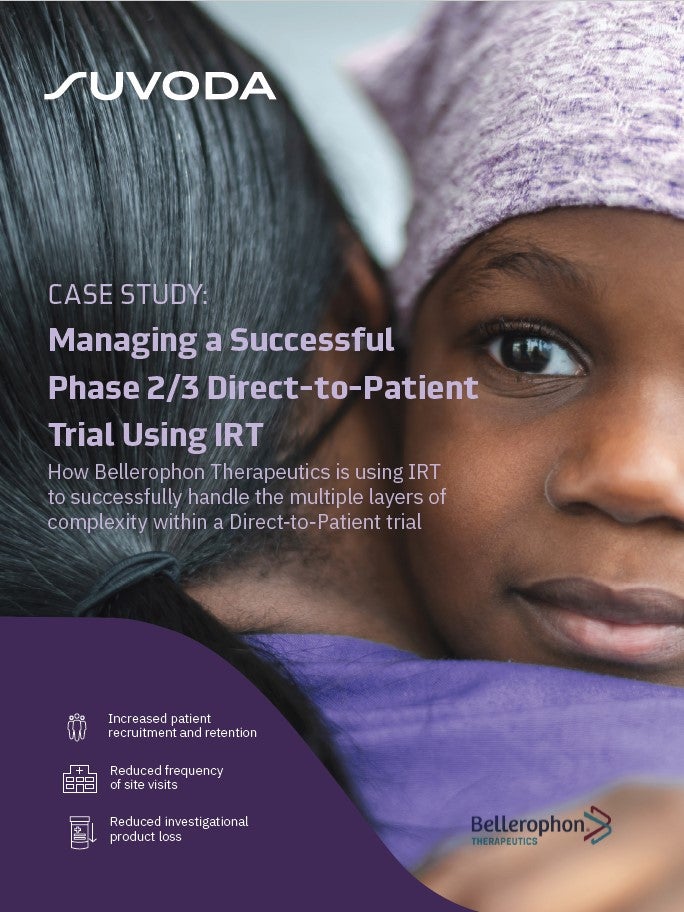 Direct-to-Patient Trials: How IRT Plays an Important Role in Bellerophon's Direct-to-Patient Trials
As the industry strengthens its focus on patient centricity, Direct-to-Patient clinical trials have emerged as a popular trial design that have the potential to increase patient recruitment and retention. IRT plays a crucial role in the success of a Direct-to-Patient trial. Because drug supplies are being managed and shipped from distribution facilities directly to patients' homes, a sponsor must have a high-quality system in place to accurately track the chain of custody, ensure patient-blinding and handle other logistical challenges. What You Will Learn Benefits and challenges associated with the Direct-to-Patient model Bellerophon's top considerations when implementing this trial design How IRT can equip study teams to successfully track chain of custody, ensure patient blinding, and handle logistical challenges
by Suvoda