Can-Fite BioPharma has enrolled the first patient in a Phase II study of its drug, Piclidenoson, to treat hospitalised patients with moderate to severe Covid-19.
Free Case Study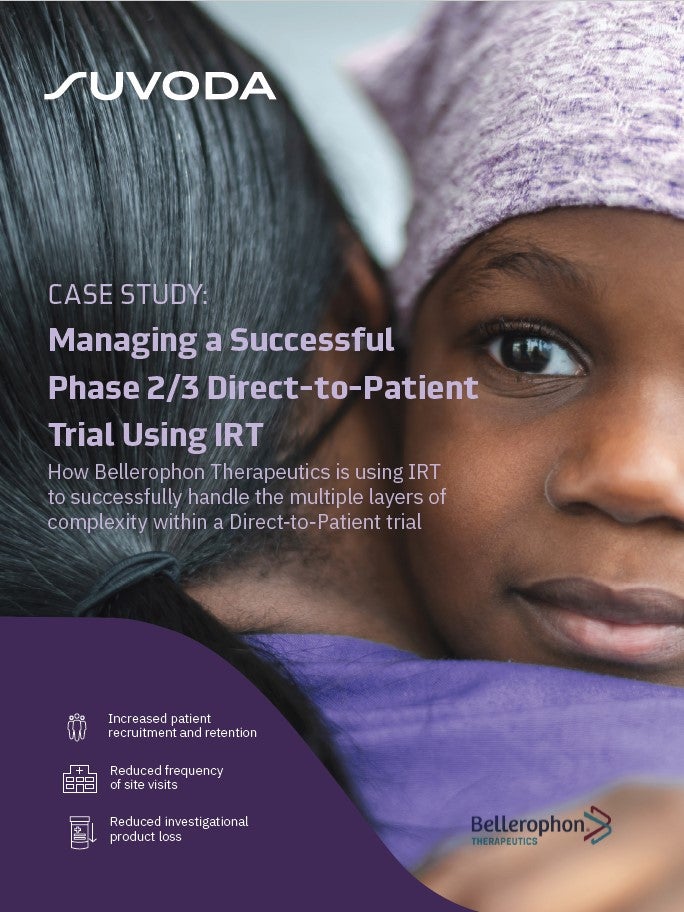 Direct-to-Patient Trials: How IRT Plays an Important Role in Bellerophon's Direct-to-Patient Trials
As the industry strengthens its focus on patient centricity, Direct-to-Patient clinical trials have emerged as a popular trial design that have the potential to increase patient recruitment and retention. IRT plays a crucial role in the success of a Direct-to-Patient trial. Because drug supplies are being managed and shipped from distribution facilities directly to patients' homes, a sponsor must have a high-quality system in place to accurately track the chain of custody, ensure patient-blinding and handle other logistical challenges. What You Will Learn Benefits and challenges associated with the Direct-to-Patient model Bellerophon's top considerations when implementing this trial design How IRT can equip study teams to successfully track chain of custody, ensure patient blinding, and handle logistical challenges
by Suvoda
A novel, first-in-class, A3 adenosine receptor agonist (A3AR) small molecule, orally bioavailable drug, Piclidenoson has a favourable therapeutic index as shown in Phase II clinical studies.
The randomised, double-blind, placebo-controlled study will enrol 40 patients.
It will analyse the benefits of Piclidenoson along with standard supportive care (SSC) as compared with placebo, plus SSC in hospitalised Covid-19 patients with moderate to severe disease, as defined by the US National Institutes of Health Coronavirus Disease 2019 (COVID-19) Treatment Guidelines.
Subjects in the study will be randomised in a 1:1 ratio to receive a twice-daily 2mg dose of Piclidenoson or placebo for up to 28 days.
Efficacy will be evaluated using standard measures of clinical and respiratory status at day 29, including the proportion of patients alive and free of respiratory failure and the proportion discharged without requiring supplemental oxygen.
Safety and pharmacokinetic data will also be assessed.
Can-Fite CEO Dr Pnina Fishman said: "We are eager to test the potential benefits of Piclidenoson added to the current standard of care for patients hospitalised with moderate to severe Covid-19.
"The treatment modalities for Covid-19 continue to evolve as the medical community learns more about the disease.
"Piclidenoson's proven anti-inflammatory effects combined with its excellent safety profile may improve outcomes and we look forward to seeing its impact following 28 days of treatment."
At present, Piclidenoson is being analysed in a multinational Phase III study for treating moderate to severe psoriasis as well as a Phase II US study to treat moderate to severe Covid-19.
Can-Fite noted that the robust anti-inflammatory effect of the drug could aid in potentially treating Covid-19 and its mutations as it can treat disease manifestations.
Free Case Study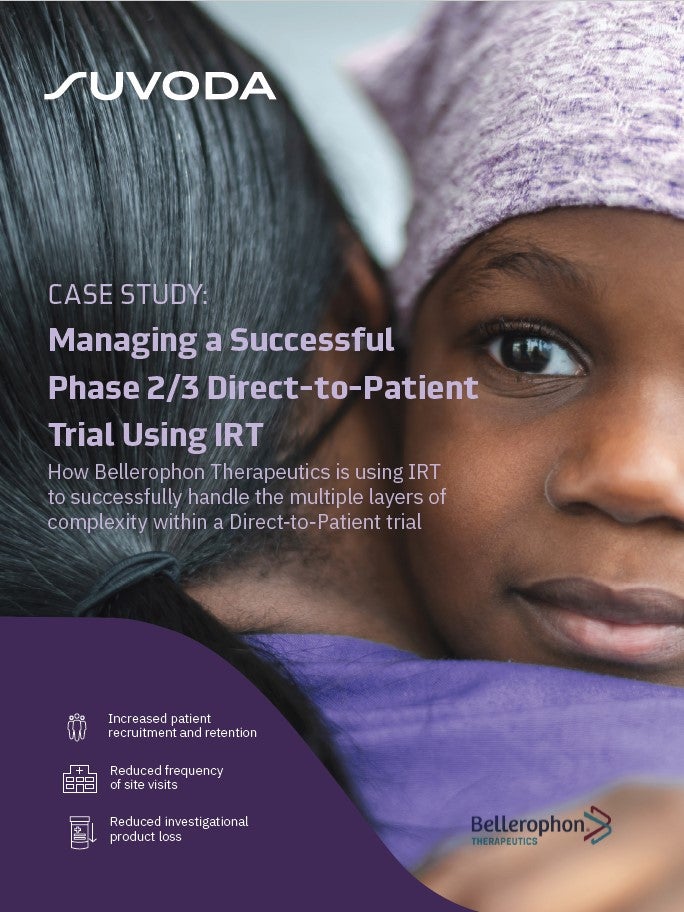 Direct-to-Patient Trials: How IRT Plays an Important Role in Bellerophon's Direct-to-Patient Trials
As the industry strengthens its focus on patient centricity, Direct-to-Patient clinical trials have emerged as a popular trial design that have the potential to increase patient recruitment and retention. IRT plays a crucial role in the success of a Direct-to-Patient trial. Because drug supplies are being managed and shipped from distribution facilities directly to patients' homes, a sponsor must have a high-quality system in place to accurately track the chain of custody, ensure patient-blinding and handle other logistical challenges. What You Will Learn Benefits and challenges associated with the Direct-to-Patient model Bellerophon's top considerations when implementing this trial design How IRT can equip study teams to successfully track chain of custody, ensure patient blinding, and handle logistical challenges
by Suvoda