The Canadian Center for Vaccinology (CCfV) at Dalhousie University has received approval from Health Canada to conduct the country's first clinical trials of a potential Covid-19 vaccine.
Free Case Study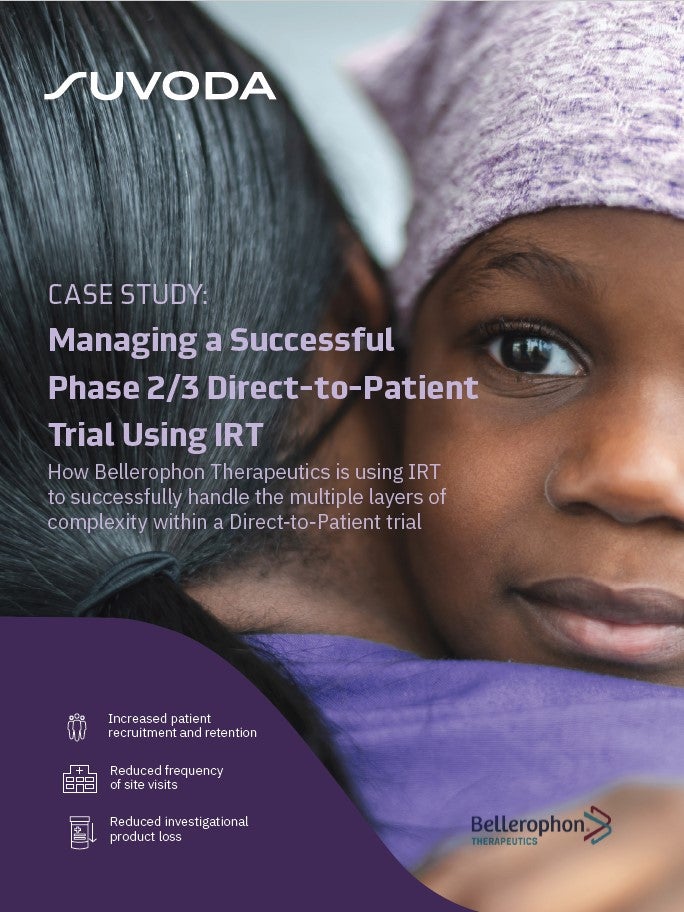 Direct-to-Patient Trials: How IRT Plays an Important Role in Bellerophon's Direct-to-Patient Trials
As the industry strengthens its focus on patient centricity, Direct-to-Patient clinical trials have emerged as a popular trial design that have the potential to increase patient recruitment and retention. IRT plays a crucial role in the success of a Direct-to-Patient trial. Because drug supplies are being managed and shipped from distribution facilities directly to patients' homes, a sponsor must have a high-quality system in place to accurately track the chain of custody, ensure patient-blinding and handle other logistical challenges. What You Will Learn Benefits and challenges associated with the Direct-to-Patient model Bellerophon's top considerations when implementing this trial design How IRT can equip study teams to successfully track chain of custody, ensure patient blinding, and handle logistical challenges
by Suvoda
Prime Minister Justin Trudeau announced the approval at a press conference held on 16 May. Trudeau noted that the National Research Council will collaborate with the manufacturers for production and distribution of the vaccine, if the trials are successful.
The Covid-19 vaccine candidate has been developed by Chinese company CanSino Biologics. A CCfV team of 45 people is working with the company, reported Canada's public broadcaster CBC.
Named Ad5-nCoV, the vaccine strain uses another virus that has been altered to not infect humans. It expresses a Covid-19 antigen on its surface called the 'spike protein', according to CCfV director Scott Halperin.
Pending ethics board approval, the Canadian trials, which will be based on studies already underway in China, are expected to be commenced in the coming two weeks.
The Phase I of the trials is set to enrol approximately 100 healthy participants aged about 18 to 55 years. Based on early safety data, the trial will later recruit subjects aged 65 years and above.
In Phase II, 500 additional participants aged 18 to 85 years will be enrolled. Participants will be followed for six months following immunisation, with the total study duration being six to eight months.
After a participant is given the vaccine, the CCfV team will analyse their blood, perform physical examinations and track other signs and symptoms such as immune response. Participants will also be required to maintain a diary of any symptoms.
If Phase II is successful, the team plans to advance into Phase III trials, which will assess the ability of the vaccine to protect from Covid-19, if exposed to the virus.
CCfV is set to conduct the Phase I alone and various centres will join for Phase II via the Canadian Immunization Research Network (CIRN).
More COvid-19 vaccine candidates are expected to enter clinical trials in Canada in the next few weeks.
Free Case Study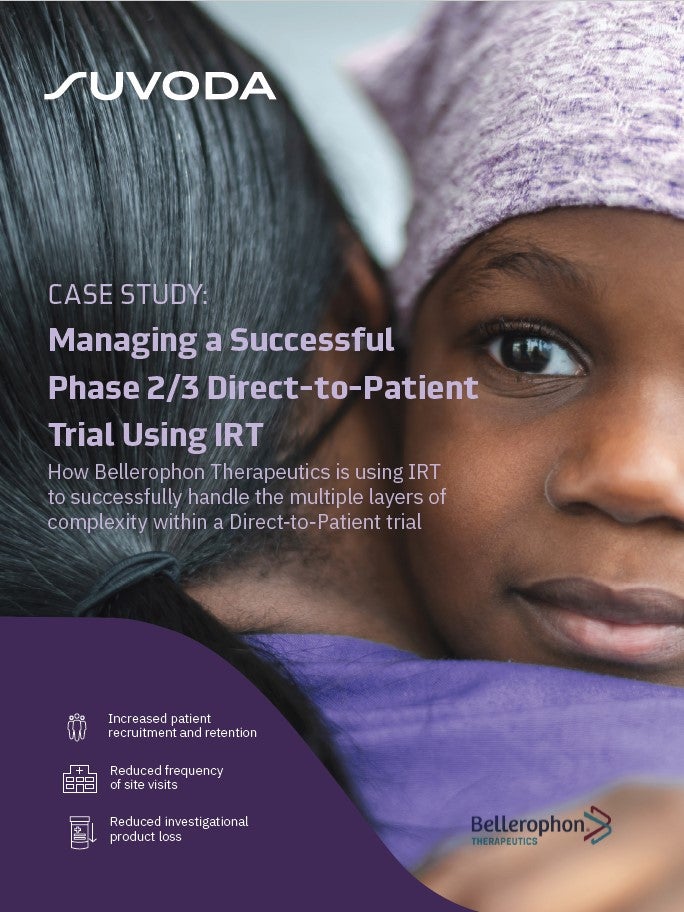 Direct-to-Patient Trials: How IRT Plays an Important Role in Bellerophon's Direct-to-Patient Trials
As the industry strengthens its focus on patient centricity, Direct-to-Patient clinical trials have emerged as a popular trial design that have the potential to increase patient recruitment and retention. IRT plays a crucial role in the success of a Direct-to-Patient trial. Because drug supplies are being managed and shipped from distribution facilities directly to patients' homes, a sponsor must have a high-quality system in place to accurately track the chain of custody, ensure patient-blinding and handle other logistical challenges. What You Will Learn Benefits and challenges associated with the Direct-to-Patient model Bellerophon's top considerations when implementing this trial design How IRT can equip study teams to successfully track chain of custody, ensure patient blinding, and handle logistical challenges
by Suvoda