A new Phase II clinical trial will be conducted to assess cannabidiol (CBD) for the treatment of hallucinations and delusions associated with Parkinson's disease.
Free Case Study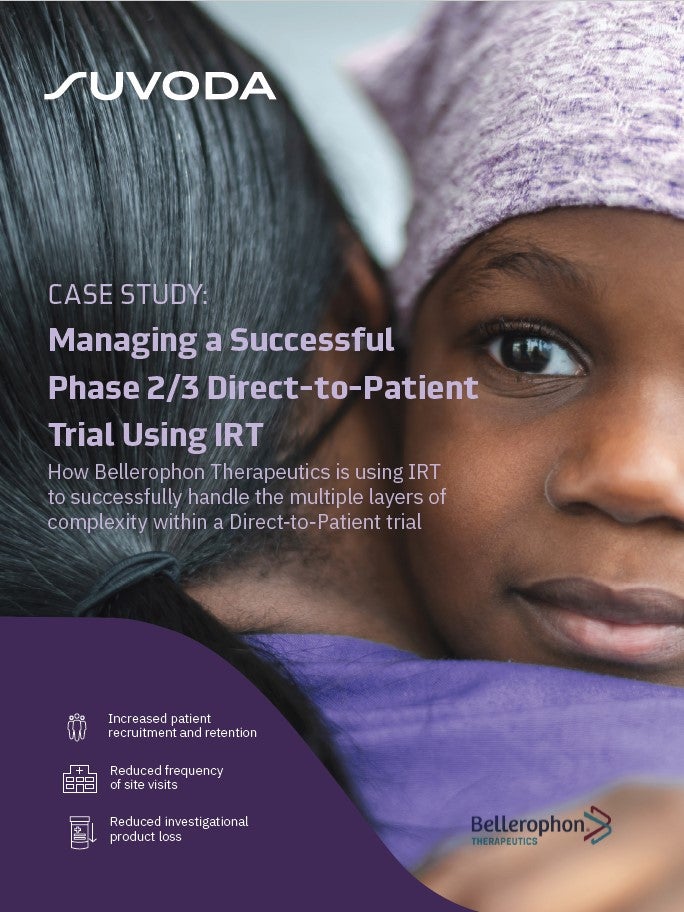 Direct-to-Patient Trials: How IRT Plays an Important Role in Bellerophon's Direct-to-Patient Trials
As the industry strengthens its focus on patient centricity, Direct-to-Patient clinical trials have emerged as a popular trial design that have the potential to increase patient recruitment and retention. IRT plays a crucial role in the success of a Direct-to-Patient trial. Because drug supplies are being managed and shipped from distribution facilities directly to patients' homes, a sponsor must have a high-quality system in place to accurately track the chain of custody, ensure patient-blinding and handle other logistical challenges. What You Will Learn Benefits and challenges associated with the Direct-to-Patient model Bellerophon's top considerations when implementing this trial design How IRT can equip study teams to successfully track chain of custody, ensure patient blinding, and handle logistical challenges
by Suvoda
The trial will be conducted by King's College London in alliance with charity Parkinson's UK, which has committed £1.2m to support the study.
The CBD compound found in the cannabis plant is said to be non-addictive. It is being tested as a potential treatment for patients with epilepsy and multiple sclerosis.
The latest trial will assess the use of the compound in treating psychosis in Parkinson's patients.
Currently, 145,000 people in the UK are affected by this nervous system disorder. Nearly 60% of these patients will experience psychosis, including hallucinations and delusions.
The Phase II trial is intended to gather preliminary evidence of the potential CBD benefits to alleviate psychosis symptoms. It will initially include a six-week pilot to determine the optimum dose of oral CBD capsules.
In the pilot, participants will receive doses of up to 1,000 mg/day. The subsequent stage will be performed as a double-blind, placebo-controlled study over 12 weeks in 120 patients suffering from Parkinson's-related psychosis.
Parkinson's UK research director Dr Arthur Roach said: "There are many unanswered questions about the value of CBD for people with Parkinson's, but this trial will help us to determine whether it can help with the debilitating symptoms of hallucinations and delusions.
"If successful, this trial could result in people with Parkinson's being able to access a regulated medicine, rather than reverting to expensive unregulated supplements that haven't been monitored for their effectiveness."
The Phase II trial is set to be conducted next year at sites in the south of England. It falls under Parkinson's UK drug development arm Virtual Biotech.
Free Case Study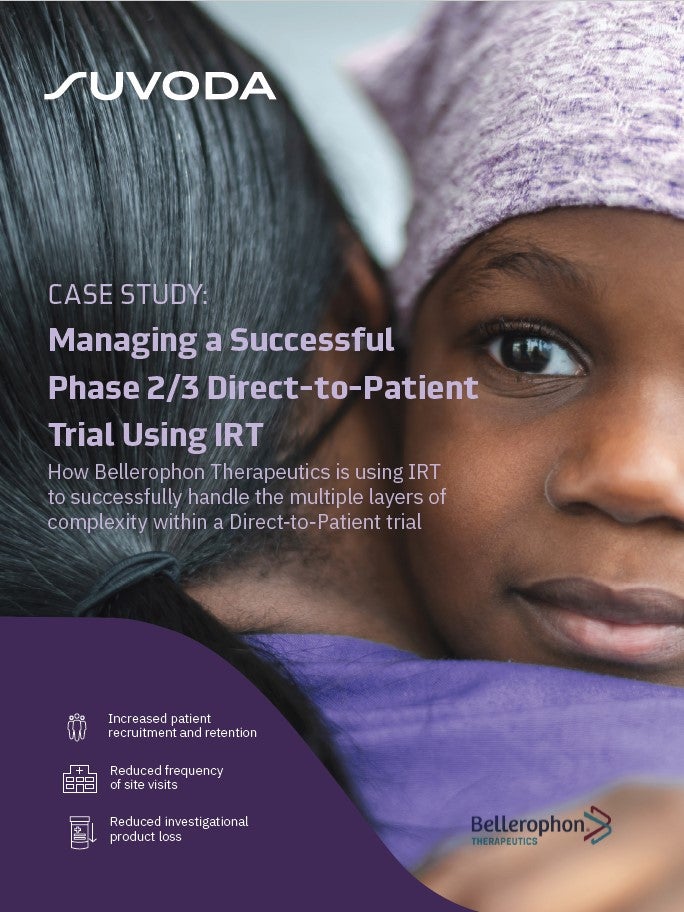 Direct-to-Patient Trials: How IRT Plays an Important Role in Bellerophon's Direct-to-Patient Trials
As the industry strengthens its focus on patient centricity, Direct-to-Patient clinical trials have emerged as a popular trial design that have the potential to increase patient recruitment and retention. IRT plays a crucial role in the success of a Direct-to-Patient trial. Because drug supplies are being managed and shipped from distribution facilities directly to patients' homes, a sponsor must have a high-quality system in place to accurately track the chain of custody, ensure patient-blinding and handle other logistical challenges. What You Will Learn Benefits and challenges associated with the Direct-to-Patient model Bellerophon's top considerations when implementing this trial design How IRT can equip study teams to successfully track chain of custody, ensure patient blinding, and handle logistical challenges
by Suvoda