CanSino Biologics (CanSinoBIO) has reported that its recombinant Covid-19 vaccine, Convidecia, demonstrated 96% efficacy in averting severe disease in Phase III clinical trial.
Free Case Study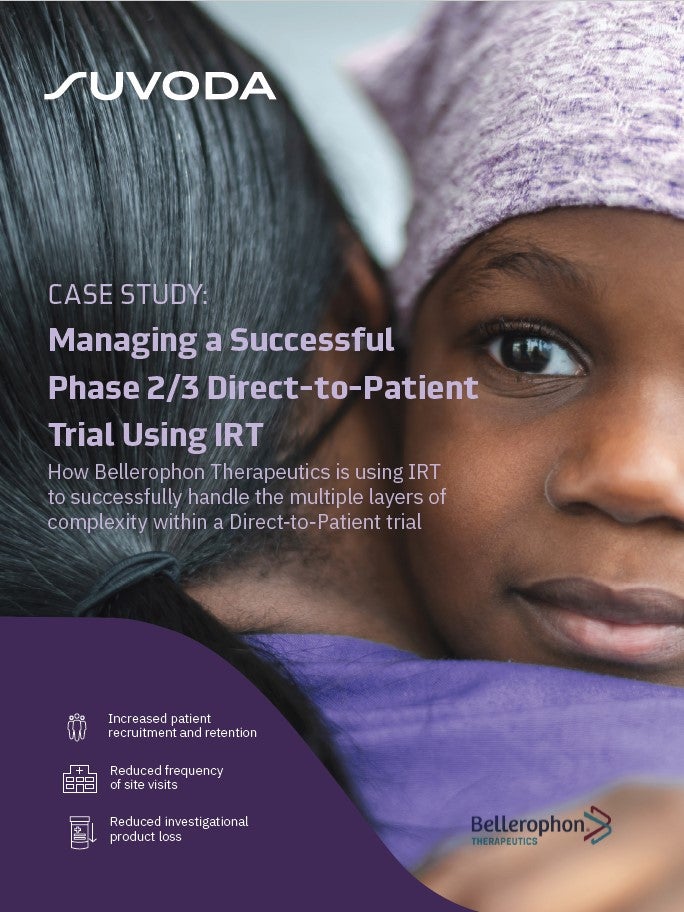 Direct-to-Patient Trials: How IRT Plays an Important Role in Bellerophon's Direct-to-Patient Trials
As the industry strengthens its focus on patient centricity, Direct-to-Patient clinical trials have emerged as a popular trial design that have the potential to increase patient recruitment and retention. IRT plays a crucial role in the success of a Direct-to-Patient trial. Because drug supplies are being managed and shipped from distribution facilities directly to patients' homes, a sponsor must have a high-quality system in place to accurately track the chain of custody, ensure patient-blinding and handle other logistical challenges. What You Will Learn Benefits and challenges associated with the Direct-to-Patient model Bellerophon's top considerations when implementing this trial design How IRT can equip study teams to successfully track chain of custody, ensure patient blinding, and handle logistical challenges
by Suvoda
The international, randomised, double-blind, multicentre and placebo-controlled trial enrolled 45,000 adult subjects aged 18 years and above in Argentina, Chile, Mexico, Pakistan and Russia.
Findings showed that one dose of the Adenovirus Type 5 Vector-based vaccine was efficacious and safe.
In addition, the vaccine was found to have 63.7% overall efficacy 14 days following inoculation in subjects, with no vaccine-associated serious side effects observed in the trial.
The trial also met all the primary efficacy goals with an overall efficacy rate of 57.5% 28 days after inoculation and an efficacy rate of 91.7% against severe disease.
The data met the efficacy rate needs of the World Health Organization for Covid-19 shots. Additionally, the study established the safety of Convidecia vaccine for a wide range of age groups above 18 years, including people aged over 60 years.
CanSinoBIO chairman and CEO Dr Xuefeng YU said: "This represents another milestone and provides further evidence of the strong protection provided by our single-dose vaccine, which is now approved in at least ten markets across multiple continents.
"CanSinoBIO remains committed to our mission of providing affordable, timely and mass immune protection to the global population, and will continue to collaborate with partners in the public and private sectors to improve vaccine access and have more people benefit from our technology breakthroughs."
In another trial, a booster shot of Convidecia in previously vaccinated people offered a nearly 78-fold rise in neutralising antibody levels 14 days after inoculation.
Furthermore, homologous boosting with Convidecia six months following prime vaccination could lead to a seven-fold rise in the levels of neutralising antibodies, the company stated.
Earlier this month, the company entered a development and commercial supply partnership with Ireland-based firm Aerogen for the inhaled formulation of Convidecia.
Free Case Study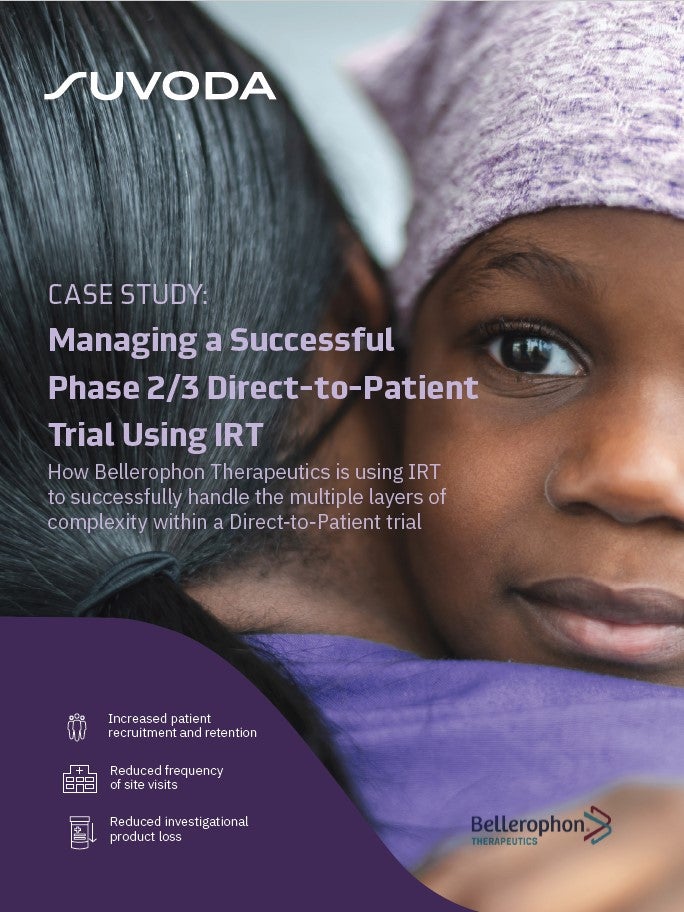 Direct-to-Patient Trials: How IRT Plays an Important Role in Bellerophon's Direct-to-Patient Trials
As the industry strengthens its focus on patient centricity, Direct-to-Patient clinical trials have emerged as a popular trial design that have the potential to increase patient recruitment and retention. IRT plays a crucial role in the success of a Direct-to-Patient trial. Because drug supplies are being managed and shipped from distribution facilities directly to patients' homes, a sponsor must have a high-quality system in place to accurately track the chain of custody, ensure patient-blinding and handle other logistical challenges. What You Will Learn Benefits and challenges associated with the Direct-to-Patient model Bellerophon's top considerations when implementing this trial design How IRT can equip study teams to successfully track chain of custody, ensure patient blinding, and handle logistical challenges
by Suvoda