Chemomab has enrolled the first patient in a Phase IIa SPRING clinical trial of its lead clinical candidate, CM-101, for treating patients with primary sclerosing cholangitis (PSC).
Free Case Study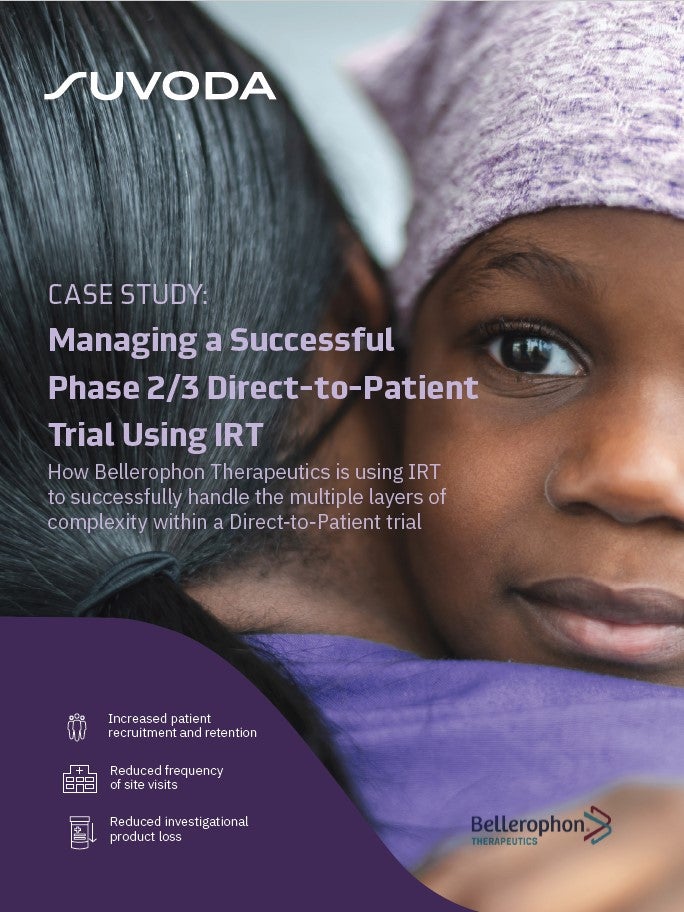 Direct-to-Patient Trials: How IRT Plays an Important Role in Bellerophon's Direct-to-Patient Trials
As the industry strengthens its focus on patient centricity, Direct-to-Patient clinical trials have emerged as a popular trial design that have the potential to increase patient recruitment and retention. IRT plays a crucial role in the success of a Direct-to-Patient trial. Because drug supplies are being managed and shipped from distribution facilities directly to patients' homes, a sponsor must have a high-quality system in place to accurately track the chain of custody, ensure patient-blinding and handle other logistical challenges. What You Will Learn Benefits and challenges associated with the Direct-to-Patient model Bellerophon's top considerations when implementing this trial design How IRT can equip study teams to successfully track chain of custody, ensure patient blinding, and handle logistical challenges
by Suvoda
CM-101 is a monoclonal antibody targeting CCL24, a novel and differentiated fibrotic target.
In animal models of PSC and additional fibrosis related indications, the clinical candidate demonstrates amelioration of fibrosis and inflammation.
The multi-centre, double-blind, placebo-controlled study will analyse the safety and efficacy profile of CM-101 in adult participants with PSC over 15 weeks of treatment.
Being carried out at multiple leading sites in the UK and Israel, the study will enrol up to 45 patients, who will be randomised into 2:1 ratio to receive CM-101 or placebo.
Chemomab CEO and CSO Adi Mor said: "Pre-clinical animal data, as well as liver and serum samples from PSC patients, showed that inhibition of CCL24 by CM-101 interferes with the underlying biology of PSC using a novel and differentiated mechanism of action.
"We are proud to collaborate with prominent clinical sites such as the Royal Free Hospital in London to establish proof-of-concept for CM-101's activity for the treatment of PSC, which will then support the design of our future clinical studies for registration."
In Phase Ia and Ib clinical studies in healthy volunteers and non-alcoholic fatty liver disease (NAFLD) patients, CM-101 was demonstrated to be safe and well-tolerated.
The company noted that a second Phase II study in SSc is planned this year.
University College London, Institute for Liver & Digestive Health Hepatology professor and study principal investigator Dr Douglas Thorburn said: "Pre-clinical studies indicate that the chemokine CCL24 plays a central role in the pathogenesis of PSC.
"We look forward to explore the therapeutic effect of CM-101 as treatment for PSC in this Phase IIa study and we hope to provide effective novel treatment to benefit PSC patients and their families."
Free Case Study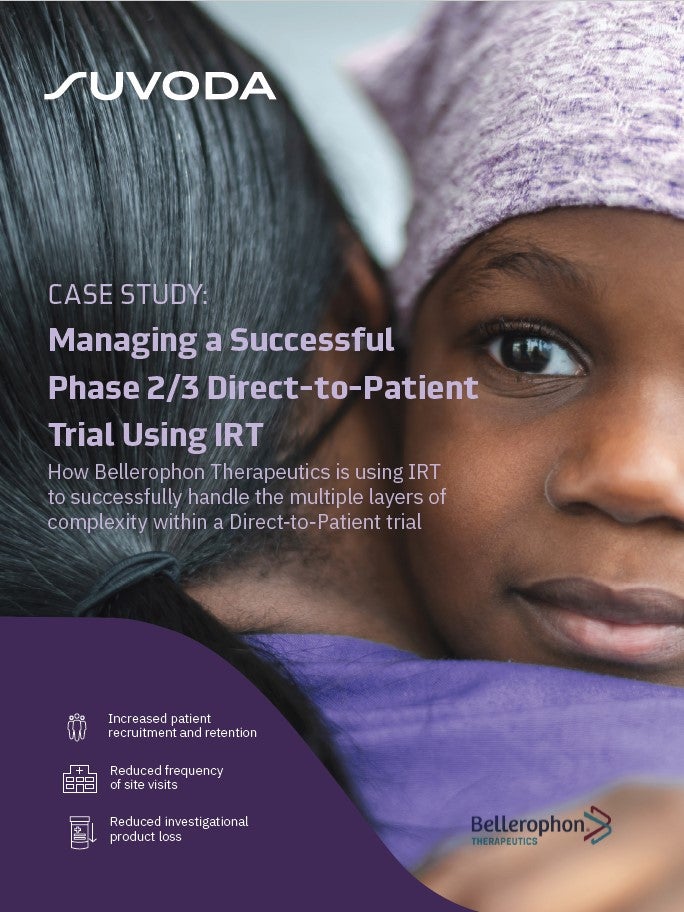 Direct-to-Patient Trials: How IRT Plays an Important Role in Bellerophon's Direct-to-Patient Trials
As the industry strengthens its focus on patient centricity, Direct-to-Patient clinical trials have emerged as a popular trial design that have the potential to increase patient recruitment and retention. IRT plays a crucial role in the success of a Direct-to-Patient trial. Because drug supplies are being managed and shipped from distribution facilities directly to patients' homes, a sponsor must have a high-quality system in place to accurately track the chain of custody, ensure patient-blinding and handle other logistical challenges. What You Will Learn Benefits and challenges associated with the Direct-to-Patient model Bellerophon's top considerations when implementing this trial design How IRT can equip study teams to successfully track chain of custody, ensure patient blinding, and handle logistical challenges
by Suvoda