Cidara Therapeutics has begun the Phase lll ReSTORE trial by activating the first site of the study that seeks to investigate the efficacy and safety of rezafungin for the treatment of candidemia and invasive candidiasis.
Free Case Study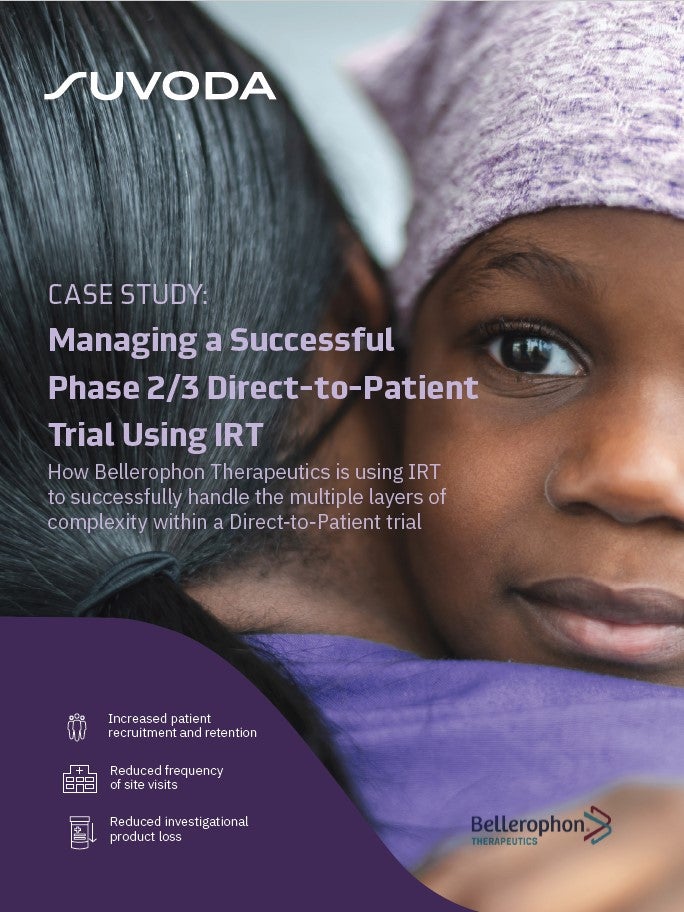 Direct-to-Patient Trials: How IRT Plays an Important Role in Bellerophon's Direct-to-Patient Trials
As the industry strengthens its focus on patient centricity, Direct-to-Patient clinical trials have emerged as a popular trial design that have the potential to increase patient recruitment and retention. IRT plays a crucial role in the success of a Direct-to-Patient trial. Because drug supplies are being managed and shipped from distribution facilities directly to patients' homes, a sponsor must have a high-quality system in place to accurately track the chain of custody, ensure patient-blinding and handle other logistical challenges. What You Will Learn Benefits and challenges associated with the Direct-to-Patient model Bellerophon's top considerations when implementing this trial design How IRT can equip study teams to successfully track chain of custody, ensure patient blinding, and handle logistical challenges
by Suvoda
The global, randomised, double-blind, controlled pivotal trial is expected to evaluate once-weekly intravenous dosing of rezafungin in comparison with once-daily dosing of caspofungin in the enrolled patients.
Around 184 patients with modified intent-to-treat (mITT) are expected to be enrolled in the trial, which is set to be performed at around 100 clinical trial centres across the US, Europe, Asia and Australia.
The trial will study one rezafungin dosing regimen of 400mg for the first week of the trial, followed by 200mg of rezafungin once weekly for a total of up to four weeks.
During the trial, the patients will be randomised in a ratio of 1:1 to receive the study drugs.
"Given the compelling data from our Phase ll programme, we are very pleased to initiate our global Phase lll programme of rezafungin."
The trial's primary efficacy goal for the US Food and Drug Administration (FDA) New Drug Application submission is all-cause mortality at day 30, while the same goal for the European Medicines Agency (EMA) is global response at day 14.
Topline data from the ReSTORE trial is expected to generate in 2020.
Cidara Therapeutics president and CEO Jeffrey Stein said: "Given the compelling data from our Phase ll programme, we are very pleased to initiate our global Phase lll programme of rezafungin.
"Difficult-to-treat, invasive Candida infections are associated with a high mortality and affect the most vulnerable patients.
"Rezafungin has the potential to be the first new anti-fungal approved for this indication in over a decade and, given how the drug works, it has the potential to improve outcomes for patients and allow them to leave the hospital earlier, resulting in reduced healthcare costs."
Rezafungin is a new anti-fungal echinocandin currently under development as a once-weekly, high-exposure therapy for the treatment and prevention of serious invasive fungal infections.
Free Case Study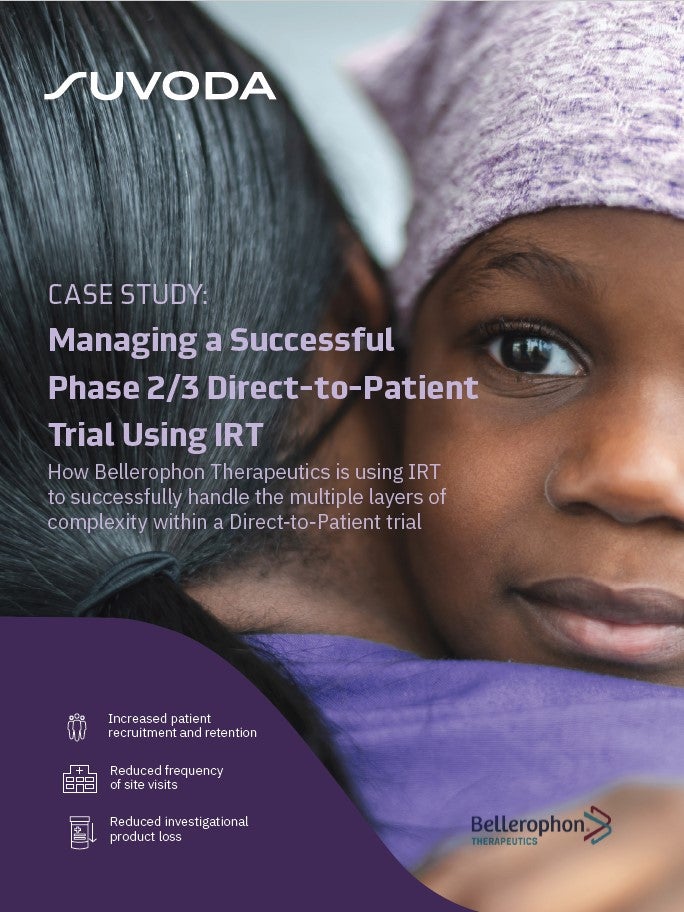 Direct-to-Patient Trials: How IRT Plays an Important Role in Bellerophon's Direct-to-Patient Trials
As the industry strengthens its focus on patient centricity, Direct-to-Patient clinical trials have emerged as a popular trial design that have the potential to increase patient recruitment and retention. IRT plays a crucial role in the success of a Direct-to-Patient trial. Because drug supplies are being managed and shipped from distribution facilities directly to patients' homes, a sponsor must have a high-quality system in place to accurately track the chain of custody, ensure patient-blinding and handle other logistical challenges. What You Will Learn Benefits and challenges associated with the Direct-to-Patient model Bellerophon's top considerations when implementing this trial design How IRT can equip study teams to successfully track chain of custody, ensure patient blinding, and handle logistical challenges
by Suvoda