Researchers at Cincinnati Children's Hospital Medical Center in the US have designed and tested a new computerised solution which uses artificial intelligence (AI) to effectively identify eligible participants from electronic health records (EHRs).
Free Case Study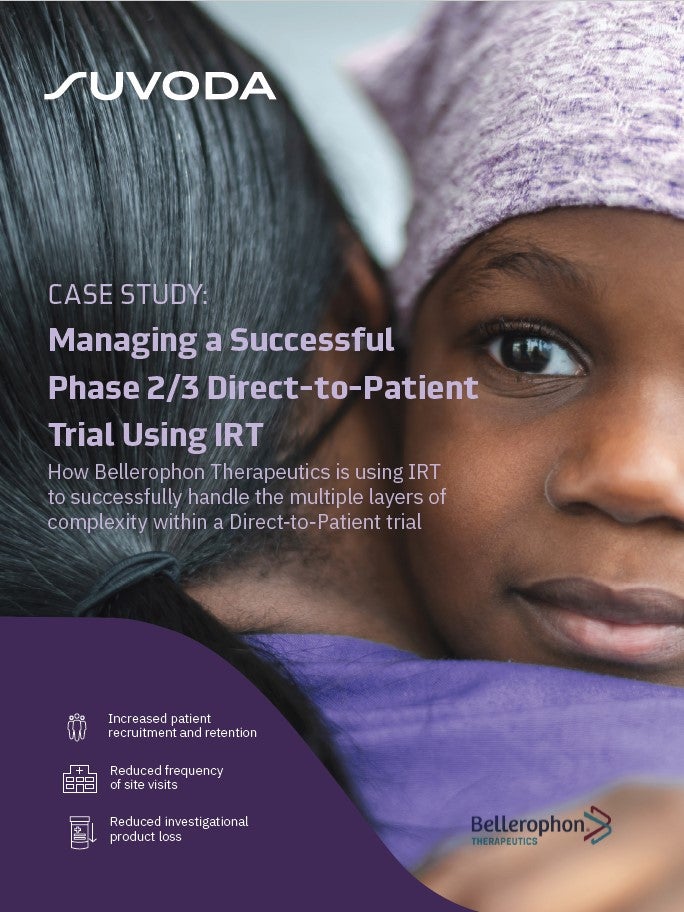 Direct-to-Patient Trials: How IRT Plays an Important Role in Bellerophon's Direct-to-Patient Trials
As the industry strengthens its focus on patient centricity, Direct-to-Patient clinical trials have emerged as a popular trial design that have the potential to increase patient recruitment and retention. IRT plays a crucial role in the success of a Direct-to-Patient trial. Because drug supplies are being managed and shipped from distribution facilities directly to patients' homes, a sponsor must have a high-quality system in place to accurately track the chain of custody, ensure patient-blinding and handle other logistical challenges. What You Will Learn Benefits and challenges associated with the Direct-to-Patient model Bellerophon's top considerations when implementing this trial design How IRT can equip study teams to successfully track chain of custody, ensure patient blinding, and handle logistical challenges
by Suvoda
The study, conducted in the Emergency Department, demonstrated that automated patient screening eases enrolment.
The new technology allows busy clinical staff to focus their time on evaluating the high priority candidates eligible for trials.
It is reported that the technology would improve patient recruitment for clinical trials.
The research revealed that Automated Clinical Trial Eligibility Screener (ACTES) system reduced patient screening time by 34% and improved patient enrolment by 11.1%.
Additionally, ACTES improved the number of patients screened by 14.7% and those approached by 11.1%.
The natural language processing of the system enables computers to understand human language as the system analyses large amounts of linguistic data.
This makes it possible for computer programmes to interpret and generate knowledge independently.
The machine learning component of the system also allows it to study historical enrolments to improve future recommendations, the researchers said.
Cincinnati Children's Hospital Medical Center Division of Biomedical Informatics faculty member Yizhao Ni said: "Because of the large volume of data documented in EHRs, the recruiting processes used now to find relevant information are very labor intensive within the short time frame needed.
"By leveraging natural language processing and machine learning technologies, ACTES was able to quickly analyse different types of data and automatically determine patients' suitability for clinical trials."
The study was supported by funding from National Institutes of Health (1R01LM012230, 1U01HG008666, 5U18DP006134), Agency for Healthcare Research and Quality (1R21HS024983), and from Cincinnati Children's Hospital Medical Centre.
Free Case Study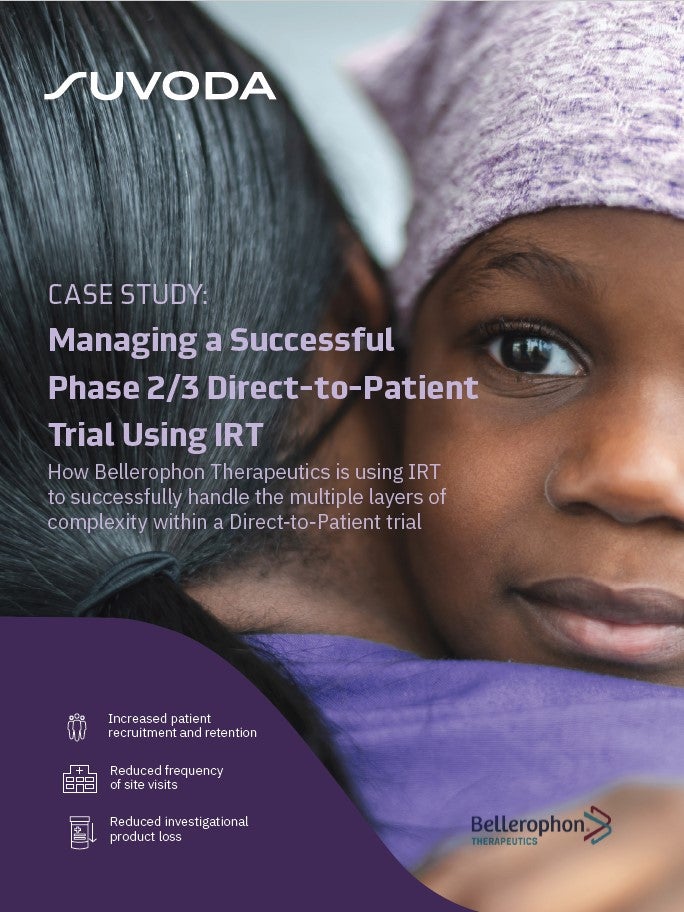 Direct-to-Patient Trials: How IRT Plays an Important Role in Bellerophon's Direct-to-Patient Trials
As the industry strengthens its focus on patient centricity, Direct-to-Patient clinical trials have emerged as a popular trial design that have the potential to increase patient recruitment and retention. IRT plays a crucial role in the success of a Direct-to-Patient trial. Because drug supplies are being managed and shipped from distribution facilities directly to patients' homes, a sponsor must have a high-quality system in place to accurately track the chain of custody, ensure patient-blinding and handle other logistical challenges. What You Will Learn Benefits and challenges associated with the Direct-to-Patient model Bellerophon's top considerations when implementing this trial design How IRT can equip study teams to successfully track chain of custody, ensure patient blinding, and handle logistical challenges
by Suvoda