Citius Pharmaceuticals has entered a clinical partnership with the University of Pittsburgh for a Phase I/Ib trial of I/ONTAK (denileukin diftitox or E7777) plus pembrolizumab to treat recurrent or metastatic solid tumours.
The open-label, investigator-initiated trial will assess T-reg cell depletion on administering I/ONTAK along with pembrolizumab in such patients.
It will have two parts. The Part I dose escalation trial will have four cohorts assessing three, six, nine, and 12mcg doses of I/ONTAK and will enrol 18-30 subjects. 
The Part II dose expansion trial will enrol nearly 40 subjects to assess the safety and tolerability of the recommended combination dosage of I/ONTAK plus pembrolizumab.
The trial will also evaluate the variation in the immune microenvironment within tumours, as well as in the peripheral blood. 
Objective response (complete response plus partial response), overall survival, and progression-free survival will be the trial's secondary endpoints.
The University of Pittsburgh trial is anticipated to commence in the fourth quarter of this year.
The company is also partnering with a Phase I investigator-initiated trial at the University of Minnesota (UMN).
This dose-finding trial is analysing I/ONTAK administered before tisagenleucel (KYMRIAH) CAR-T therapy in diffuse large B-cell lymphoma (DLBCL) patients.
The first patient in the study was enrolled in May last year.
A recombinant fusion protein, I/ONTAK merges the interleukin-2 (IL-2) receptor binding domain and diphtheria toxin fragments.
Pembrolizumab is a PD-1 checkpoint inhibitor.
Citius Pharmaceuticals chief medical officer Dr Myron Czuczman said: "Preclinical research in a syngeneic solid tumour mouse model shows that E7777 [denileukin diftitox] enhances anti-tumour activity and significantly extends the survival benefit of anti-PD-1 therapy. 
"This data provides a positive signal of denileukin diftitox's potential in the immuno-oncology space."
In May this year, the company selected clinical research organisation Biorasi to aid in expanding its Phase III Mino-Lok trial of a new antibiotic lock therapy to further sites outside the US.
Cell & Gene Therapy coverage on Clinical Trials Arena is supported by Cytiva.
Editorial content is independently produced and follows the highest standards of journalistic integrity. Topic sponsors are not involved in the creation of editorial content.
Free Whitepaper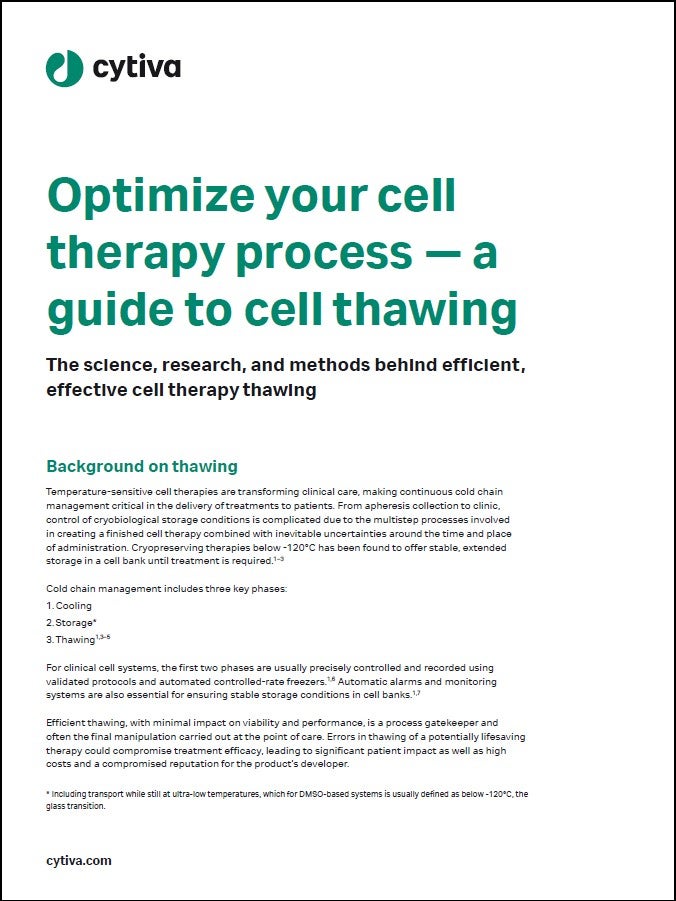 Optimise your cell therapy process: a guide to cell thawing
Typically carried out at the point of care, errors in cell therapy thawing could compromise treatment efficacy, leading to significant patient impact as well as high costs and a compromised reputation for the product's developer. This guide addresses how cell thawing has historically developed into the new techniques used today, along with the physical and biological implications of key metrics and components such as warming rate and ice structure. Also included are reviews of key studies from scientific literature and a consideration of the interactions between cooling and warming rates, as applicable to cell and gene therapies.
by Cytiva Thematic
By clicking the Download Free Whitepaper button, you accept the terms and conditions and acknowledge that your data will be used as described in the Cytiva Thematic privacy policy By downloading this Whitepaper, you acknowledge that we may share your information with our white paper partners/sponsors who may contact you directly with information on their products and services.

Visit our privacy policy for more information about our services, how we may use, process and share your personal data, including information on your rights in respect of your personal data and how you can unsubscribe from future marketing communications. Our services are intended for corporate subscribers and you warrant that the email address submitted is your corporate email address.