Claritas Pharmaceuticals is set to expand its development programme for R-107 to include the treatment of Covid-19 related sepsis, which is the leading cause of death in infected patients.
Free Case Study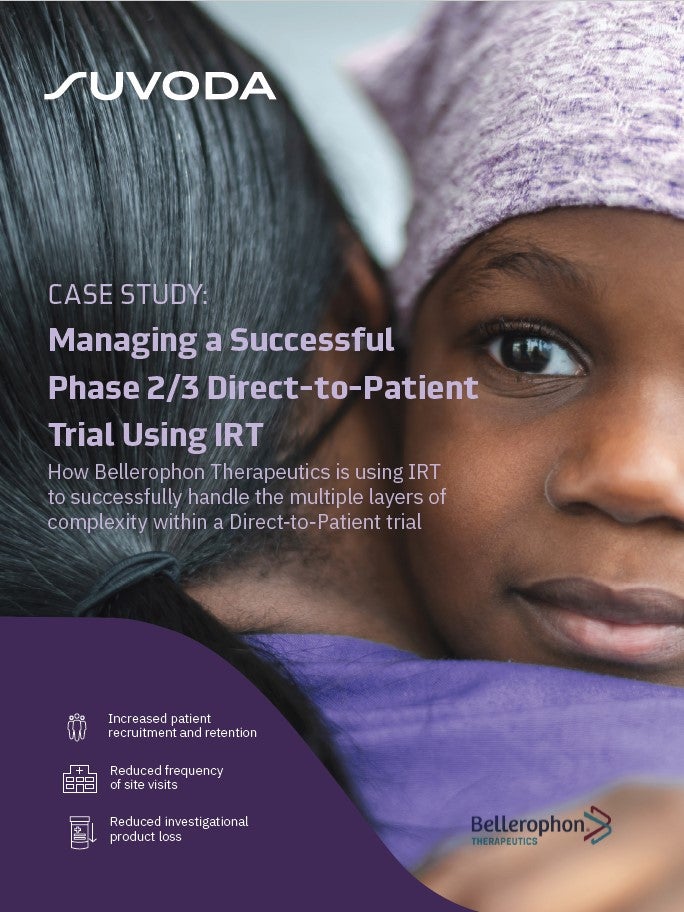 Direct-to-Patient Trials: How IRT Plays an Important Role in Bellerophon's Direct-to-Patient Trials
As the industry strengthens its focus on patient centricity, Direct-to-Patient clinical trials have emerged as a popular trial design that have the potential to increase patient recruitment and retention. IRT plays a crucial role in the success of a Direct-to-Patient trial. Because drug supplies are being managed and shipped from distribution facilities directly to patients' homes, a sponsor must have a high-quality system in place to accurately track the chain of custody, ensure patient-blinding and handle other logistical challenges. What You Will Learn Benefits and challenges associated with the Direct-to-Patient model Bellerophon's top considerations when implementing this trial design How IRT can equip study teams to successfully track chain of custody, ensure patient blinding, and handle logistical challenges
by Suvoda
The body has a dysregulated immune response to SARS-CoV-2 in Covid-19 viral sepsis and it leads to severe oxidant stress and fatal dysfunction in organs such as lungs, brain, kidneys, heart and liver.
This latest move is based on positive data from a controlled large animal model of sepsis.
In the animal study, led by the University of Texas Galveston Medical Branch professor Perenlei Enkhbaatar, sepsis was induced in 22 adult female Merino sheep by intravenously administering gram-negative bacillus Pseudomonas aeruginosa.
Results showed that R-107 treatment lowered mortality, with 11% mortality observed in sheep receiving R-107 as compared with 30% mortality in the control group.
Furthermore, R-107 treatment reduced lung injury, eradicated oxidant stress and maintained multi-organ function. No therapy-related adverse effects were noted in the animal study.
Claritas Pharmaceuticals president and CEO Robert Farrell said: "While bacterial sepsis may be treated with antibiotics, this is not the case with Covid-19 viral sepsis.
"Our data unequivocally demonstrate that R-107 treatment reduced mortality in a controlled study in a large animal model of sepsis.
"We are aware of no other drug that is marketed or in development that has achieved superior results in this animal model of the disease."
Sepsis causes damage to the endothelium (inner lining) of the blood vessels in the lung so that white cells that are circulating get trapped and transit into the tissue leading to inflammatory injury. It also lowers nitric oxide concentration within the lung.
Nitric oxide is released in the presence of R-107 or its active payload R-100, which can provide protection to the endothelium, guaranteeing that white cells are not attached to the endothelium but transit the microvasculature.
Free Case Study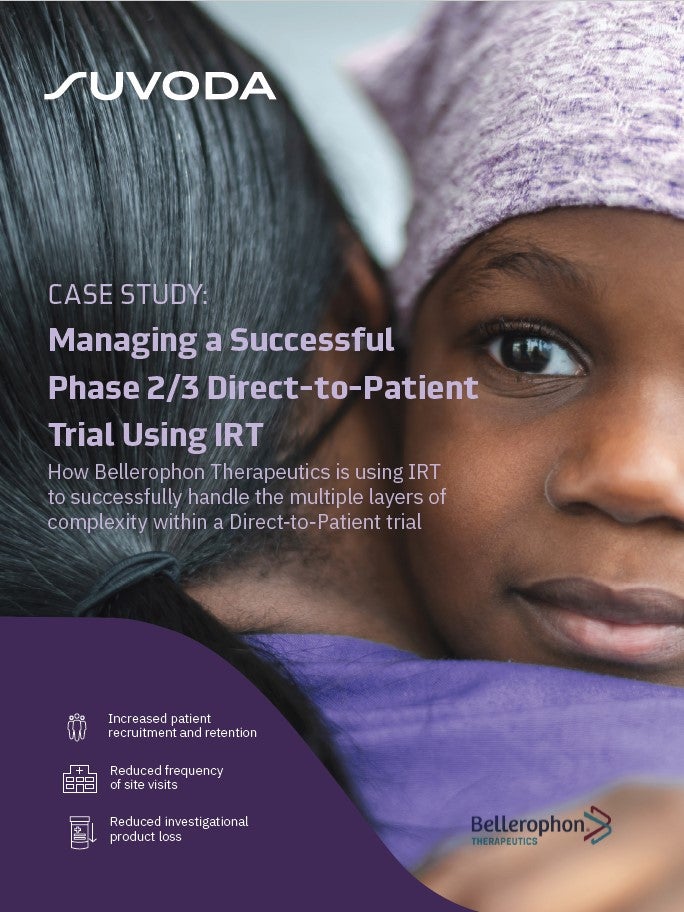 Direct-to-Patient Trials: How IRT Plays an Important Role in Bellerophon's Direct-to-Patient Trials
As the industry strengthens its focus on patient centricity, Direct-to-Patient clinical trials have emerged as a popular trial design that have the potential to increase patient recruitment and retention. IRT plays a crucial role in the success of a Direct-to-Patient trial. Because drug supplies are being managed and shipped from distribution facilities directly to patients' homes, a sponsor must have a high-quality system in place to accurately track the chain of custody, ensure patient-blinding and handle other logistical challenges. What You Will Learn Benefits and challenges associated with the Direct-to-Patient model Bellerophon's top considerations when implementing this trial design How IRT can equip study teams to successfully track chain of custody, ensure patient blinding, and handle logistical challenges
by Suvoda