Fight Colorectal Cancer (Fight CRC) and healthcare technology firm Flatiron Health have developed and launched a mobile application of Late-Stage, MSS-CRC Clinical Trial Finder.
Free Case Study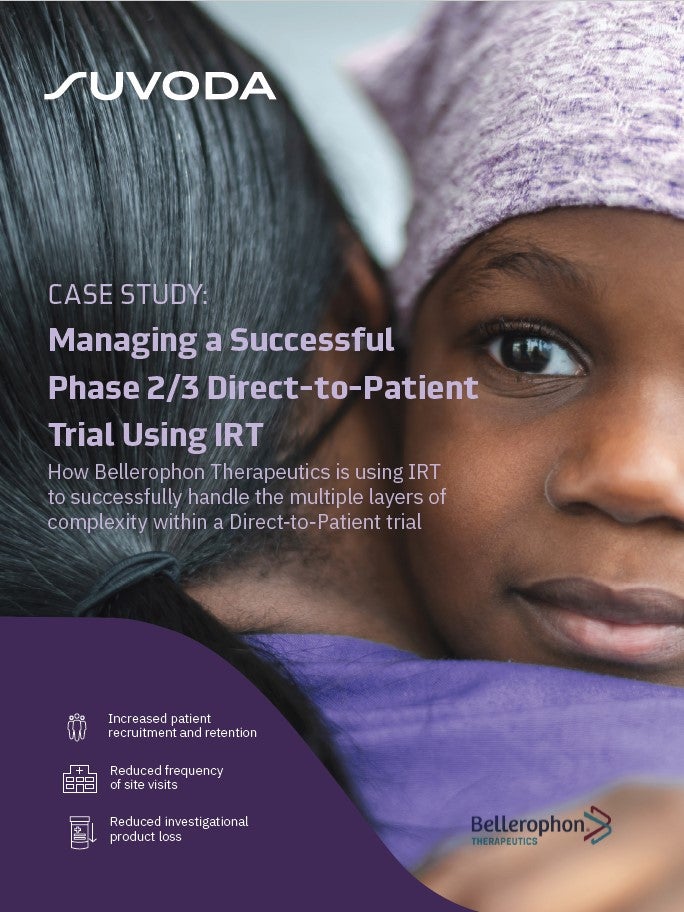 Direct-to-Patient Trials: How IRT Plays an Important Role in Bellerophon's Direct-to-Patient Trials
As the industry strengthens its focus on patient centricity, Direct-to-Patient clinical trials have emerged as a popular trial design that have the potential to increase patient recruitment and retention. IRT plays a crucial role in the success of a Direct-to-Patient trial. Because drug supplies are being managed and shipped from distribution facilities directly to patients' homes, a sponsor must have a high-quality system in place to accurately track the chain of custody, ensure patient-blinding and handle other logistical challenges. What You Will Learn Benefits and challenges associated with the Direct-to-Patient model Bellerophon's top considerations when implementing this trial design How IRT can equip study teams to successfully track chain of custody, ensure patient blinding, and handle logistical challenges
by Suvoda
The app, available for both Android and iOS users, is designed to help late-stage microsatellite stable (MSS) colorectal cancer patients search for appropriate clinical trials using their smartphone.
A web-version of the Clinical Trial Finder was created by the partners in 2017. The solution builds on the work of scientist and stage IV colorectal cancer survivor Dr Tom Marsilje.
Originally, Marsilje curated a list of MSS-CRC clinical trials in a spreadsheet, which was then further developed by Flatiron Health and Fight CRC.
Fight CRC noted that approximately 14,000 people have used the tool for a total of more than 24,000 unique searches since May 2017.
Fight CRC president Anjee Davis said: "The launch of this app for the Fight CRC Clinical Trial Finder is what Tom always envisioned. It will be a game changer for patients and caregivers–delivering the latest in clinical trials to their phones and giving them a sense of control during a time when they so often feel powerless."
The Clinical Trial Finder provides a curated list of potential, enrolling trials for MSS-CRC patients.
It is updated daily based on a publicly available repository available on ClinicalTrials.gov maintained by the Clinical Trials Transformation Initiative (CTTI).
Patients and their caregivers will be able to find suitable trials to discuss with their medical team.
Flatiron Health Research Oncology vice-president Neal Meropol said: "Empowering patients and improving access to clinical trials will help us continue to move the needle for patients with colorectal cancer."
Free Case Study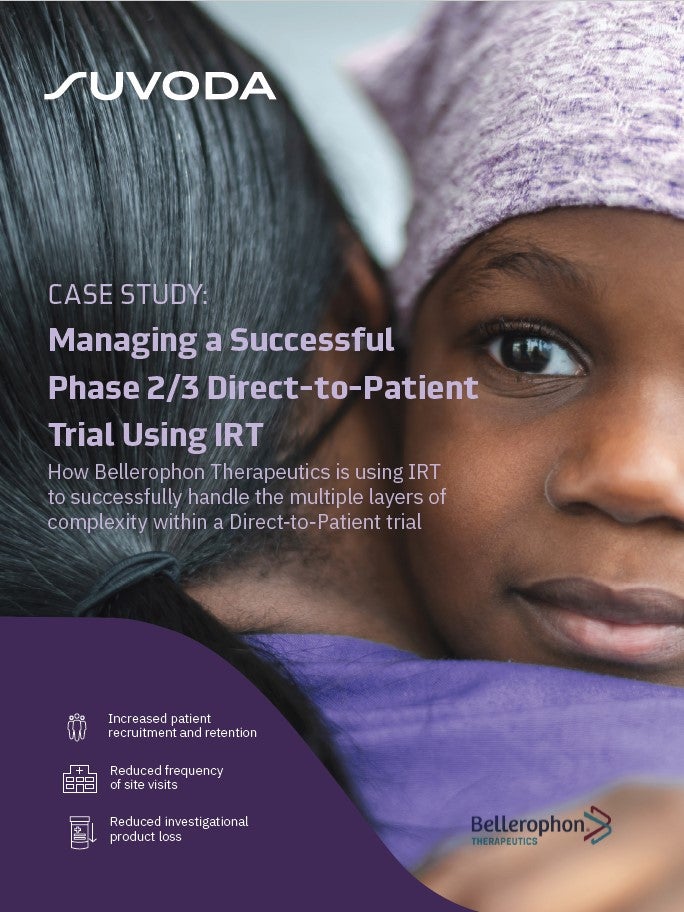 Direct-to-Patient Trials: How IRT Plays an Important Role in Bellerophon's Direct-to-Patient Trials
As the industry strengthens its focus on patient centricity, Direct-to-Patient clinical trials have emerged as a popular trial design that have the potential to increase patient recruitment and retention. IRT plays a crucial role in the success of a Direct-to-Patient trial. Because drug supplies are being managed and shipped from distribution facilities directly to patients' homes, a sponsor must have a high-quality system in place to accurately track the chain of custody, ensure patient-blinding and handle other logistical challenges. What You Will Learn Benefits and challenges associated with the Direct-to-Patient model Bellerophon's top considerations when implementing this trial design How IRT can equip study teams to successfully track chain of custody, ensure patient blinding, and handle logistical challenges
by Suvoda