The M Health Fairview University of Minnesota Medical Center has opened the clinical trial of engineered induced pluripotent stem cell (iPSC)-derived cell therapy for acute myeloid leukaemia (AML) and B-cell lymphoma.
Free Case Study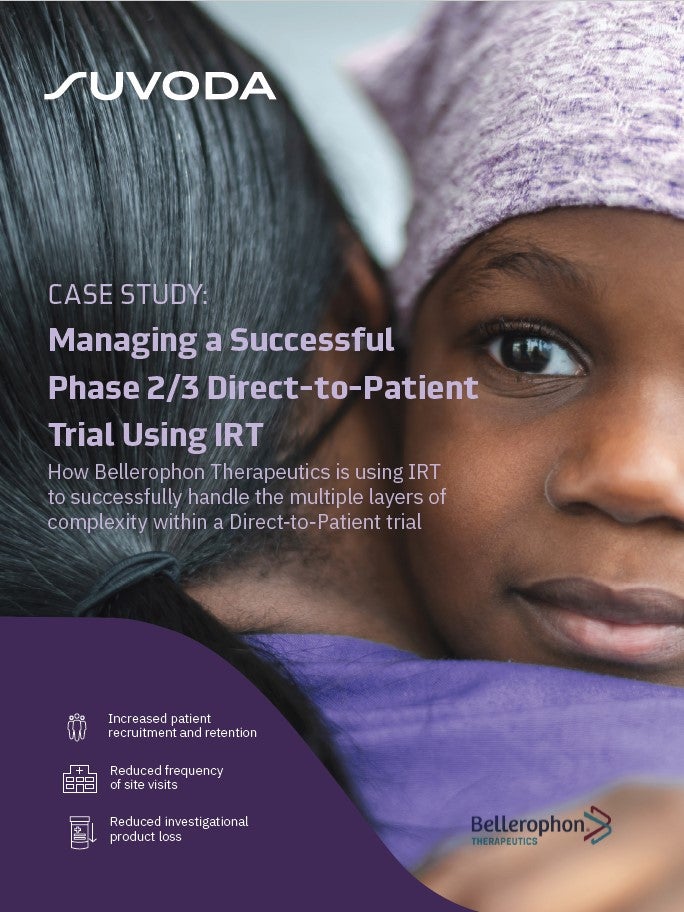 Direct-to-Patient Trials: How IRT Plays an Important Role in Bellerophon's Direct-to-Patient Trials
As the industry strengthens its focus on patient centricity, Direct-to-Patient clinical trials have emerged as a popular trial design that have the potential to increase patient recruitment and retention. IRT plays a crucial role in the success of a Direct-to-Patient trial. Because drug supplies are being managed and shipped from distribution facilities directly to patients' homes, a sponsor must have a high-quality system in place to accurately track the chain of custody, ensure patient-blinding and handle other logistical challenges. What You Will Learn Benefits and challenges associated with the Direct-to-Patient model Bellerophon's top considerations when implementing this trial design How IRT can equip study teams to successfully track chain of custody, ensure patient blinding, and handle logistical challenges
by Suvoda
The trial leverages the research on stem cells and natural killer (NK) cells conducted at the Masonic Cancer Center and applies it to attack the blood cancers.
The NK cell cancer immunotherapy, known as FT516, is the first-of-its-kind in the US and is produced and manufactured at the university's Molecular and Cellular Therapeutics (MCT) centre.
It is manufactured from a human iPSC that has been genetically engineered to improve its anti-tumour activity.
The first-in-human trial of FT516 is sponsored by Fate Therapeutics. It will be run by University of Minnesota Medical School professor Claudio Brunstein.
Brunstein said: "We potentially have an unlimited source of very similar, reproducible cancer fighters.
"This is opening a whole new door in cellular therapy. With increased modifications to these NK cells, we can elevate their ability to attack tumours. As we add more functionality to NK cells, we have the potential to bring together multiple anti-tumour mechanisms and more effectively target and kill cancer."
Designed as advanced cell-based cancer immunotherapy, the cell product FT516 originates from a single genetically engineered iPSC that serves as a clonal master cell line that can be used repeatedly to mass-produce bulk quantities of cells cost-efficiently.
Fate Therapeutics president and CEO Scott Wolchko said: "FT516 is the first-ever cell therapy derived from a genetically engineered iPSC cleared for clinical testing in the world.
"Our use of a master engineered iPSC line uniquely supports a new treatment paradigm, where engineered cell products are available off-the-shelf and multiple doses can be readily administered to a patient, with the goal of driving deeper and more durable responses."
Free Case Study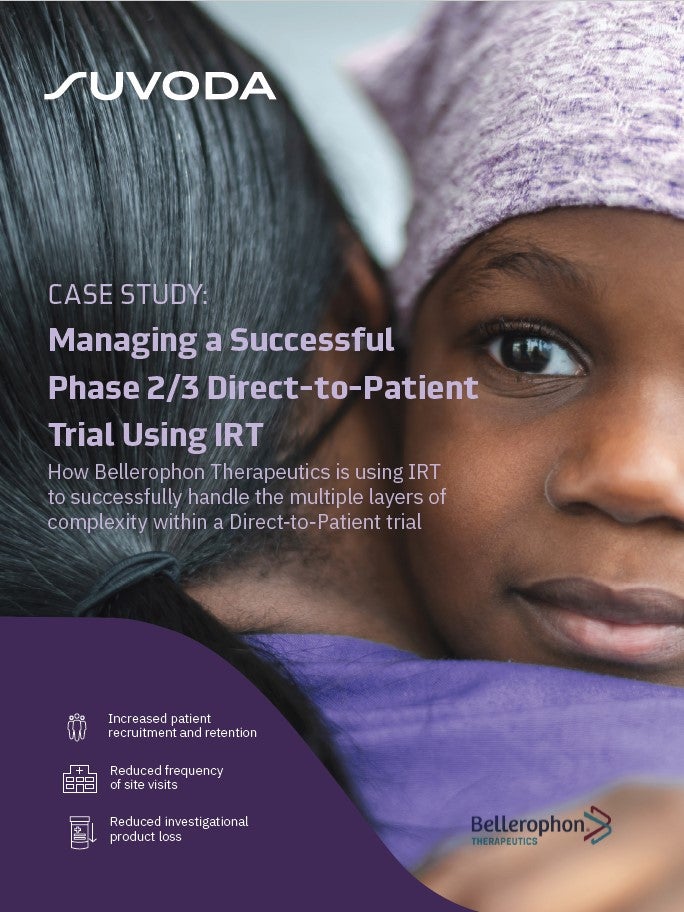 Direct-to-Patient Trials: How IRT Plays an Important Role in Bellerophon's Direct-to-Patient Trials
As the industry strengthens its focus on patient centricity, Direct-to-Patient clinical trials have emerged as a popular trial design that have the potential to increase patient recruitment and retention. IRT plays a crucial role in the success of a Direct-to-Patient trial. Because drug supplies are being managed and shipped from distribution facilities directly to patients' homes, a sponsor must have a high-quality system in place to accurately track the chain of custody, ensure patient-blinding and handle other logistical challenges. What You Will Learn Benefits and challenges associated with the Direct-to-Patient model Bellerophon's top considerations when implementing this trial design How IRT can equip study teams to successfully track chain of custody, ensure patient blinding, and handle logistical challenges
by Suvoda