Clovis Oncology has randomised the first patient in the ATHENA trial, a Phase lll study investigating its Rubraca (rucaparib) in combination with and Bristol-Myers Squibb's OPDIVO (nivolumab) for the treatment of advanced ovarian cancer.
Free Case Study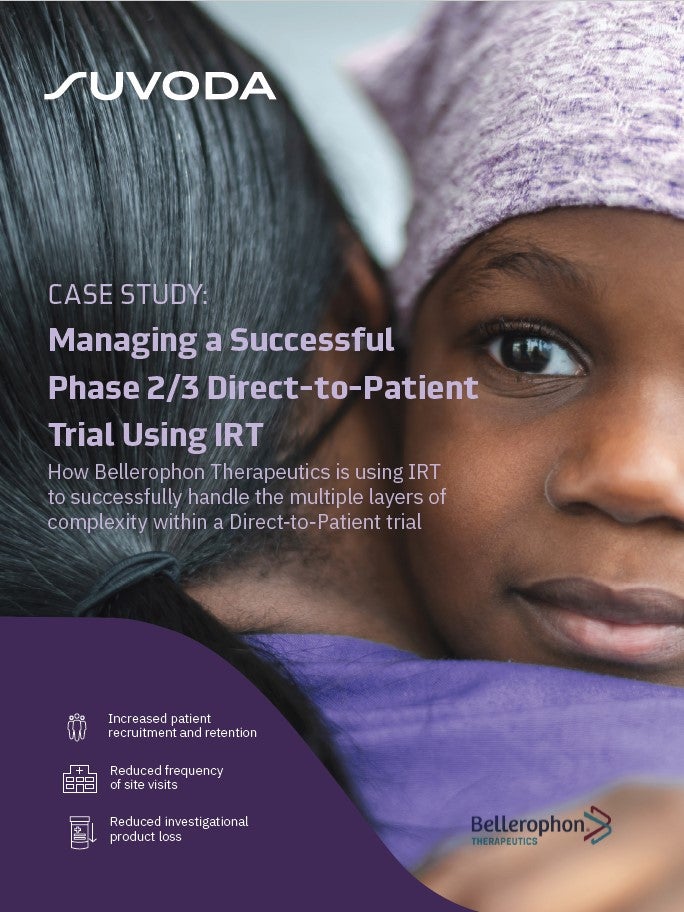 Direct-to-Patient Trials: How IRT Plays an Important Role in Bellerophon's Direct-to-Patient Trials
As the industry strengthens its focus on patient centricity, Direct-to-Patient clinical trials have emerged as a popular trial design that have the potential to increase patient recruitment and retention. IRT plays a crucial role in the success of a Direct-to-Patient trial. Because drug supplies are being managed and shipped from distribution facilities directly to patients' homes, a sponsor must have a high-quality system in place to accurately track the chain of custody, ensure patient-blinding and handle other logistical challenges. What You Will Learn Benefits and challenges associated with the Direct-to-Patient model Bellerophon's top considerations when implementing this trial design How IRT can equip study teams to successfully track chain of custody, ensure patient blinding, and handle logistical challenges
by Suvoda
The randomised, multinational, double-blind, placebo-controlled, four-arm trial is expected to enrol around 1,000 ovarian cancer patients at clinical trial sites across the US and internationally.
The trial is designed to examine the Rubraca and Opdivo combination as maintenance treatment following response to front-line treatment in newly diagnosed ovarian cancer patients.
Response to treatment will be evaluated based on homologous recombination (HR) status of tumour samples.
The trial's primary endpoint is investigator-assessed progression-free survival (PFS), while its secondary endpoints comprise overall survival (OS), objective response rate (ORR), duration of response (DOR), and safety.
"Sponsored by Clovis, the ATHENA trial is being conducted under a clinical collaboration between Bristol-Myers Squibb and Clovis."
Sponsored by Clovis, the ATHENA trial is being conducted under a clinical collaboration between Bristol-Myers Squibb and Clovis.
Gynecologic Oncology Group (GOG) and the European Network for Gynecological Oncological Trials (ENGOT) are also involved in the trial.
ATHENA trial lead investigator Brad Monk said: "I am pleased the GOG and ENGOT are conducting the first trial designed to investigate whether the combination of a PARP inhibitor and PD-1 blocking antibody can demonstrate not only an improvement in progression-free survival in the first-line maintenance setting for women with advanced ovarian cancer, but also whether the combination can change the natural course of the disease by delaying or reducing recurrence following front-line therapy."
Rubraca (rucaparib) is a poly (ADP ribose) polymerase inhibitor (PARP), while OPDIVO (nivolumab) is a PD-1 inhibitor.
Free Case Study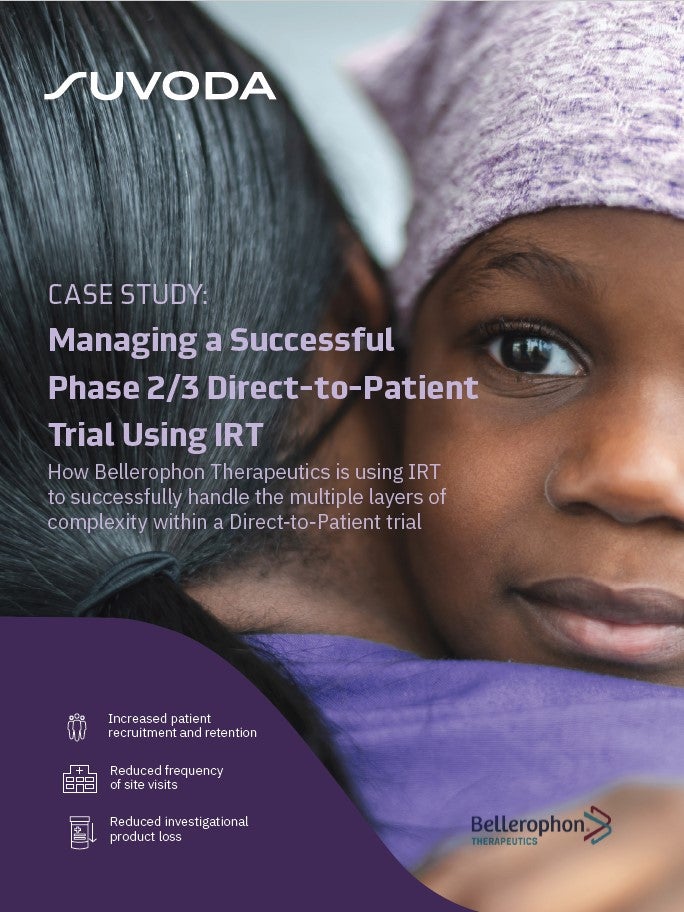 Direct-to-Patient Trials: How IRT Plays an Important Role in Bellerophon's Direct-to-Patient Trials
As the industry strengthens its focus on patient centricity, Direct-to-Patient clinical trials have emerged as a popular trial design that have the potential to increase patient recruitment and retention. IRT plays a crucial role in the success of a Direct-to-Patient trial. Because drug supplies are being managed and shipped from distribution facilities directly to patients' homes, a sponsor must have a high-quality system in place to accurately track the chain of custody, ensure patient-blinding and handle other logistical challenges. What You Will Learn Benefits and challenges associated with the Direct-to-Patient model Bellerophon's top considerations when implementing this trial design How IRT can equip study teams to successfully track chain of custody, ensure patient blinding, and handle logistical challenges
by Suvoda