Concert Pharmaceuticals has announced that its Phase II clinical trial of CTP-692 as an adjunctive treatment in patients with schizophrenia failed to meet the primary endpoint or other secondary endpoints.
Free Case Study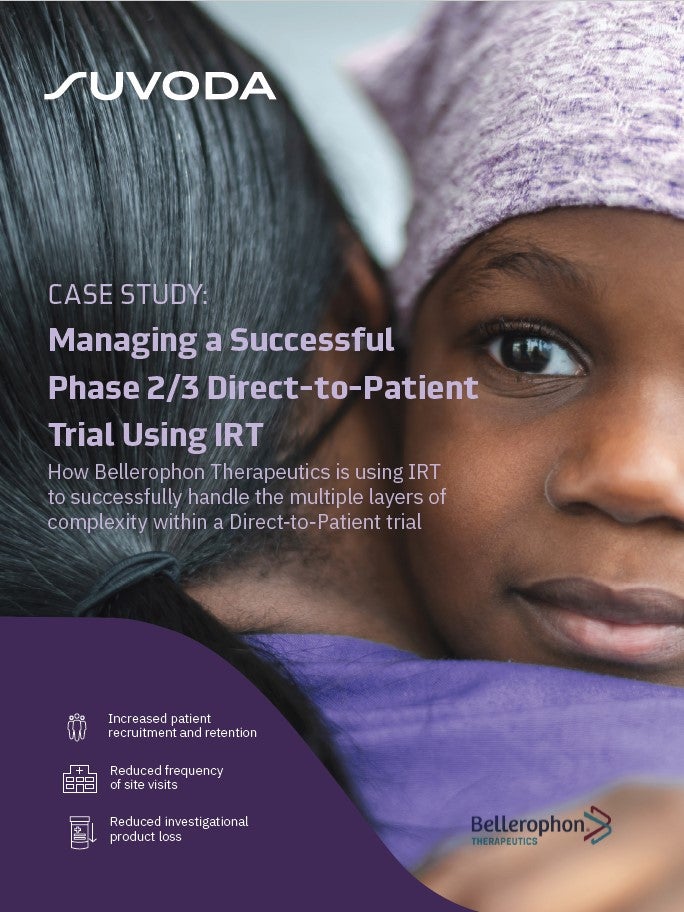 Direct-to-Patient Trials: How IRT Plays an Important Role in Bellerophon's Direct-to-Patient Trials
As the industry strengthens its focus on patient centricity, Direct-to-Patient clinical trials have emerged as a popular trial design that have the potential to increase patient recruitment and retention. IRT plays a crucial role in the success of a Direct-to-Patient trial. Because drug supplies are being managed and shipped from distribution facilities directly to patients' homes, a sponsor must have a high-quality system in place to accurately track the chain of custody, ensure patient-blinding and handle other logistical challenges. What You Will Learn Benefits and challenges associated with the Direct-to-Patient model Bellerophon's top considerations when implementing this trial design How IRT can equip study teams to successfully track chain of custody, ensure patient blinding, and handle logistical challenges
by Suvoda
CTP-692 is a deuterated form of D-serine, an endogenous amino acid that is a co-agonist of the NMDA receptor.
The double-blind, randomised, placebo-controlled study analysed the safety and efficacy of CTP-692 as an adjunctive treatment in adult patients with schizophrenia.
The trial had 325 patients, who were on a stable course of an antipsychotic medication. They were randomly given either 1g, 2g, or 4g doses of CTP-692 or placebo once daily.
The change in the Positive and Negative Syndrome Scale (PANSS) total score at 12 weeks compared to baseline formed the trial's primary endpoint.
Data from the trial showed that CTP-692 did not demonstrate a statistically significant improvement versus placebo at any of tested dose levels.
Furthermore, no significant improvements were noted in either the positive or negative symptoms subscales of the PANSS scale at any of the treatment doses.
CTP-692 treatment was generally well-tolerated in the Phase II trial while adverse events noted were mostly mild in severity and equally distributed across the dose groups, including placebo.
Concert Pharmaceuticals president and CEO Roger Tung said: "The body of evidence in the field supporting D-serine as an adjunctive treatment for schizophrenia was compelling and led us to advance CTP-692 into a Phase II proof of concept study.
"Unfortunately, we didn't see the results we hoped for to support continuation of this programme.
"Going forward, we will focus our internal resources on the advancement of CTP-543, which is currently in Phase III evaluation for the treatment of alopecia areata, and evaluation of additional pipeline candidates."
In June 2019, Concert Pharmaceuticals revealed plans to initiate a Phase II clinical trial of CTP-692 as an adjunctive treatment for schizophrenia, based on positive data from the Phase I programme.
Free Case Study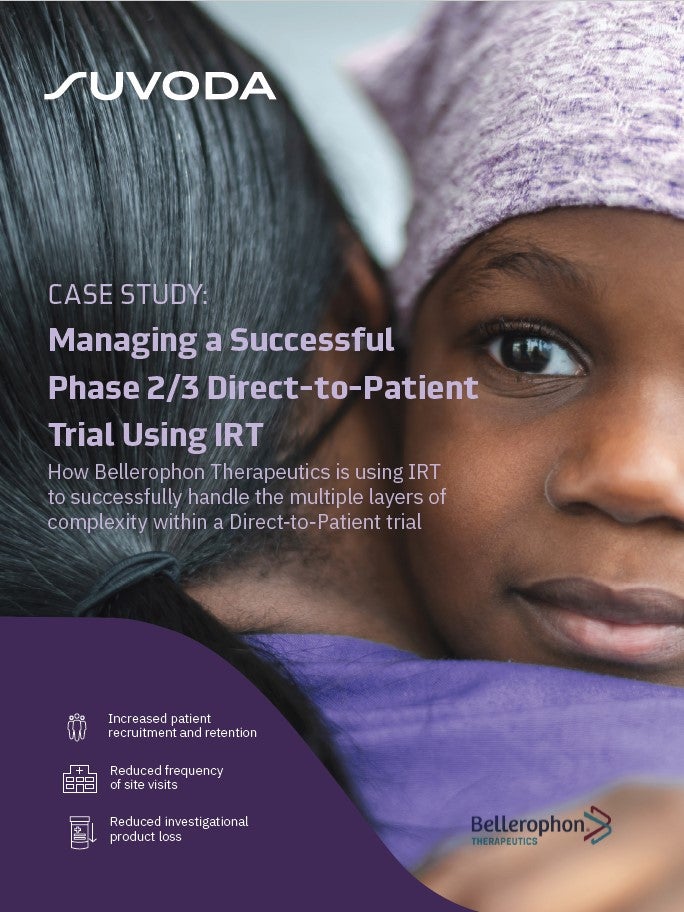 Direct-to-Patient Trials: How IRT Plays an Important Role in Bellerophon's Direct-to-Patient Trials
As the industry strengthens its focus on patient centricity, Direct-to-Patient clinical trials have emerged as a popular trial design that have the potential to increase patient recruitment and retention. IRT plays a crucial role in the success of a Direct-to-Patient trial. Because drug supplies are being managed and shipped from distribution facilities directly to patients' homes, a sponsor must have a high-quality system in place to accurately track the chain of custody, ensure patient-blinding and handle other logistical challenges. What You Will Learn Benefits and challenges associated with the Direct-to-Patient model Bellerophon's top considerations when implementing this trial design How IRT can equip study teams to successfully track chain of custody, ensure patient blinding, and handle logistical challenges
by Suvoda