Connect Biopharma has concluded subject enrolment in the Phase II clinical trial of its orally available therapy, CBP-307, in adults with moderate-to-severe ulcerative colitis (UC).
Free Case Study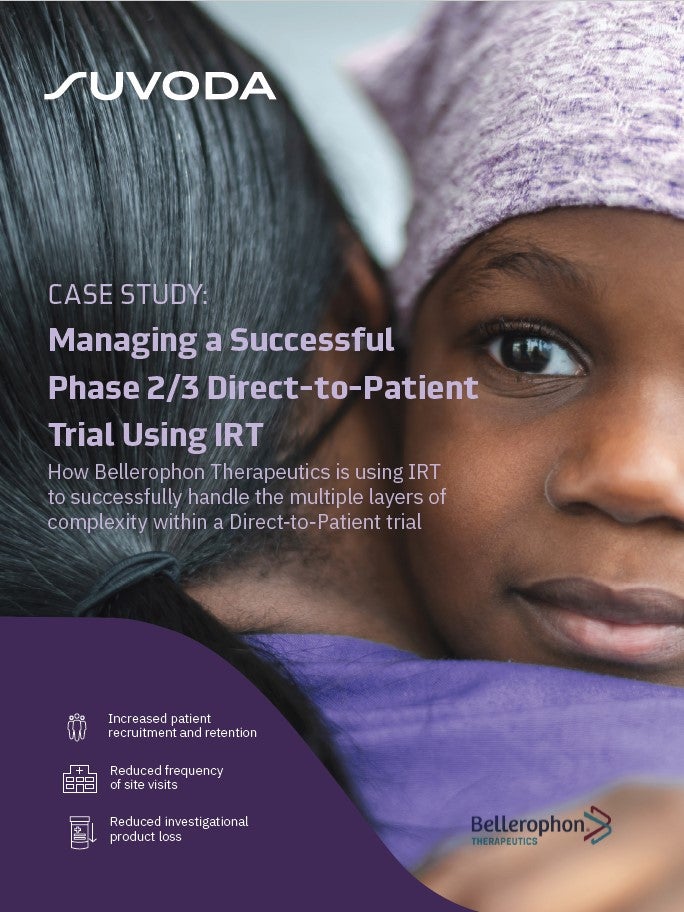 Direct-to-Patient Trials: How IRT Plays an Important Role in Bellerophon's Direct-to-Patient Trials
As the industry strengthens its focus on patient centricity, Direct-to-Patient clinical trials have emerged as a popular trial design that have the potential to increase patient recruitment and retention. IRT plays a crucial role in the success of a Direct-to-Patient trial. Because drug supplies are being managed and shipped from distribution facilities directly to patients' homes, a sponsor must have a high-quality system in place to accurately track the chain of custody, ensure patient-blinding and handle other logistical challenges. What You Will Learn Benefits and challenges associated with the Direct-to-Patient model Bellerophon's top considerations when implementing this trial design How IRT can equip study teams to successfully track chain of custody, ensure patient blinding, and handle logistical challenges
by Suvoda
CBP-307 is a small molecule modulator of the sphingosine-1-phosphate 1 receptor (S1P1).
A recognised treatment target, S1P1 is a G-protein coupled receptor that has a key role in T-cell movement regulation out of lymph nodes and into the periphery.
The international, double-blind, randomised, placebo-controlled trial will assess the safety and efficacy of CBP-307 versus placebo.
Being carried out at various centres, including in the US, the trial will enrol a total of 134 participants, who will be given CBP-307 or a placebo for 12 weeks of the induction phase.
A maintenance phase will be initiated subsequently where responders to the drug will receive the treatment for another 36 weeks in a double-blind manner while non-responders will be part of an open-label arm to receive the treatment.
All subjects enrolled in the trial will also be part of the four-week follow-up phase at the end of the maintenance phase.
Connect Biopharma co-founder and CEO Zheng Wei said: "We are pleased to complete the enrolment of the CBP-307 global Phase II trial in patients with moderate-to-severe UC, our lead clinical programme for our oral S1P1 modulator.
"Despite the recent approval of oral therapies for the treatment of UC, there remains the need for additional safe and effective therapies, and we believe that CBP-307 has the potential to address this unmet need."
The company anticipates reporting topline data from the induction phase of the study by the end of the first quarter of next year.
A common kind of inflammatory bowel disease, UC leads to chronic large intestine inflammation.
Existing therapeutic options for UC include systemic corticosteroids and immunosuppressants, 5-aminosalicylic acid preparations, injectable drugs and surgical procedures.
Free Case Study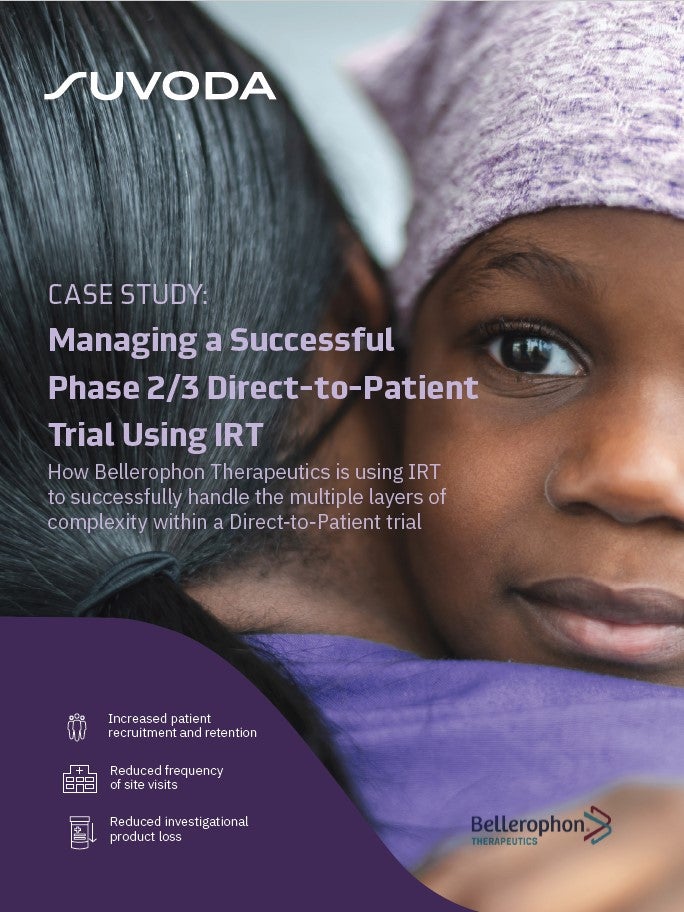 Direct-to-Patient Trials: How IRT Plays an Important Role in Bellerophon's Direct-to-Patient Trials
As the industry strengthens its focus on patient centricity, Direct-to-Patient clinical trials have emerged as a popular trial design that have the potential to increase patient recruitment and retention. IRT plays a crucial role in the success of a Direct-to-Patient trial. Because drug supplies are being managed and shipped from distribution facilities directly to patients' homes, a sponsor must have a high-quality system in place to accurately track the chain of custody, ensure patient-blinding and handle other logistical challenges. What You Will Learn Benefits and challenges associated with the Direct-to-Patient model Bellerophon's top considerations when implementing this trial design How IRT can equip study teams to successfully track chain of custody, ensure patient blinding, and handle logistical challenges
by Suvoda