Pharmaceutical company Cortexyme has initiated a Phase II/III clinical trial to assess its investigational drug COR388 for the treatment of mild to moderate Alzheimer's disease (AD).
Free Case Study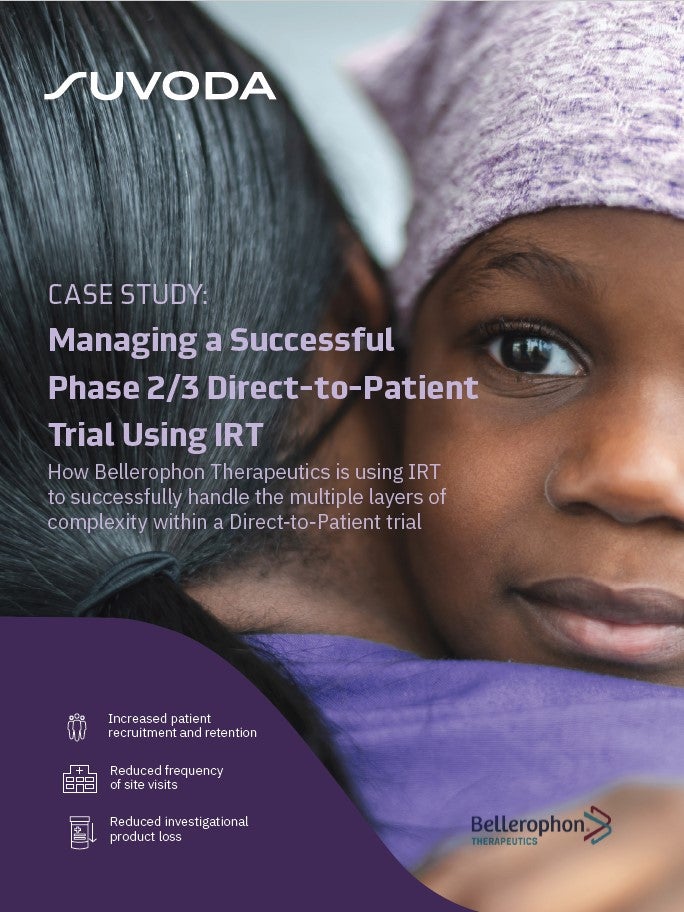 Direct-to-Patient Trials: How IRT Plays an Important Role in Bellerophon's Direct-to-Patient Trials
As the industry strengthens its focus on patient centricity, Direct-to-Patient clinical trials have emerged as a popular trial design that have the potential to increase patient recruitment and retention. IRT plays a crucial role in the success of a Direct-to-Patient trial. Because drug supplies are being managed and shipped from distribution facilities directly to patients' homes, a sponsor must have a high-quality system in place to accurately track the chain of custody, ensure patient-blinding and handle other logistical challenges. What You Will Learn Benefits and challenges associated with the Direct-to-Patient model Bellerophon's top considerations when implementing this trial design How IRT can equip study teams to successfully track chain of custody, ensure patient blinding, and handle logistical challenges
by Suvoda
Named GAIN, the new trial builds on the previous findings that Porphyromonas gingivalis, a pathogenic bacterium known to cause chronic periodontal disease, can infect the brain and lead to Alzheimer's.
Studies in animal models demonstrated that the toxic gingipains proteins produced by the bacterium damage and destroy brain cells.
Cortexyme's trial will investigate the ability of COR388, an oral virulence factor inhibitor, to slow or stop disease progression by inactivating these toxic proteins.
"We look forward to enrolling subjects and learning more about the potential for COR388 to benefit the Alzheimer's patient community."
Currently open for patient enrolment at certain sites in the US, the GAIN study is set to expand to other sites across the country and Europe. The trial is designed for more than 570 subjects aged 55-80 years at a total of more than 90 sites.
The trial's primary endpoint is the mean change in the Alzheimer's Disease Assessment Scale-Cognitive Subscale 11 (ADAS-Cog 11) from baseline to 48 weeks.
It will also measure secondary and exploratory endpoints such as a change in Alzheimer's Disease Cooperative Study Group-Activities of Daily Living (ADCS-ADL), change in Clinical Dementia Rating-Sum of Boxes (CDR-SB) and cerebral spinal fluid biomarkers for infection.
Cortexyme chief medical officer Michael Detke said: "The clinical rationale for the study, and the data that support a bacterial driver of Alzheimer's disease, are compelling.
"We look forward to enrolling subjects and learning more about the potential for COR388 to benefit the Alzheimer's patient community, which now numbers more than 5.7 million people in the US and 30 million individuals worldwide."
In preclinical studies, COR388 was found to decrease the bacterial load of a porphyromonas gingivalis infection, block amyloid beta production, minimise neuroinflammation and protect neurons in the brain's hippocampus.
Data obtained during the Phase Ib trial revealed that COR388 was well-tolerated, with positive trends for various biomarkers and cognitive tests in AD patients.
The new trial comes after Biogen and Eisai suspended two of their Alzheimer's trials based on a futility analysis, which showed that the studies were not likely to meet their primary endpoint.
Free Case Study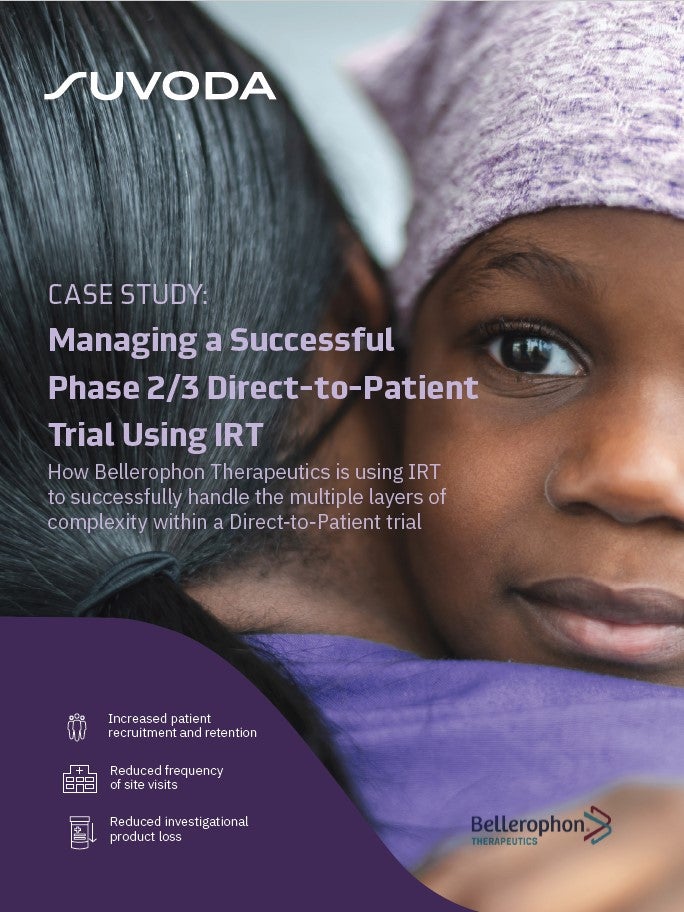 Direct-to-Patient Trials: How IRT Plays an Important Role in Bellerophon's Direct-to-Patient Trials
As the industry strengthens its focus on patient centricity, Direct-to-Patient clinical trials have emerged as a popular trial design that have the potential to increase patient recruitment and retention. IRT plays a crucial role in the success of a Direct-to-Patient trial. Because drug supplies are being managed and shipped from distribution facilities directly to patients' homes, a sponsor must have a high-quality system in place to accurately track the chain of custody, ensure patient-blinding and handle other logistical challenges. What You Will Learn Benefits and challenges associated with the Direct-to-Patient model Bellerophon's top considerations when implementing this trial design How IRT can equip study teams to successfully track chain of custody, ensure patient blinding, and handle logistical challenges
by Suvoda