Corvus Pharmaceuticals has stopped the Phase III trial of its investigational cancer drug, mupadolimab, for Covid-19 due to positive trends demonstrated by vaccines in reducing serious infection and hospitalisations.
Free Case Study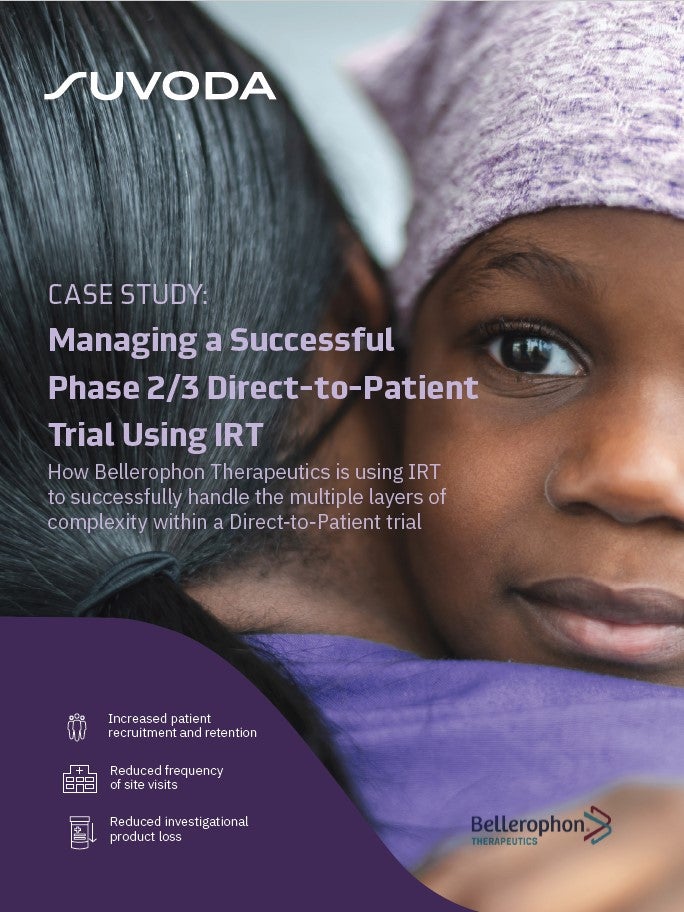 Direct-to-Patient Trials: How IRT Plays an Important Role in Bellerophon's Direct-to-Patient Trials
As the industry strengthens its focus on patient centricity, Direct-to-Patient clinical trials have emerged as a popular trial design that have the potential to increase patient recruitment and retention. IRT plays a crucial role in the success of a Direct-to-Patient trial. Because drug supplies are being managed and shipped from distribution facilities directly to patients' homes, a sponsor must have a high-quality system in place to accurately track the chain of custody, ensure patient-blinding and handle other logistical challenges. What You Will Learn Benefits and challenges associated with the Direct-to-Patient model Bellerophon's top considerations when implementing this trial design How IRT can equip study teams to successfully track chain of custody, ensure patient blinding, and handle logistical challenges
by Suvoda
A humanised monoclonal antibody, mupadolimab can react with a selected site on CD73 that induces B cells and hinders immunosuppressive adenosine generation.
The drug showed immunomodulatory activity that activated lymphocytes, stimulated antibody production from B cells, and worked on lymphocyte trafficking in preclinical trials.
Corvus noted that the drug's Covid-19 trial discontinuation is not linked to any safety or efficacy issues noted in study subjects.
Corvus Pharmaceuticals co-founder, president and CEO Richard Miller said: "Since the initiation of our Phase III study, it has been confirmed that Covid-19 vaccines are highly effective, particularly in terms of preventing serious disease and hospitalisations; the patient population we intend to treat with mupadolimab.
"We are prioritising resources on mupadolimab in oncology and intensifying our efforts in our cancer programmes."
The company will progress mupadolimab for oncology indications, where it is being analysed in a Phase I/Ib trial.
In this trial, the drug is being assessed as a monotherapy, in combination with ciforadenant, and in combination with pembrolizumab to treat different cancer types who failed conventional treatments.
More than 90 subjects have so far been treated with mupadolimab in the trial.
The expansion cohort of the trial started the enrolment of up to 15 subjects with advanced human papillomavirus (HPV+) head and neck cancers.
Corvus expects that the B cell activation by the drug will boost immunity to viral antigens within the tumours of these patients, offering enhanced clinical outcomes.
Furthermore, another arm of the trial is assessing mupadolimab plus ciforadenant and pembrolizumab.
With the Phase III Covid-19 trial discontinuation, Corvus estimates to reduce the projected 2021 net cash used in operating activities by $11m.
Another asset of the company, CPI-818, is currently being studied in a multi-centre Phase I/Ib trial in subjects with various forms of T-cell lymphomas.
Free Case Study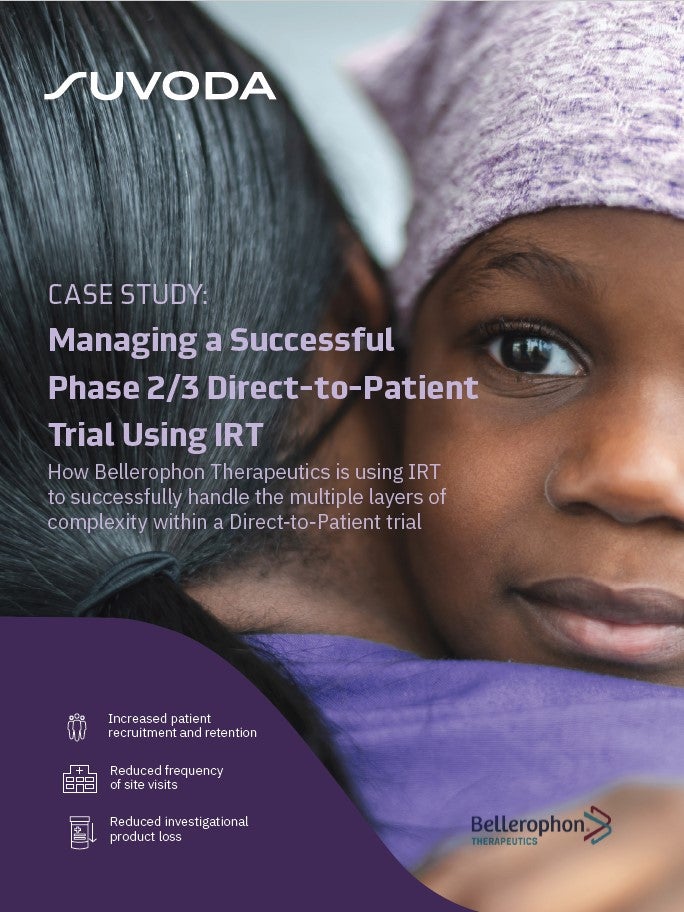 Direct-to-Patient Trials: How IRT Plays an Important Role in Bellerophon's Direct-to-Patient Trials
As the industry strengthens its focus on patient centricity, Direct-to-Patient clinical trials have emerged as a popular trial design that have the potential to increase patient recruitment and retention. IRT plays a crucial role in the success of a Direct-to-Patient trial. Because drug supplies are being managed and shipped from distribution facilities directly to patients' homes, a sponsor must have a high-quality system in place to accurately track the chain of custody, ensure patient-blinding and handle other logistical challenges. What You Will Learn Benefits and challenges associated with the Direct-to-Patient model Bellerophon's top considerations when implementing this trial design How IRT can equip study teams to successfully track chain of custody, ensure patient blinding, and handle logistical challenges
by Suvoda