US-based life sciences firm LabCorp has announced that Covance, its drug development business, is bolstering its technology ecosystem to speed up the adoption of decentralised clinical trials.
Free Case Study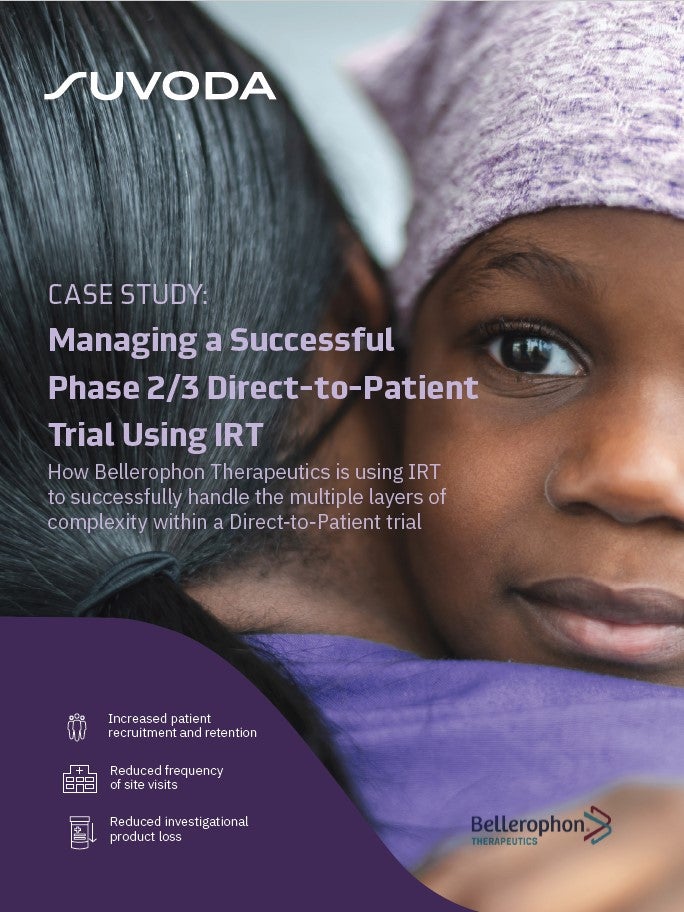 Direct-to-Patient Trials: How IRT Plays an Important Role in Bellerophon's Direct-to-Patient Trials
As the industry strengthens its focus on patient centricity, Direct-to-Patient clinical trials have emerged as a popular trial design that have the potential to increase patient recruitment and retention. IRT plays a crucial role in the success of a Direct-to-Patient trial. Because drug supplies are being managed and shipped from distribution facilities directly to patients' homes, a sponsor must have a high-quality system in place to accurately track the chain of custody, ensure patient-blinding and handle other logistical challenges. What You Will Learn Benefits and challenges associated with the Direct-to-Patient model Bellerophon's top considerations when implementing this trial design How IRT can equip study teams to successfully track chain of custody, ensure patient blinding, and handle logistical challenges
by Suvoda
Through an alliance with software provider for digital clinical trials Medable, Covance is expanding its decentralised clinical trials technology ecosystem.
The Covance patient and site interface will be powered by Medable's modular software platform. This will offer immediate access to applications, which will enable patients to take part in decentralised clinical trials.
Furthermore, the platform will allow data and system interoperability, aid in remote data collection and engagement between sites, patients, and clinical investigators.
Covance Enterprise Solutions president Bill Hanlon said: "Working together, we can apply the full capabilities of LabCorp Diagnostics business, Covance, and our technology ecosystem to extend patient access, improve the patient experience, and accelerate timelines for clinical development.
"We will continue to play a critical role as aggregators and integrators to provide customers with the access, flexibility, and scale necessary to enable global decentralised studies, and to rapidly innovate in ways that improve the patient experience and trial efficiency."
According to Medable, the firms are creating the first data-driven, decentralised trial ecosystem with this partnership.
Medable co-founder and CEO Michelle Longmire said: "Working with LabCorp Diagnostics and Covance allows us to deepen patient engagement and reduce burden for trial participants, and this decentralised trial ecosystem will help us get effective therapies to patients faster. This innovative ecosystem will accelerate trial timelines."
Last year, Covance launched a solution to transform the conduct of decentralised clinical trials.
Free Case Study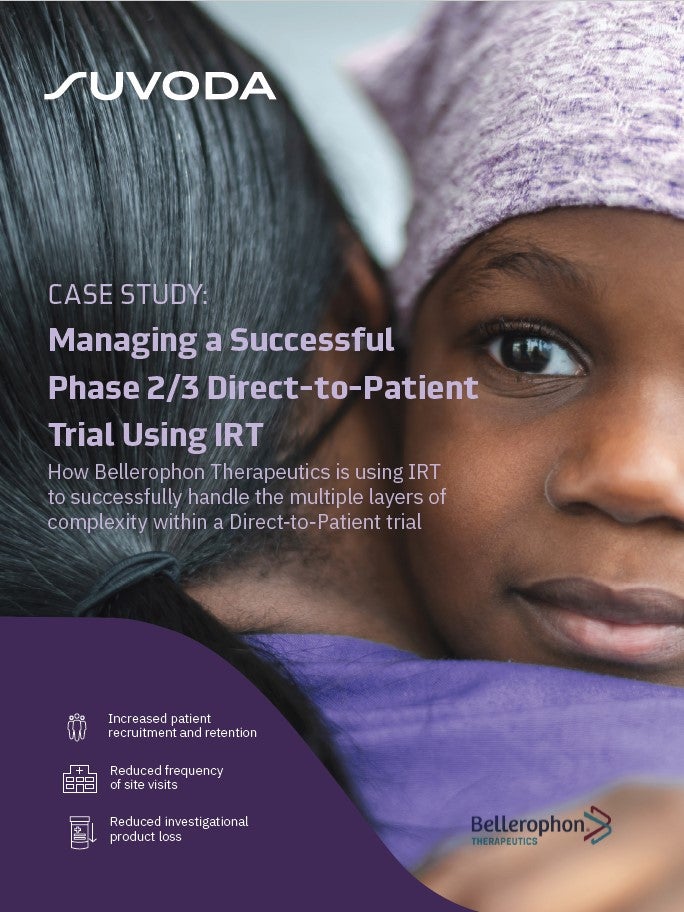 Direct-to-Patient Trials: How IRT Plays an Important Role in Bellerophon's Direct-to-Patient Trials
As the industry strengthens its focus on patient centricity, Direct-to-Patient clinical trials have emerged as a popular trial design that have the potential to increase patient recruitment and retention. IRT plays a crucial role in the success of a Direct-to-Patient trial. Because drug supplies are being managed and shipped from distribution facilities directly to patients' homes, a sponsor must have a high-quality system in place to accurately track the chain of custody, ensure patient-blinding and handle other logistical challenges. What You Will Learn Benefits and challenges associated with the Direct-to-Patient model Bellerophon's top considerations when implementing this trial design How IRT can equip study teams to successfully track chain of custody, ensure patient blinding, and handle logistical challenges
by Suvoda