US company COVAXX has announced positive interim data from Phase I clinical trial of its Covid-19 vaccine candidate, UB-612, conducted in Taiwan.
Free Case Study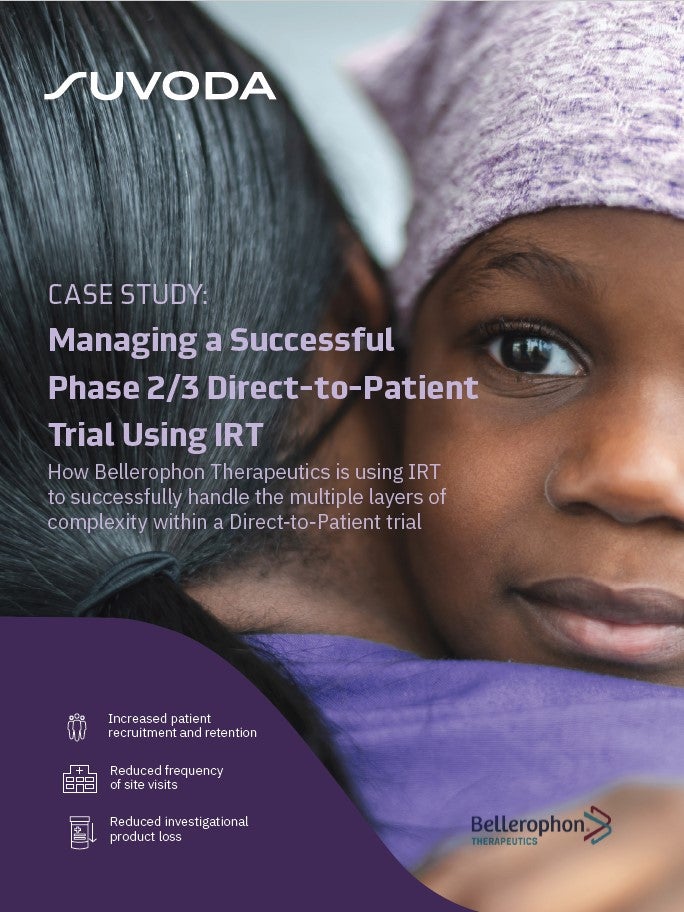 Direct-to-Patient Trials: How IRT Plays an Important Role in Bellerophon's Direct-to-Patient Trials
As the industry strengthens its focus on patient centricity, Direct-to-Patient clinical trials have emerged as a popular trial design that have the potential to increase patient recruitment and retention. IRT plays a crucial role in the success of a Direct-to-Patient trial. Because drug supplies are being managed and shipped from distribution facilities directly to patients' homes, a sponsor must have a high-quality system in place to accurately track the chain of custody, ensure patient-blinding and handle other logistical challenges. What You Will Learn Benefits and challenges associated with the Direct-to-Patient model Bellerophon's top considerations when implementing this trial design How IRT can equip study teams to successfully track chain of custody, ensure patient blinding, and handle logistical challenges
by Suvoda
UB-612 is a multitope peptide-based vaccine designed to stimulate both B and T-cell arms of the immune system to fight against SARS-CoV-2.
It also permits for successful cold chain management with existing infrastructure as the vaccine is stable at 2°C to 8°C.
The study analysed the safety, tolerability and immunogenicity of two doses of UB-612 at three dose levels (10, 30 and 100µg) in 60 healthy adults aged 20 to 55.
Results showed that UB-612 elicited robust antibody responses comparable to those seen in human convalescent sera.
Two doses of the vaccine induced neutralising antibodies in all trial subjects and was generally well-tolerated, with a promising safety profile.
Furthermore, the 100ug dose of the vaccine induced anti-S1-RBD and viral neutralising antibody responses compared favourably to responses observed in hospitalised patients who had recovered from Covid-19.
COVAXX chief medical officer Gray Heppner said: "These results are very promising. We are encouraged by the data and are accelerating our Phase II/III programme to deploy a safe and effective vaccine candidate to combat this pandemic."
At present, COVAXX is conducting Phase II clinical trials of UB-612 in Taiwan with a grant from Taiwan's Ministry of Health and Welfare. In collaboration with Aurobindo, the company is set to initiate Phase II/III trials in India.
The company along with the largest clinical diagnostic company in Brazil, Diagnosticos da America (DASA), will carry out Phase II/III clinical trials and distribute vaccines in the country.
COVAXX also entered a global logistics partnership with shipping and integrated logistics provider Maersk to create a framework for all transportation and supply chain services required for delivering the vaccine across the globe.
It has also made advance purchase commitments and agreements for UB-612 to supply doses to various countries including low-income ones.
Last September, COVAXX started dosing healthy adult participants in a Phase I clinical trial of UB-612 in Taiwan.
Free Case Study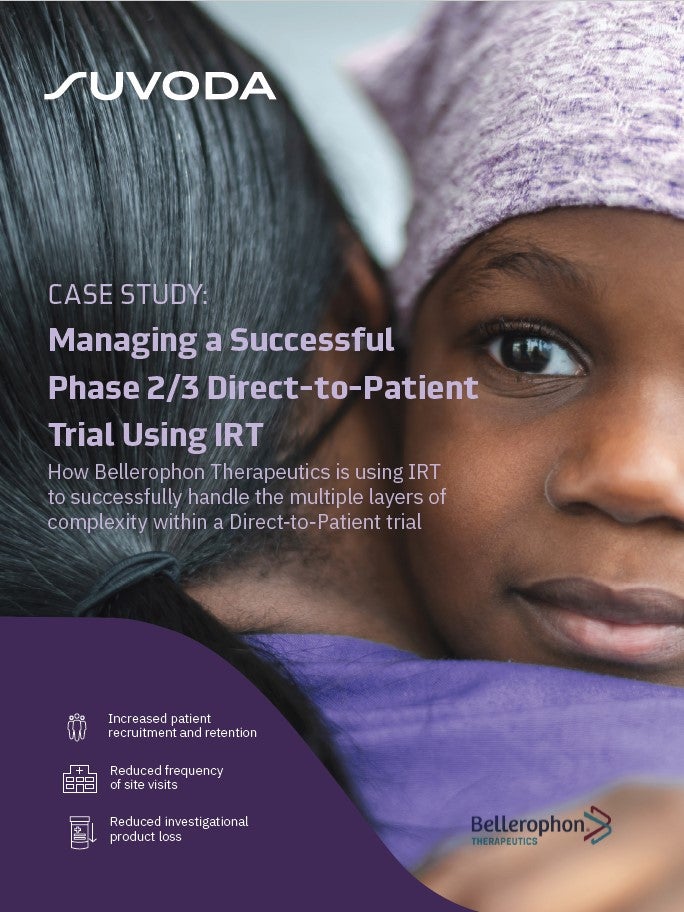 Direct-to-Patient Trials: How IRT Plays an Important Role in Bellerophon's Direct-to-Patient Trials
As the industry strengthens its focus on patient centricity, Direct-to-Patient clinical trials have emerged as a popular trial design that have the potential to increase patient recruitment and retention. IRT plays a crucial role in the success of a Direct-to-Patient trial. Because drug supplies are being managed and shipped from distribution facilities directly to patients' homes, a sponsor must have a high-quality system in place to accurately track the chain of custody, ensure patient-blinding and handle other logistical challenges. What You Will Learn Benefits and challenges associated with the Direct-to-Patient model Bellerophon's top considerations when implementing this trial design How IRT can equip study teams to successfully track chain of custody, ensure patient blinding, and handle logistical challenges
by Suvoda