The Clinical Trials Transformation Initiative (CTTI) has unveiled new recommendations for the use of real-world data (RWD) sources to improve the quality and efficiency of clinical trials.
Free Case Study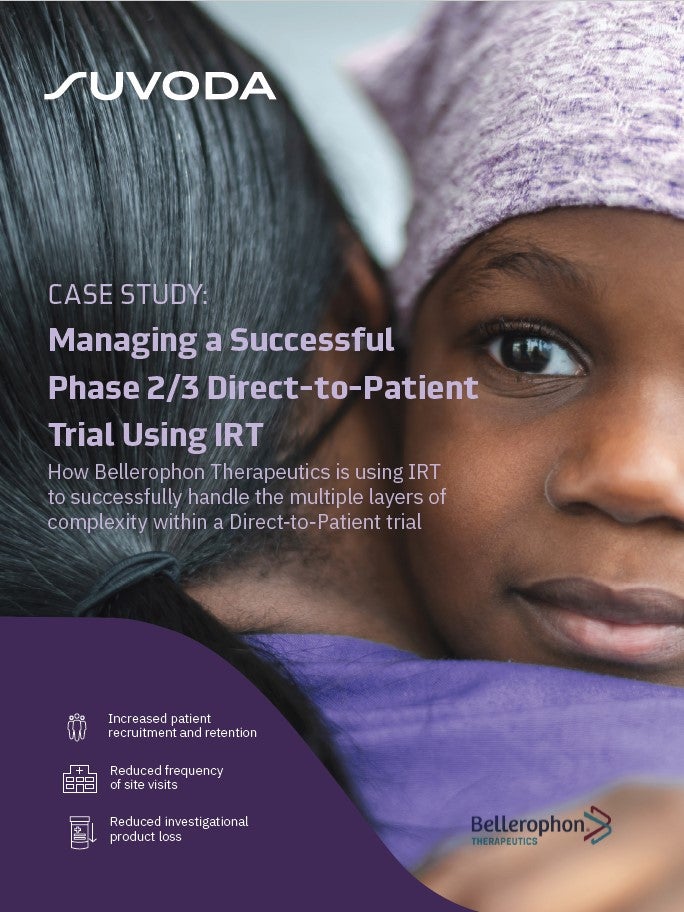 Direct-to-Patient Trials: How IRT Plays an Important Role in Bellerophon's Direct-to-Patient Trials
As the industry strengthens its focus on patient centricity, Direct-to-Patient clinical trials have emerged as a popular trial design that have the potential to increase patient recruitment and retention. IRT plays a crucial role in the success of a Direct-to-Patient trial. Because drug supplies are being managed and shipped from distribution facilities directly to patients' homes, a sponsor must have a high-quality system in place to accurately track the chain of custody, ensure patient-blinding and handle other logistical challenges. What You Will Learn Benefits and challenges associated with the Direct-to-Patient model Bellerophon's top considerations when implementing this trial design How IRT can equip study teams to successfully track chain of custody, ensure patient blinding, and handle logistical challenges
by Suvoda
The release of new recommendations, resources, and case studies for using electronic medical records (EHRs) and claims data is aimed at planning trial eligibility criteria and recruiting potential research participants.
CTTI's latest work bridged a key gap across the clinical trials ecosystem. The potential benefits of RWD have been acknowledged in the ecosystem.
CTTI executive director Pamela Tenaerts said: "We are excited to unveil this comprehensive set of work, which enables the use of RWE to plan for appropriate eligibility criteria and optimal recruitment in clinical trials.
"These recommendations add to CTTI's growing portfolio of work focused on improving clinical quality and, when appropriate, embracing novel approaches for better trial design and execution."
The RWD and real-world evidence (RWE) tools are collected through the routine delivery of health care for improving the clinical trial quality.
The recommendations and resources, along with three case studies, were released by CTTI after conducting research in collaboration with stakeholders across the clinical trials ecosystem.
Elucidating the process of integrating RWD into trial design, the case studies offer a dive into the specific challenges each sponsor faces, and the way they can be addressed.
CTTI will also co-lead a proof-of-concept study for evaluating the feasibility of using the Food and Drug Administration (FDA) Sentinel System infrastructure to carry out randomised clinical trials.
It will also focus on recommendations on how to assess and design registries so that the data can meet expectations for the review of new products by the FDA.
Free Case Study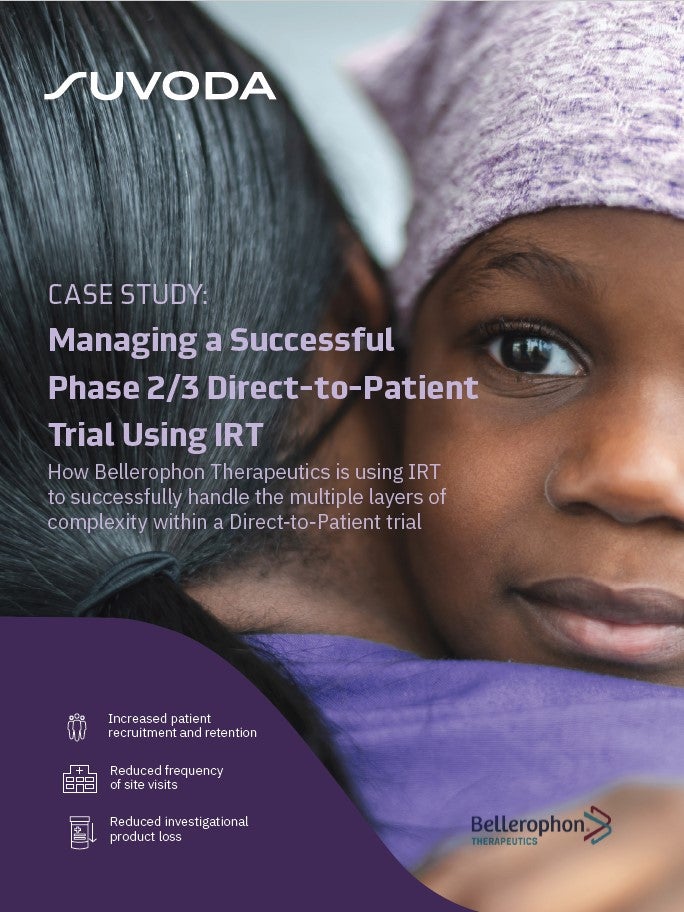 Direct-to-Patient Trials: How IRT Plays an Important Role in Bellerophon's Direct-to-Patient Trials
As the industry strengthens its focus on patient centricity, Direct-to-Patient clinical trials have emerged as a popular trial design that have the potential to increase patient recruitment and retention. IRT plays a crucial role in the success of a Direct-to-Patient trial. Because drug supplies are being managed and shipped from distribution facilities directly to patients' homes, a sponsor must have a high-quality system in place to accurately track the chain of custody, ensure patient-blinding and handle other logistical challenges. What You Will Learn Benefits and challenges associated with the Direct-to-Patient model Bellerophon's top considerations when implementing this trial design How IRT can equip study teams to successfully track chain of custody, ensure patient blinding, and handle logistical challenges
by Suvoda