CytoDyn has announced that the first Compassionate Special Permit (CSP) patient in the Philippines treated with a 700mg injection of a CCR5 antagonist, Vyrologix (leronlimab-PRO 140), significantly improved 35 hours after receiving the medication.
Free Case Study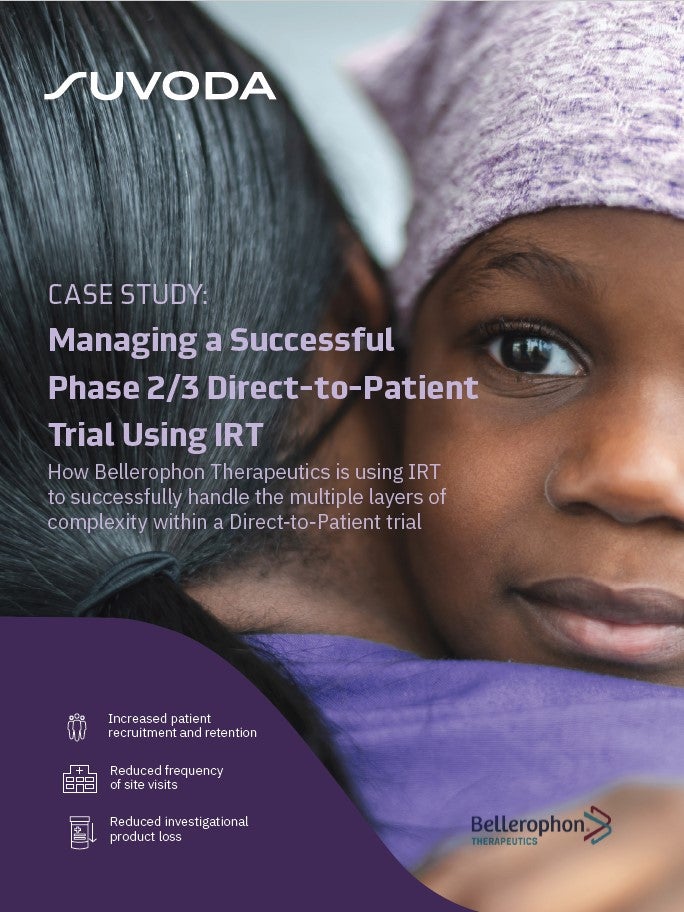 Direct-to-Patient Trials: How IRT Plays an Important Role in Bellerophon's Direct-to-Patient Trials
As the industry strengthens its focus on patient centricity, Direct-to-Patient clinical trials have emerged as a popular trial design that have the potential to increase patient recruitment and retention. IRT plays a crucial role in the success of a Direct-to-Patient trial. Because drug supplies are being managed and shipped from distribution facilities directly to patients' homes, a sponsor must have a high-quality system in place to accurately track the chain of custody, ensure patient-blinding and handle other logistical challenges. What You Will Learn Benefits and challenges associated with the Direct-to-Patient model Bellerophon's top considerations when implementing this trial design How IRT can equip study teams to successfully track chain of custody, ensure patient blinding, and handle logistical challenges
by Suvoda
An investigational humanised IgG4 mAb8, leronlimab was granted Fast Track designation by the US Food and Drug Administration for two potential indications to treat HIV and metastatic cancer.
Treatment in the patient was carried out under a licenced physician's request for CSP to treat Covid-19 sufferers.
The patient received high flow oxygen for ten days and was treated with multiple dexamethasone doses, as well as with tocilizumab during this period and failed to show improvement.
After 35 hours of subcutaneous injection with leronlimab, the patient was detached from high-flow oxygen and he was breathing on his own and was discharged from the hospital.
CytoDyn president and CEO Nader Pourhassan said: "We are ready to ship more product for any patients who request leronlimab under CSP in the Philippines.
"I want to reiterate our commitment to the Philippines of at least 100,000 doses upon the FDA Philippines granting Emergency Use Authorization (EUA).
"We believe this anecdotal data and more than 90 approved eINDs (emergency IND) in the US along with the results of our CD12 of 384 mITT (modified intent to treat), double-blinded study that had 82% reduction in 14-day mortality of critically ill, mechanically ventilated patients with statistically significant p-value is a compelling reason to move forward with the EUA request in the Philippines."
The antibody has so far been studied in 11 clinical trials involving over 1,200 individuals. It has also met primary endpoints in a pivotal Phase III trial of leronlimab plus standard antiretroviral therapies in treatment-experienced HIV patients.
Free Case Study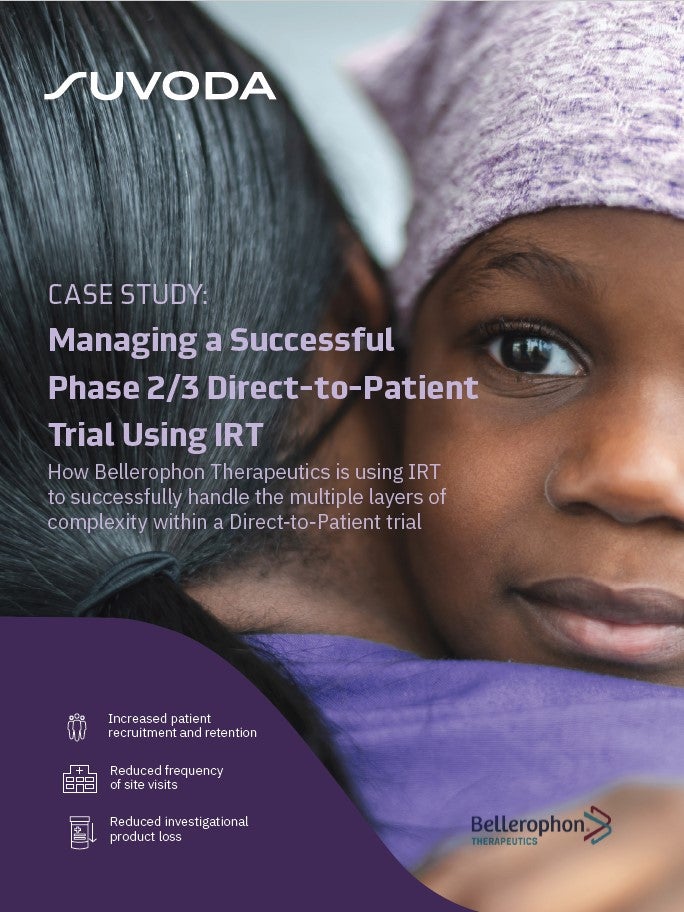 Direct-to-Patient Trials: How IRT Plays an Important Role in Bellerophon's Direct-to-Patient Trials
As the industry strengthens its focus on patient centricity, Direct-to-Patient clinical trials have emerged as a popular trial design that have the potential to increase patient recruitment and retention. IRT plays a crucial role in the success of a Direct-to-Patient trial. Because drug supplies are being managed and shipped from distribution facilities directly to patients' homes, a sponsor must have a high-quality system in place to accurately track the chain of custody, ensure patient-blinding and handle other logistical challenges. What You Will Learn Benefits and challenges associated with the Direct-to-Patient model Bellerophon's top considerations when implementing this trial design How IRT can equip study teams to successfully track chain of custody, ensure patient blinding, and handle logistical challenges
by Suvoda