Daiichi Sankyo and AstraZeneca have partnered to assess patritumab deruxtecan (U3-1402) in combination with Tagrisso (osimertinib) for the treatment of advanced or metastatic non-small cell lung cancer (NSCLC).
Free Case Study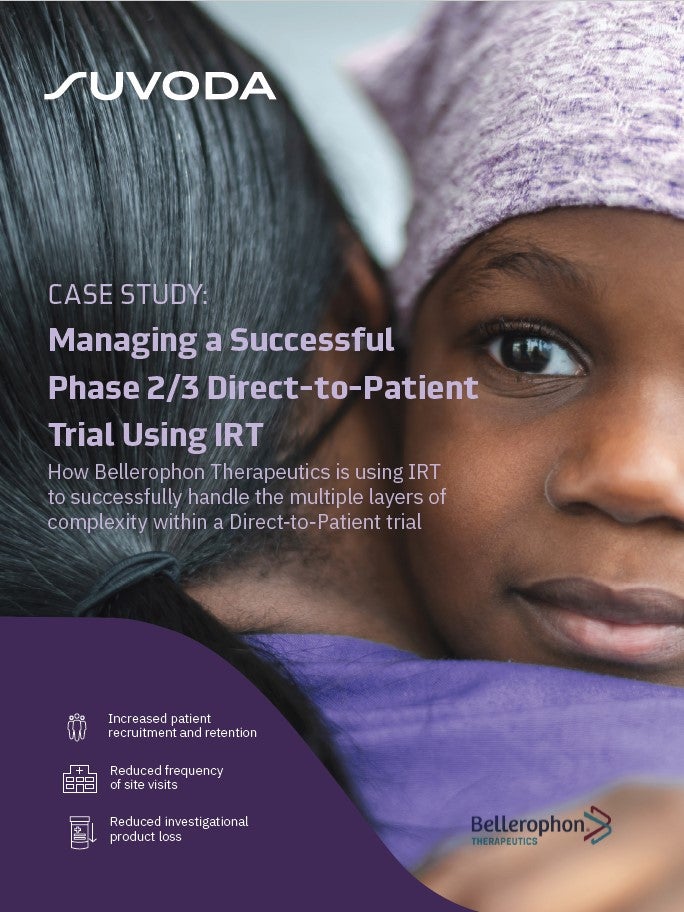 Direct-to-Patient Trials: How IRT Plays an Important Role in Bellerophon's Direct-to-Patient Trials
As the industry strengthens its focus on patient centricity, Direct-to-Patient clinical trials have emerged as a popular trial design that have the potential to increase patient recruitment and retention. IRT plays a crucial role in the success of a Direct-to-Patient trial. Because drug supplies are being managed and shipped from distribution facilities directly to patients' homes, a sponsor must have a high-quality system in place to accurately track the chain of custody, ensure patient-blinding and handle other logistical challenges. What You Will Learn Benefits and challenges associated with the Direct-to-Patient model Bellerophon's top considerations when implementing this trial design How IRT can equip study teams to successfully track chain of custody, ensure patient blinding, and handle logistical challenges
by Suvoda
Patritumab deruxtecan is a HER3 directed DXd antibody drug conjugate (ADC), while Tagrisso is an epidermal growth factor receptor (EGFR) tyrosine kinase inhibitor (TKI).
The combination will be assessed as a first-line and second-line combination treatment in a multi-centre, open-label, two-part Phase I clinical trial involving patients with an EGFR exon 19 deletion or L858R mutation.
Daiichi Sankyo will sponsor and perform the study, which will evaluate the safety and tolerability of multiple dosing combinations of the drugs. The aim is to establish the recommended combination dose.
The second part of the trial will include a first-line and second-line cohort to further investigate the anti-tumour activity and safety of the combination therapy.
In the first-line cohort, participants will be given the combination. The second-line cohort patients will be treated with only patritumab deruxtecan or the combination.
A total of up to 258 patients will be enrolled across North America, Europe and Asia.
The primary objectives of the study's dose escalation part are the safety and tolerability of patritumab deruxtecan and Tagrisso.
Meanwhile, the primary objective of the dose expansion part is the anti-tumour activity as measured by the objective response rate (ORR) and assessed by independent central review.
AstraZeneca Late Stage Development Oncology R&D head Cristian Massacesi said: "In this trial, we will explore a new potential way to treat patients with advanced disease by combining Tagrisso with patritumab deruxtecan, a HER3 directed ADC.
"This combination approach represents one of our strategies of addressing tumour resistance. As we work to continue maximising the benefit Tagrisso can bring to patients, we look forward to collaborating with Daiichi Sankyo in this new area of study."
Last month, AstraZeneca reported positive data from the Phase III DAPA-CKD trial of Farxiga (dapagliflozin) in adults with chronic kidney disease (CKD).
Free Case Study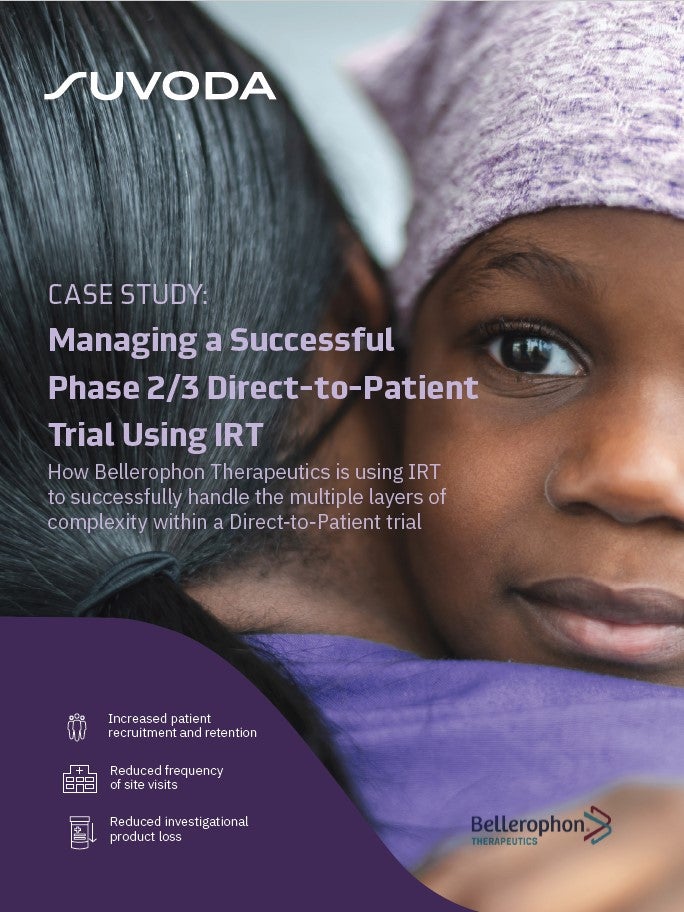 Direct-to-Patient Trials: How IRT Plays an Important Role in Bellerophon's Direct-to-Patient Trials
As the industry strengthens its focus on patient centricity, Direct-to-Patient clinical trials have emerged as a popular trial design that have the potential to increase patient recruitment and retention. IRT plays a crucial role in the success of a Direct-to-Patient trial. Because drug supplies are being managed and shipped from distribution facilities directly to patients' homes, a sponsor must have a high-quality system in place to accurately track the chain of custody, ensure patient-blinding and handle other logistical challenges. What You Will Learn Benefits and challenges associated with the Direct-to-Patient model Bellerophon's top considerations when implementing this trial design How IRT can equip study teams to successfully track chain of custody, ensure patient blinding, and handle logistical challenges
by Suvoda