Daiichi Sankyo and AstraZeneca have dosed the first subject in a Phase III DESTINY‑Breast09 trial of Enhertu (trastuzumab deruxtecan) with or without pertuzumab.
Free Case Study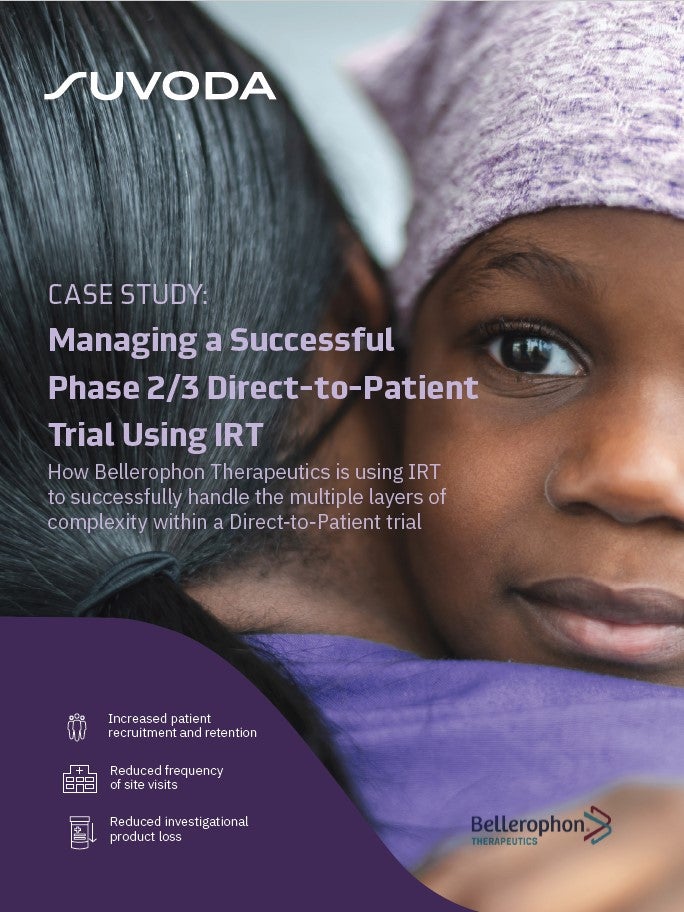 Direct-to-Patient Trials: How IRT Plays an Important Role in Bellerophon's Direct-to-Patient Trials
As the industry strengthens its focus on patient centricity, Direct-to-Patient clinical trials have emerged as a popular trial design that have the potential to increase patient recruitment and retention. IRT plays a crucial role in the success of a Direct-to-Patient trial. Because drug supplies are being managed and shipped from distribution facilities directly to patients' homes, a sponsor must have a high-quality system in place to accurately track the chain of custody, ensure patient-blinding and handle other logistical challenges. What You Will Learn Benefits and challenges associated with the Direct-to-Patient model Bellerophon's top considerations when implementing this trial design How IRT can equip study teams to successfully track chain of custody, ensure patient blinding, and handle logistical challenges
by Suvoda
The trial will evaluate the treatment as a potential first-line therapy for human epidermal growth factor receptor 2 (HER2) positive metastatic breast cancer patients.
Designed with Daiichi Sankyo's DXd ADC technology, Enhertu is a HER2-directed antibody-drug conjugate.
The global head-to-head Phase III DESTINY-Breast09 trial is assessing the safety and efficacy of Enhertu 5.4mg/kg with or without pertuzumab versus standard of care.
It will enrol a total of 1,134 subjects at various centres across Africa, Asia, Europe, North America, Oceania, and South America.
Subjects will be randomised in a 1:1:1 ratio to be treated with either Enhertu monotherapy with a pertuzumab‑matching placebo or Enhertu plus pertuzumab, or the current standard of care treatment with docetaxel or paclitaxel, trastuzumab and pertuzumab.
Progression-free survival (PFS) will be the trial's primary goal. Investigator-assessed PFS, overall survival, objective response rate, duration of response, immunogenicity, pharmacokinetics, and safety will be analysed as some of the secondary goals.
Daiichi Sankyo noted that DESTINY-Breast09 is the first study of Enhertu in the first-line metastatic setting in HER2 positive breast cancer patients.
Daiichi Sankyo Oncology R&D oncology development senior vice-president and global head Gilles Gallant said: "Based on the encouraging results we are seeing in patients who have received prior treatment for HER2 positive metastatic breast cancer, we have initiated DESTINY-Breast09 to evaluate whether earlier use of Enhertu alone or as part of a novel combination regimen may help improve outcomes for patients in the first-line metastatic setting as compared to the current standard of care."
In March 2019, Daiichi Sankyo and AstraZeneca signed a global partnership deal worth up to $6.9bn to co-develop and co-market Enhertu.
Meanwhile, Daiichi Sankyo announced that the company will discontinue the development of nafamostat inhalation formulation, DS-2319, for Covid-19 treatment in Japan.
DS-2319, which contains nafamostat mesylate, entered a Phase I Covid-19 trial in March.
The company decided to discontinue DS-2319's development in this indication based on findings from non-clinical studies and the Phase I trial.
Free Case Study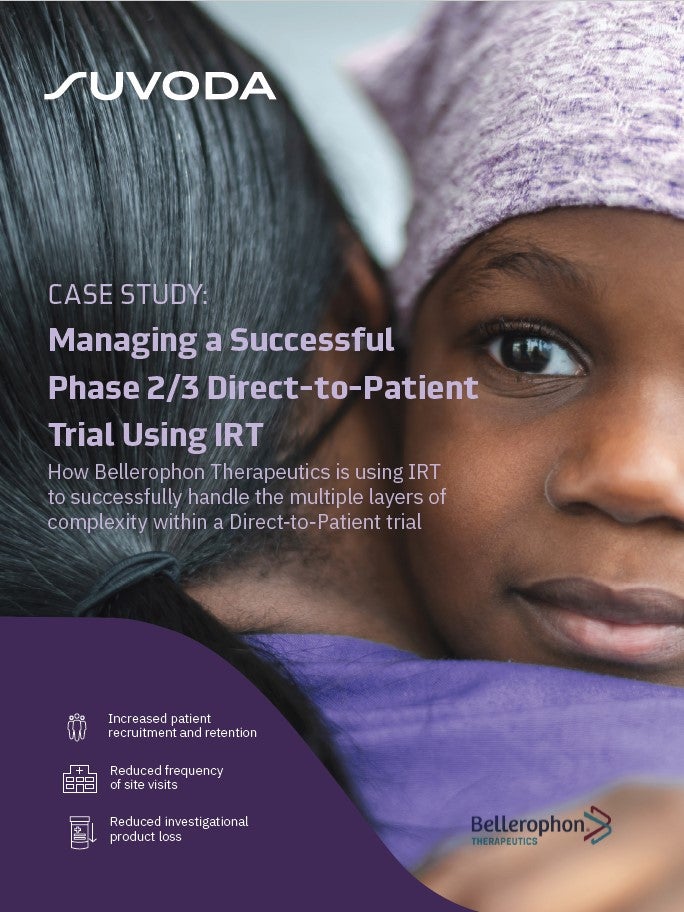 Direct-to-Patient Trials: How IRT Plays an Important Role in Bellerophon's Direct-to-Patient Trials
As the industry strengthens its focus on patient centricity, Direct-to-Patient clinical trials have emerged as a popular trial design that have the potential to increase patient recruitment and retention. IRT plays a crucial role in the success of a Direct-to-Patient trial. Because drug supplies are being managed and shipped from distribution facilities directly to patients' homes, a sponsor must have a high-quality system in place to accurately track the chain of custody, ensure patient-blinding and handle other logistical challenges. What You Will Learn Benefits and challenges associated with the Direct-to-Patient model Bellerophon's top considerations when implementing this trial design How IRT can equip study teams to successfully track chain of custody, ensure patient blinding, and handle logistical challenges
by Suvoda