Daiichi Sankyo has commenced a Phase I/II/III clinical trial of a booster dose of Covid-19 vaccine, DS-5670, in Japan.
Free Case Study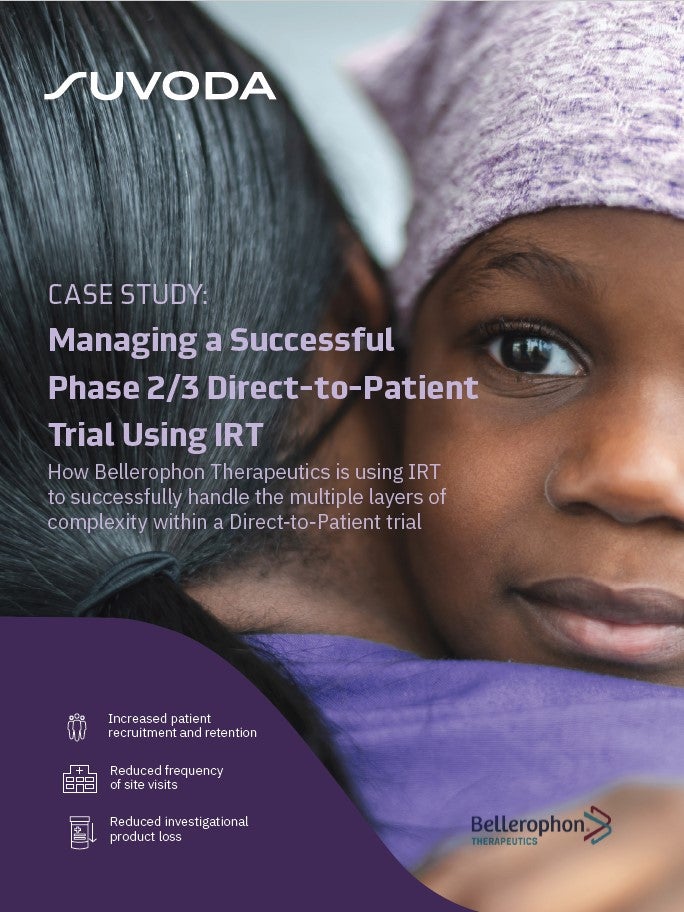 Direct-to-Patient Trials: How IRT Plays an Important Role in Bellerophon's Direct-to-Patient Trials
As the industry strengthens its focus on patient centricity, Direct-to-Patient clinical trials have emerged as a popular trial design that have the potential to increase patient recruitment and retention. IRT plays a crucial role in the success of a Direct-to-Patient trial. Because drug supplies are being managed and shipped from distribution facilities directly to patients' homes, a sponsor must have a high-quality system in place to accurately track the chain of custody, ensure patient-blinding and handle other logistical challenges. What You Will Learn Benefits and challenges associated with the Direct-to-Patient model Bellerophon's top considerations when implementing this trial design How IRT can equip study teams to successfully track chain of custody, ensure patient blinding, and handle logistical challenges
by Suvoda
The messenger ribonucleic acid (mRNA) vaccine leverages a new nucleic acid delivery technology.
In animal models, the vaccine elicited neutralising activities against the Omicron variant of the SARS-CoV-2 virus to some extent after the initial dosing.
Furthermore, the additional dose of the vaccine boosted neutralising activities, showing a possible booster effect.
The trial will assess the safety and efficacy of the booster vaccine in healthy Japanese adults, including elderly people, who completed the initial two-dose regimen with Covid-19 vaccines.
Booster vaccine will be given a minimum of six months following the last vaccine dose.
The trial's first part will decide the recommended booster dosage of the vaccine followed by a controlled trial that will enrol 4,500 adult subjects to assess DS-5670 against other vaccines in the country.
Daiichi Sankyo plans to develop and market the DS-5670 vaccine in Japan this year.
The vaccine's clinical development is being carried out through Japan Agency for Medical Research and Development (AMED)-promoted "Vaccine development project" and "Urgent improvement project for vaccine manufacturing systems" supported by the Ministry of Health, Labour and Welfare.
In December last year, the company dosed the first subject in the Phase III DESTINY‑Breast11 clinical trial of Enhertu (trastuzumab deruxtecan) in patients with breast cancer.
This trial is intended to evaluate Enhertu as neoadjuvant therapy for high-risk human epidermal growth factor receptor 2 (HER2) positive early-stage breast cancer.
Free Case Study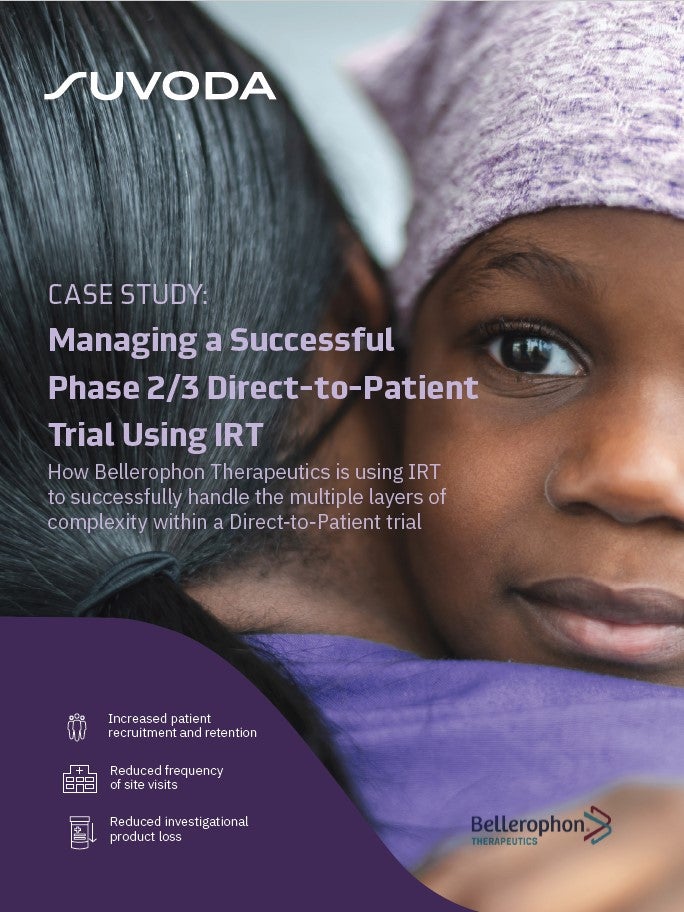 Direct-to-Patient Trials: How IRT Plays an Important Role in Bellerophon's Direct-to-Patient Trials
As the industry strengthens its focus on patient centricity, Direct-to-Patient clinical trials have emerged as a popular trial design that have the potential to increase patient recruitment and retention. IRT plays a crucial role in the success of a Direct-to-Patient trial. Because drug supplies are being managed and shipped from distribution facilities directly to patients' homes, a sponsor must have a high-quality system in place to accurately track the chain of custody, ensure patient-blinding and handle other logistical challenges. What You Will Learn Benefits and challenges associated with the Direct-to-Patient model Bellerophon's top considerations when implementing this trial design How IRT can equip study teams to successfully track chain of custody, ensure patient blinding, and handle logistical challenges
by Suvoda