DBV Technologies has reported top-line results from the Peanut EPIT Efficacy and Safety (PEPITES) Phase III clinical trial of Viaskin Peanut conducted in patients aged from four to 11 years suffering from nut allergies.
Free Case Study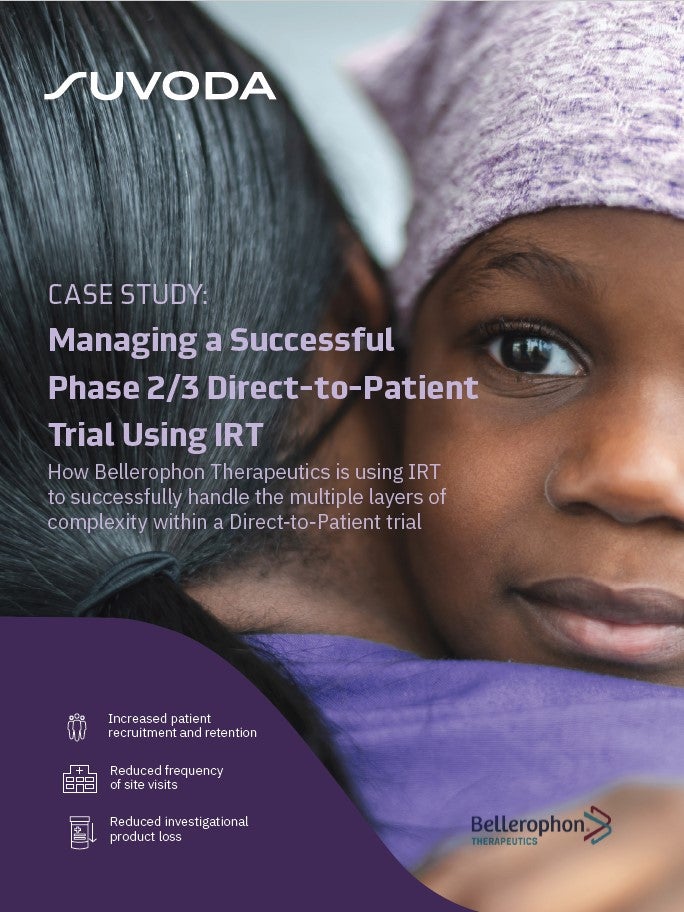 Direct-to-Patient Trials: How IRT Plays an Important Role in Bellerophon's Direct-to-Patient Trials
As the industry strengthens its focus on patient centricity, Direct-to-Patient clinical trials have emerged as a popular trial design that have the potential to increase patient recruitment and retention. IRT plays a crucial role in the success of a Direct-to-Patient trial. Because drug supplies are being managed and shipped from distribution facilities directly to patients' homes, a sponsor must have a high-quality system in place to accurately track the chain of custody, ensure patient-blinding and handle other logistical challenges. What You Will Learn Benefits and challenges associated with the Direct-to-Patient model Bellerophon's top considerations when implementing this trial design How IRT can equip study teams to successfully track chain of custody, ensure patient blinding, and handle logistical challenges
by Suvoda
The firm's immunotherapy technology Viaskin involves administration of allergen directly into the superficial layers of the skin, where it activates immune system by targeting antigen-presenting cells.
According to the top-line data, 35.3% of subjects achieved a significant response to 250μg Viaskin Peanut following 12 months of treatment, compared to 13.6% with placebo.
The results further showed that the drug did not meet the primary endpoint of 15% lower bound of the confidence interval (CI) in the difference in response rates between the investigational and placebo groups.
Conducted at 31 centres across North America, Germany, Ireland and Australia, the double-blinded, placebo-controlled Phase III PEPITES trial assessed the safety and efficacy of Viaskin Peanut.
"The findings in this study underscore the potential of epicutaneous immunotherapy."
DBV Technologies chief scientific officer Dr Hugh Sampson said: "The findings in this study underscore the potential of epicutaneous immunotherapy, and we continue to be encouraged by the response rate and clinically meaningful improvements in cumulative reactive dose that we observed.
"We believe the strength of all clinical data we have seen to date in over 650 patients supports the safety and efficacy profile of Viaskin Peanut, and look forward to seeing the full results from this trial."
The results also revealed a statistically significant increase in a secondary endpoint measure of cumulative reactive dose (CRD) from 210mg at baseline to 900mg at month 12 with Viaskin Peanut.
Viaskin Peanut demonstrated favourable safety and tolerability profile consistent with previous data from a Phase IIb trial.
Free Case Study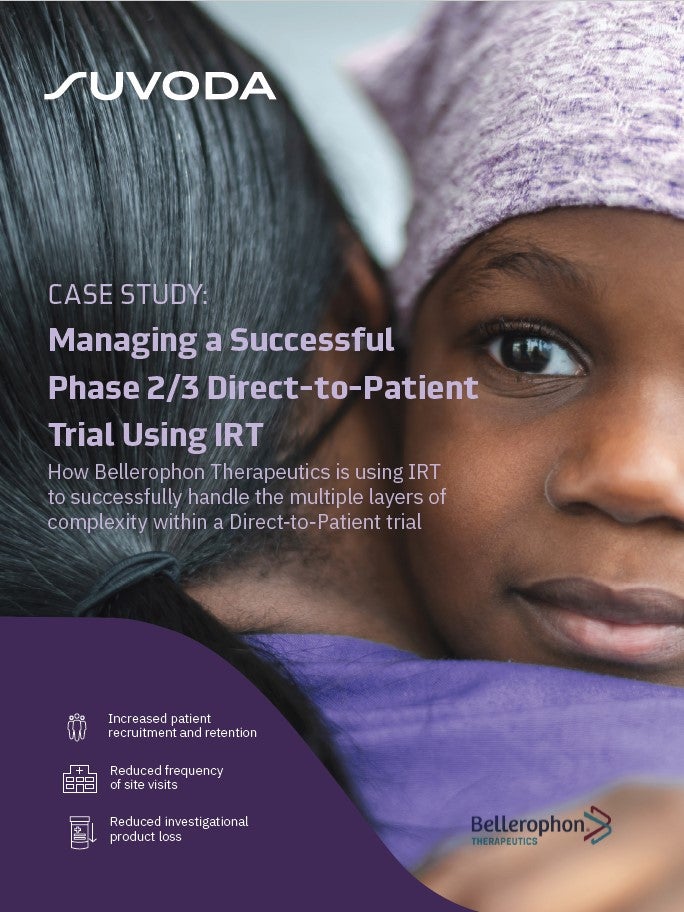 Direct-to-Patient Trials: How IRT Plays an Important Role in Bellerophon's Direct-to-Patient Trials
As the industry strengthens its focus on patient centricity, Direct-to-Patient clinical trials have emerged as a popular trial design that have the potential to increase patient recruitment and retention. IRT plays a crucial role in the success of a Direct-to-Patient trial. Because drug supplies are being managed and shipped from distribution facilities directly to patients' homes, a sponsor must have a high-quality system in place to accurately track the chain of custody, ensure patient-blinding and handle other logistical challenges. What You Will Learn Benefits and challenges associated with the Direct-to-Patient model Bellerophon's top considerations when implementing this trial design How IRT can equip study teams to successfully track chain of custody, ensure patient blinding, and handle logistical challenges
by Suvoda