Debiopharm has started enrolling patients in its CATRIPCA Phase I clinical trial evaluating Debio 1143 in combination with Merck's Keytruda for the treatment of cancer.
Free Case Study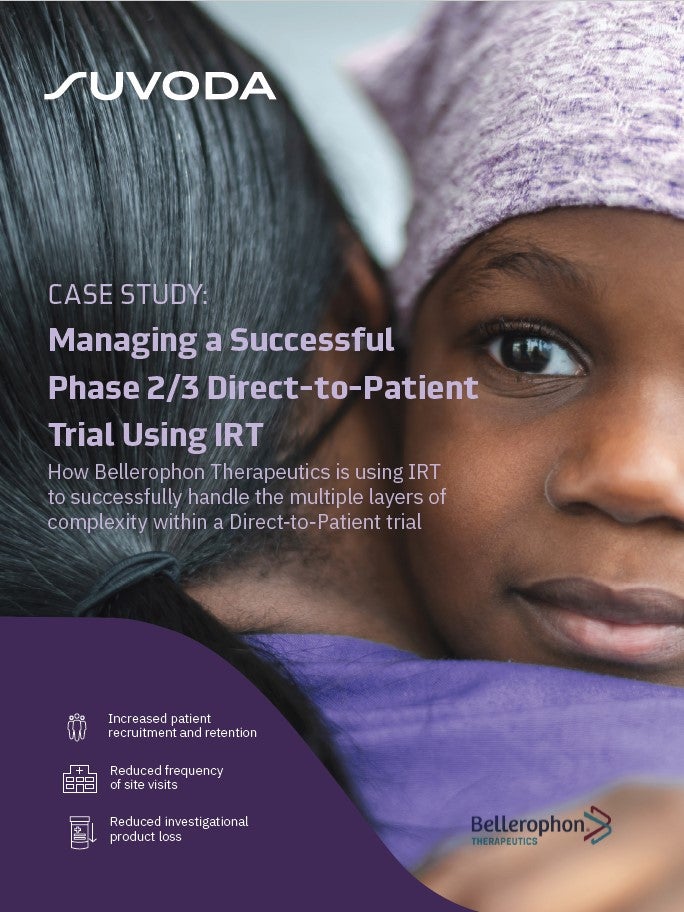 Direct-to-Patient Trials: How IRT Plays an Important Role in Bellerophon's Direct-to-Patient Trials
As the industry strengthens its focus on patient centricity, Direct-to-Patient clinical trials have emerged as a popular trial design that have the potential to increase patient recruitment and retention. IRT plays a crucial role in the success of a Direct-to-Patient trial. Because drug supplies are being managed and shipped from distribution facilities directly to patients' homes, a sponsor must have a high-quality system in place to accurately track the chain of custody, ensure patient-blinding and handle other logistical challenges. What You Will Learn Benefits and challenges associated with the Direct-to-Patient model Bellerophon's top considerations when implementing this trial design How IRT can equip study teams to successfully track chain of custody, ensure patient blinding, and handle logistical challenges
by Suvoda
Debio 1143 is an investigational, oral inhibitor of apoptosis proteins (IAP) antagonist that stimulates programmed cell death and anti-tumour immunity, while Keytruda is an anti-PD1 drug.
The Phase I trial will investigate the combination therapy's safety and preliminary efficacy in people with non-microsatellite instability (non-MSI)-high colorectal cancer (CRC) and pancreatic ductal adenocarcinoma cancer (PDAC).
It focuses on two cancers that have intrinsic resistance to immune checkpoint inhibitors (ICI).
Around 46 patients who do not have other available therapeutic options will be enrolled in the dose-escalation and expansion parts of the trial.
The study extension's primary endpoint is the objective response rate.
Debiopharm chief development officer Dr Angela Zubel said: "This study is the third of a series of immuno-oncology studies investigating the effect of Debio 1143 in combination with ICIs.
"The study will evaluate a particularly difficult patient population, primarily in the immune-refractory setting with hopes that the Debio 1143-pembrolizumab combination will open up new possibilities for these patients."
In a separate development, Keytruda is being investigated in combination with Oncologie's bavituximab in a Phase II trial involving advanced gastric or gastroesophageal cancer patients.
Bavituximab is an investigational monoclonal antibody that blocks phosphatidylserine (PS) activation of various immune cell receptors.
The global, multi-centre, open-label, single-arm Phase II study will assess the safety, tolerability, and efficacy of the combination in about 80 patients across the US, UK, South Korea and Taiwan.
Patient enrolment has started for the trial.
Free Case Study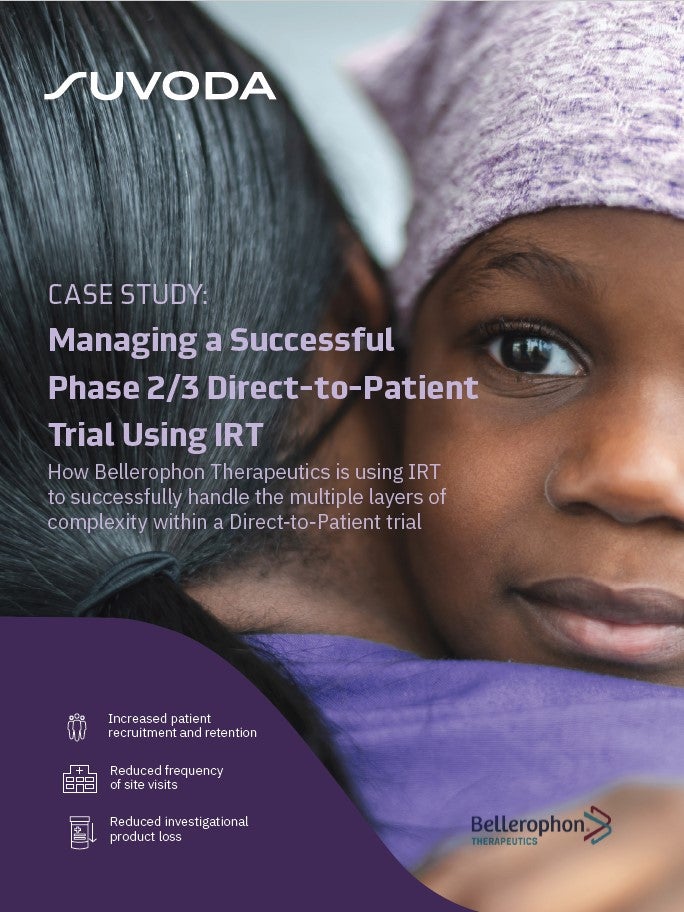 Direct-to-Patient Trials: How IRT Plays an Important Role in Bellerophon's Direct-to-Patient Trials
As the industry strengthens its focus on patient centricity, Direct-to-Patient clinical trials have emerged as a popular trial design that have the potential to increase patient recruitment and retention. IRT plays a crucial role in the success of a Direct-to-Patient trial. Because drug supplies are being managed and shipped from distribution facilities directly to patients' homes, a sponsor must have a high-quality system in place to accurately track the chain of custody, ensure patient-blinding and handle other logistical challenges. What You Will Learn Benefits and challenges associated with the Direct-to-Patient model Bellerophon's top considerations when implementing this trial design How IRT can equip study teams to successfully track chain of custody, ensure patient blinding, and handle logistical challenges
by Suvoda