Dermata Therapeutics has reported positive topline data from the Phase Ib clinical trial where its product candidate, DMT310, was assessed to treat subjects with mild-to-moderate psoriasis.
Free Case Study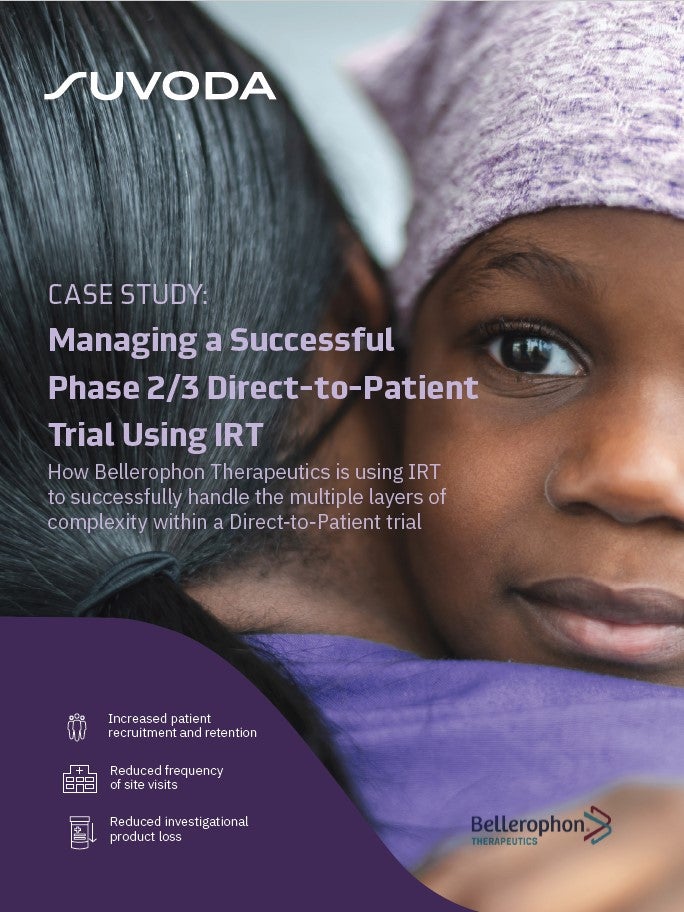 Direct-to-Patient Trials: How IRT Plays an Important Role in Bellerophon's Direct-to-Patient Trials
As the industry strengthens its focus on patient centricity, Direct-to-Patient clinical trials have emerged as a popular trial design that have the potential to increase patient recruitment and retention. IRT plays a crucial role in the success of a Direct-to-Patient trial. Because drug supplies are being managed and shipped from distribution facilities directly to patients' homes, a sponsor must have a high-quality system in place to accurately track the chain of custody, ensure patient-blinding and handle other logistical challenges. What You Will Learn Benefits and challenges associated with the Direct-to-Patient model Bellerophon's top considerations when implementing this trial design How IRT can equip study teams to successfully track chain of custody, ensure patient blinding, and handle logistical challenges
by Suvoda
Possessing mechanical and chemical mechanisms of action, DMT310 is a multifactorial drug obtained naturally from a peculiar freshwater sponge and processed into a powder.
The powder is combined with a fluidising agent just before the application to the target area.
The multicentre, single-arm, open-label, proof of concept, 12-week target lesion Phase Ib trial analysed the safety, tolerability and efficacy of DMT310 given once a week in 30 subjects.
These patients had mild-to-moderate psoriatic plaque spreading over 2%-30% of body surface area.
Findings showed that at week eight, 29.6% of the subjects who received the DMT310 treatment attained a Physician's Global Assessment (PGA) score of 0 or 1.
Approximately 25.9% of the subjects had a total Psoriasis Area Severity Index (PASI) score of 0 or 1 at week eight.
At the same time period, DMT310 offered a 19.6% decline from baseline in pruritis for the target lesion.
Furthermore, DMT310 was found to be safe with just three adverse events (AEs) observed in the trial.
Of these three AEs, two were associated with DMT310 while no serious adverse events (SAEs) were noted.
Dermata Development senior vice-president Christopher Nardo said: "Importantly, the treatment effect and tolerability observed in this Phase Ib target lesion study provides support for exploring a treatment regimen with more frequent than once-weekly applications, improved application techniques, or more drug per application site, which could be more effective for moderate psoriasis patients with thicker psoriatic plaques.
"Therefore, we have initiated additional work in an ex vivo skin model to evaluate dosing frequency and product application to better inform the clinical trial design for a future Phase II psoriasis study."
Free Case Study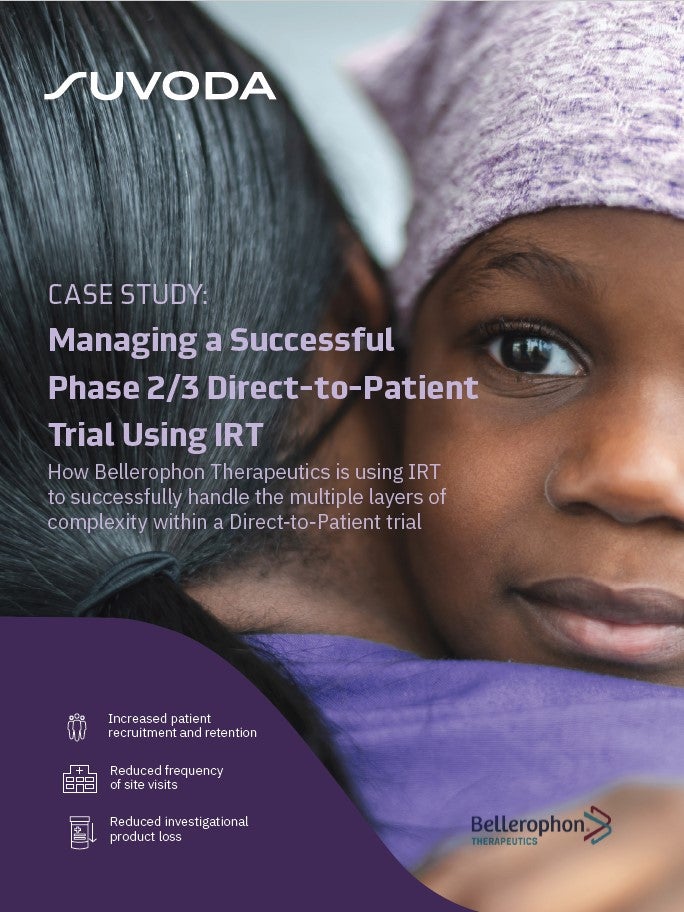 Direct-to-Patient Trials: How IRT Plays an Important Role in Bellerophon's Direct-to-Patient Trials
As the industry strengthens its focus on patient centricity, Direct-to-Patient clinical trials have emerged as a popular trial design that have the potential to increase patient recruitment and retention. IRT plays a crucial role in the success of a Direct-to-Patient trial. Because drug supplies are being managed and shipped from distribution facilities directly to patients' homes, a sponsor must have a high-quality system in place to accurately track the chain of custody, ensure patient-blinding and handle other logistical challenges. What You Will Learn Benefits and challenges associated with the Direct-to-Patient model Bellerophon's top considerations when implementing this trial design How IRT can equip study teams to successfully track chain of custody, ensure patient blinding, and handle logistical challenges
by Suvoda