Eisai and Biogen have decided to stop Phase III clinical studies on the investigational oral beta amyloid cleaving enzyme (BACE) inhibitor elenbecestat in patients with early Alzheimer's disease (AD).
Free Case Study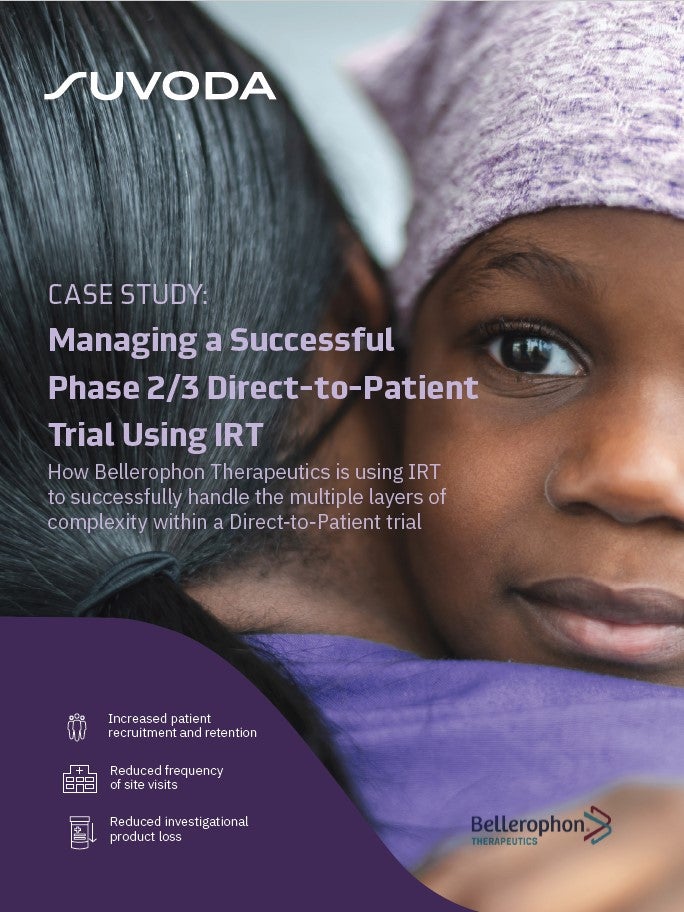 Direct-to-Patient Trials: How IRT Plays an Important Role in Bellerophon's Direct-to-Patient Trials
As the industry strengthens its focus on patient centricity, Direct-to-Patient clinical trials have emerged as a popular trial design that have the potential to increase patient recruitment and retention. IRT plays a crucial role in the success of a Direct-to-Patient trial. Because drug supplies are being managed and shipped from distribution facilities directly to patients' homes, a sponsor must have a high-quality system in place to accurately track the chain of custody, ensure patient-blinding and handle other logistical challenges. What You Will Learn Benefits and challenges associated with the Direct-to-Patient model Bellerophon's top considerations when implementing this trial design How IRT can equip study teams to successfully track chain of custody, ensure patient blinding, and handle logistical challenges
by Suvoda
The decision to suspend the MISSION AD1 and AD2 studies is based on a recommendation by the Data Safety Monitoring Board (DSMB).
DSMB conducted a safety review and found an unfavourable risk-benefit ratio, resulting in the monitoring committee recommending discontinuation of the studies.
Investigators are requested to contact their study participants to discontinue the investigational treatment for AD.
Eisai Neurology Business Group chief clinical officer Dr Lynn Kramer said: "We would like to thank the patients and the families, as well as medical professionals, that participated in the MISSION AD studies.
"Without their contributions, we would not be able to advance Alzheimer's disease research. We are very disappointed with the news, and intend to learn from these data and continue engaging with patients and investigators, to pursue the discovery of new medicines for Alzheimer's disease."
The Phase III clinical trial study for elenbecestat comprised two global Phase III clinical trials, MISSION AD1 and MISSION AD2, and featured identical protocols.
Both multicentre, placebo-controlled, double-blind, parallel-group Phase III clinical trials were designed to assess the safety and efficacy of elenbecestat.
The study enrolled around 2,100 patients identified with mild cognitive impairment (MCI) or early AD with confirmed amyloid pathology in the brain.
The selected participants were randomised to receive either 50mg of elenbecestat or placebo for 24 months.
Clinical Dementia Rating Sum of Boxes (CDR-SB) was the primary endpoint.
Eisai noted that the decision will also impact the extension of the elenbecestat Phase II clinical trial.
Free Case Study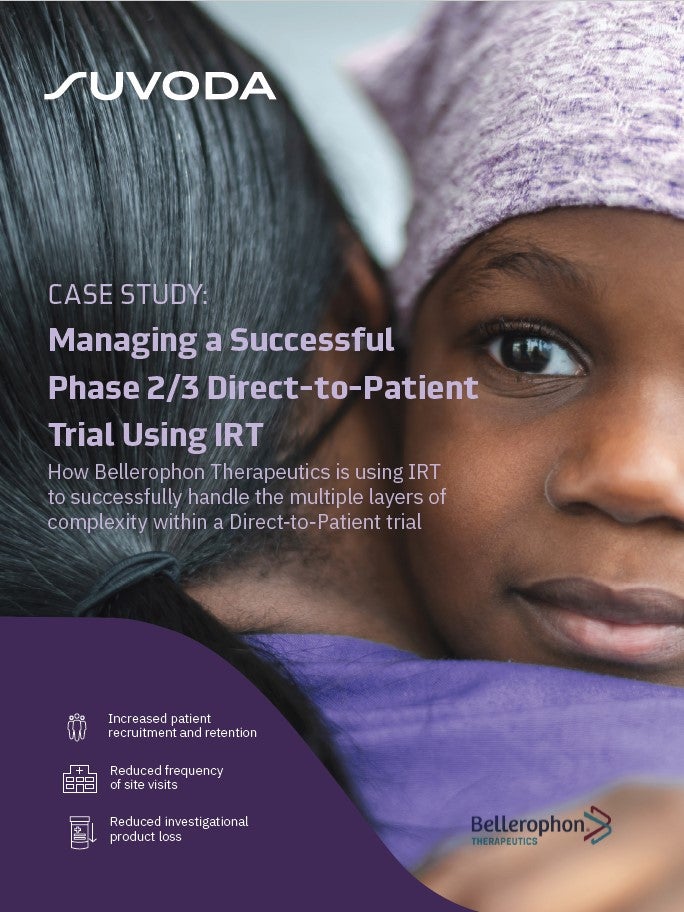 Direct-to-Patient Trials: How IRT Plays an Important Role in Bellerophon's Direct-to-Patient Trials
As the industry strengthens its focus on patient centricity, Direct-to-Patient clinical trials have emerged as a popular trial design that have the potential to increase patient recruitment and retention. IRT plays a crucial role in the success of a Direct-to-Patient trial. Because drug supplies are being managed and shipped from distribution facilities directly to patients' homes, a sponsor must have a high-quality system in place to accurately track the chain of custody, ensure patient-blinding and handle other logistical challenges. What You Will Learn Benefits and challenges associated with the Direct-to-Patient model Bellerophon's top considerations when implementing this trial design How IRT can equip study teams to successfully track chain of custody, ensure patient blinding, and handle logistical challenges
by Suvoda