American pharmaceutical firm Eli Lilly has announced that it will delay its clinical trial activities in the wake of the Covid-19 pandemic.
Free Case Study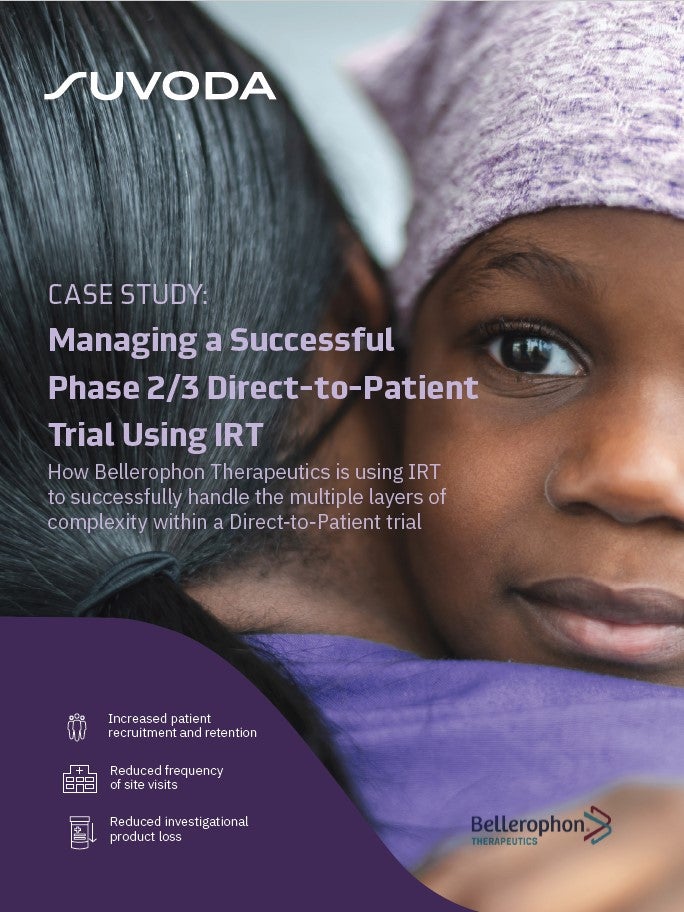 Direct-to-Patient Trials: How IRT Plays an Important Role in Bellerophon's Direct-to-Patient Trials
As the industry strengthens its focus on patient centricity, Direct-to-Patient clinical trials have emerged as a popular trial design that have the potential to increase patient recruitment and retention. IRT plays a crucial role in the success of a Direct-to-Patient trial. Because drug supplies are being managed and shipped from distribution facilities directly to patients' homes, a sponsor must have a high-quality system in place to accurately track the chain of custody, ensure patient-blinding and handle other logistical challenges. What You Will Learn Benefits and challenges associated with the Direct-to-Patient model Bellerophon's top considerations when implementing this trial design How IRT can equip study teams to successfully track chain of custody, ensure patient blinding, and handle logistical challenges
by Suvoda
With the novel coronavirus (Covid-19) putting healthcare systems under strain, Lilly has decided to delay most new study starts, as well as pause enrolment in the majority of ongoing studies.
The global healthcare system has been impacted by the coronavirus pandemic, leading to the restructuring of operations by many healthcare firms to prioritise caring for those suffering from the virus.
Lilly chief medical officer Tim Garnett said: "Lilly is working hard to alleviate some of the pressure that the global Covid-19 pandemic has placed on our healthcare system.
"We have repurposed our laboratories to conduct diagnostic testing for patients and we are researching potential therapeutics. In the interest of helping to ensure patient safety and minimising further stress on the system, Lilly has also decided to take several proactive steps in regard to our clinical trial activities around the world during the Covid-19 pandemic.
"By delaying most new study starts and pausing enrollment of new patients or healthy volunteers in most ongoing studies, we hope to ease the burden on participating healthcare facilities and allow physicians to focus more of their efforts on combating Covid-19."
Despite disruption caused by the coronavirus, Lilly does not anticipate any adjustments to the previously communicated timelines for ongoing late-stage studies, except for mirikizumab, which is indicated for treating gastrointestinal (GI) disorders.
Last month, Eli Lilly reported top-line data from the Phase II/III DIAN-TU clinical trial of solanezumab in patients with autosomal dominant Alzheimer's disease/dominantly inherited Alzheimer's disease (DIAD) caused by rare gene mutations.
In January this year, Eli Lilly and Incyte reported positive data from the Phase III BREEZE-AD4 clinical trial performed to assess a combination of baricitinib and topical corticosteroids (TCS) for moderate to severe atopic dermatitis (AD).
Meanwhile, the Covid-19 death toll has reached 15,298 worldwide. A total of 349,187 confirmed cases and 100,338 recoveries have been reported to date.
Free Case Study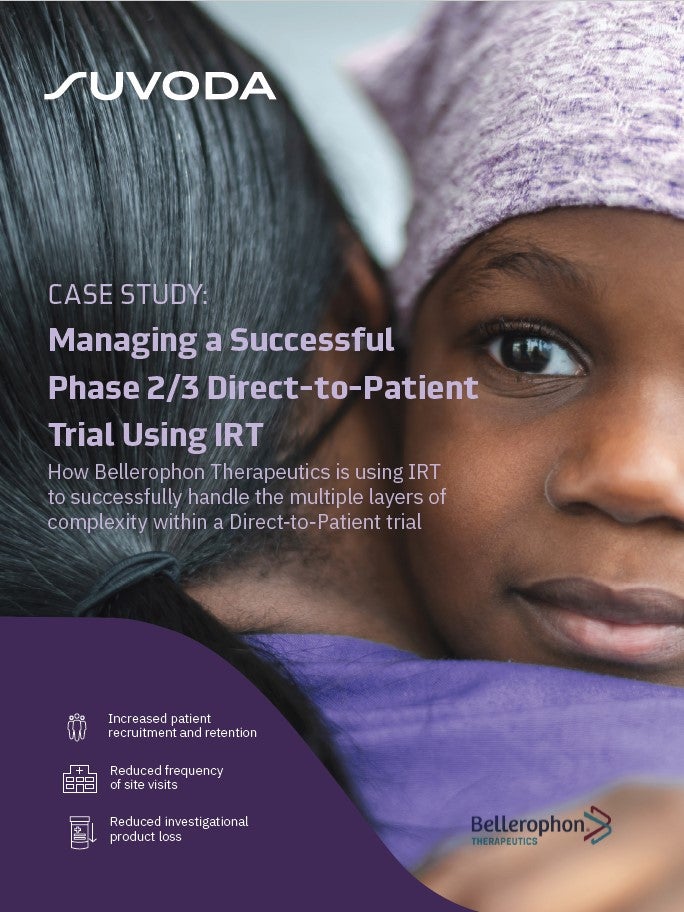 Direct-to-Patient Trials: How IRT Plays an Important Role in Bellerophon's Direct-to-Patient Trials
As the industry strengthens its focus on patient centricity, Direct-to-Patient clinical trials have emerged as a popular trial design that have the potential to increase patient recruitment and retention. IRT plays a crucial role in the success of a Direct-to-Patient trial. Because drug supplies are being managed and shipped from distribution facilities directly to patients' homes, a sponsor must have a high-quality system in place to accurately track the chain of custody, ensure patient-blinding and handle other logistical challenges. What You Will Learn Benefits and challenges associated with the Direct-to-Patient model Bellerophon's top considerations when implementing this trial design How IRT can equip study teams to successfully track chain of custody, ensure patient blinding, and handle logistical challenges
by Suvoda