Emergex Vaccines has obtained regulatory approvals to commence the Phase I clinical trial of its Covid-19 vaccine candidate.
Free Case Study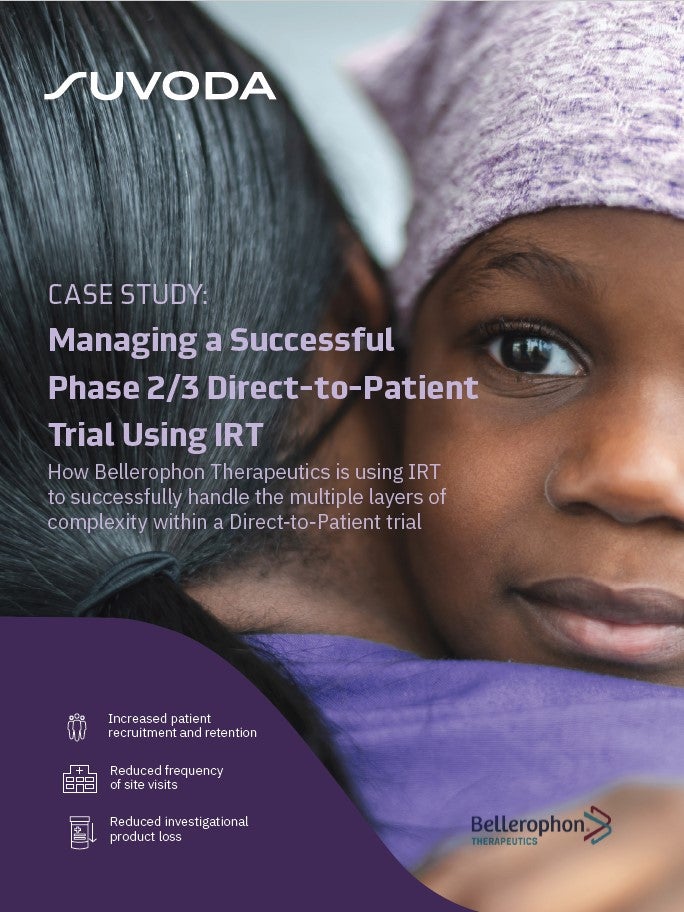 Direct-to-Patient Trials: How IRT Plays an Important Role in Bellerophon's Direct-to-Patient Trials
As the industry strengthens its focus on patient centricity, Direct-to-Patient clinical trials have emerged as a popular trial design that have the potential to increase patient recruitment and retention. IRT plays a crucial role in the success of a Direct-to-Patient trial. Because drug supplies are being managed and shipped from distribution facilities directly to patients' homes, a sponsor must have a high-quality system in place to accurately track the chain of custody, ensure patient-blinding and handle other logistical challenges. What You Will Learn Benefits and challenges associated with the Direct-to-Patient model Bellerophon's top considerations when implementing this trial design How IRT can equip study teams to successfully track chain of custody, ensure patient blinding, and handle logistical challenges
by Suvoda
The double-blind, randomised, comparator-controlled trial will analyse the safety and tolerability of high and low doses of the vaccine.
To be conducted by the University of Lausanne, Switzerland Center for Primary Care and Public Health professor Blaise Genton, the trial will enrol a total of 13 subjects into two groups.
The company expects to dose the first subject with the first dose of the vaccine in January 2022.
Apart from safety and tolerability, the trial will offer information on CD8+ T-Cell-facilitated immune responses as a measure of protection against SARS-CoV-2 infection.
Emergex Vaccines chief commercial officer Robin Cohen said: "Our T Cell priming vaccines may offer significant benefits over current Covid-19 vaccines, including longer-lasting immunity and broader protection against new variants.
"We are proud to announce the initiation of this trial and look forward to gathering data to support the development of this important next-generation vaccine."
The company is currently carrying out another Phase I trial of its dengue vaccine candidate in Switzerland.
All the subjects in this naNO-DENGUE trial have received two doses of the shot.
The vaccines developed by Emergex are designed to prime naive CD8+ T-Cells to produce virus-specific CD8+ T-cells/Cytotoxic T Lymphocytes (CTLs) to destroy cells infected by the virus.
This approach also averts disease, hinders replication of the virus and lowers symptoms and disease transmission.
The company claimed that as against currently available vaccine technologies that depend on an antibody immune response, its T-Cell priming vaccines can potentially be more efficient in targeting viruses that mutate, thereby avoiding the booster shot requirements.
Emergex also stated that its vaccine may offer cross-reactive immunity to the SARS-CoV-1 virus, as well as all variants and strains of SARS-CoV-2, thereby providing wide-ranging immune protection from two viruses with a single vaccine.
Free Case Study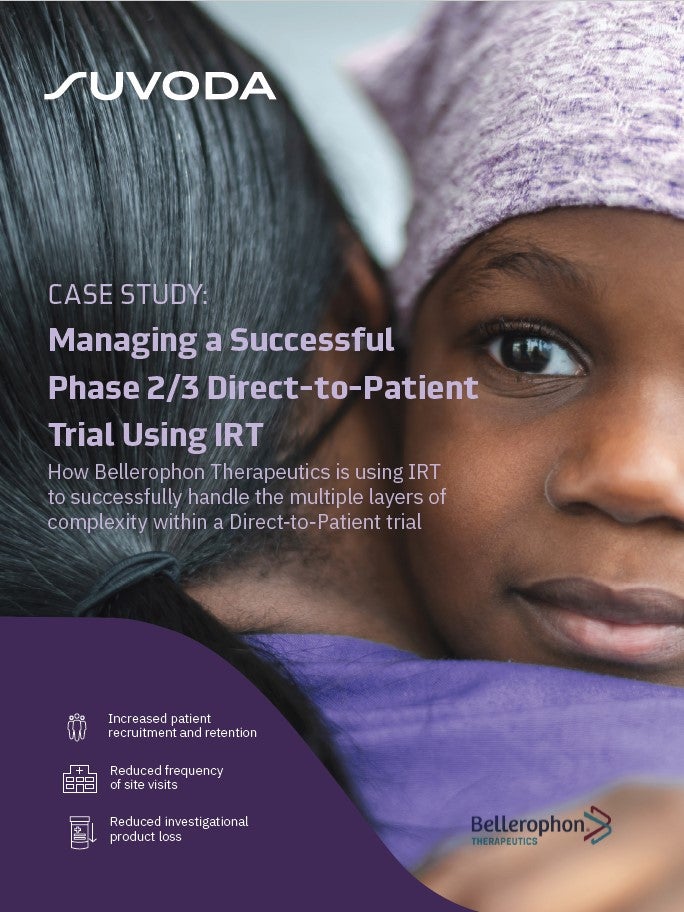 Direct-to-Patient Trials: How IRT Plays an Important Role in Bellerophon's Direct-to-Patient Trials
As the industry strengthens its focus on patient centricity, Direct-to-Patient clinical trials have emerged as a popular trial design that have the potential to increase patient recruitment and retention. IRT plays a crucial role in the success of a Direct-to-Patient trial. Because drug supplies are being managed and shipped from distribution facilities directly to patients' homes, a sponsor must have a high-quality system in place to accurately track the chain of custody, ensure patient-blinding and handle other logistical challenges. What You Will Learn Benefits and challenges associated with the Direct-to-Patient model Bellerophon's top considerations when implementing this trial design How IRT can equip study teams to successfully track chain of custody, ensure patient blinding, and handle logistical challenges
by Suvoda