Enanta Pharmaceuticals has dosed the first subject in its first-in-human Phase I clinical trial of EDP-235 for the treatment and prevention of Covid-19.
Free Case Study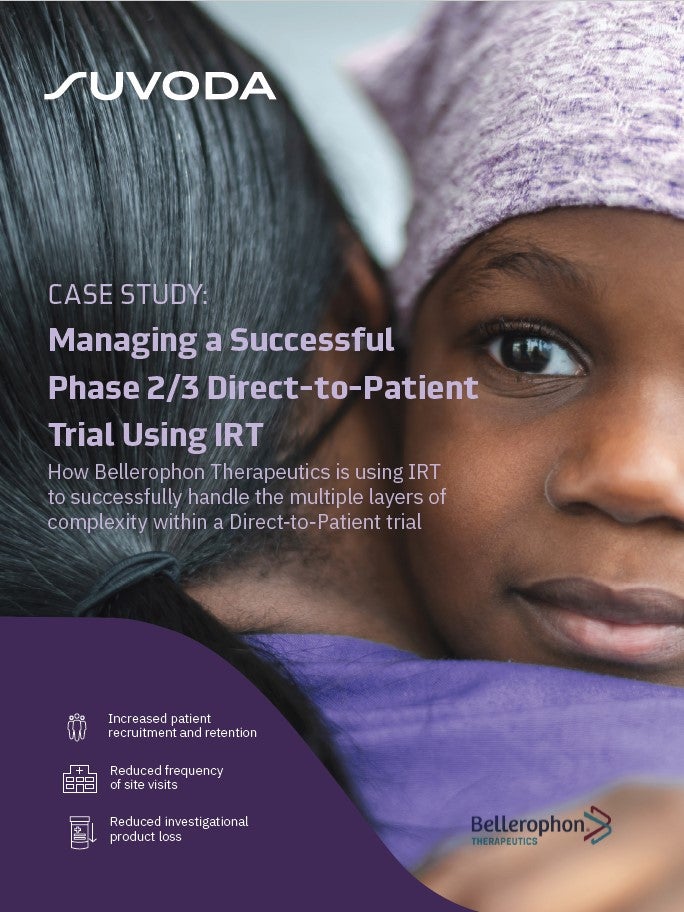 Direct-to-Patient Trials: How IRT Plays an Important Role in Bellerophon's Direct-to-Patient Trials
As the industry strengthens its focus on patient centricity, Direct-to-Patient clinical trials have emerged as a popular trial design that have the potential to increase patient recruitment and retention. IRT plays a crucial role in the success of a Direct-to-Patient trial. Because drug supplies are being managed and shipped from distribution facilities directly to patients' homes, a sponsor must have a high-quality system in place to accurately track the chain of custody, ensure patient-blinding and handle other logistical challenges. What You Will Learn Benefits and challenges associated with the Direct-to-Patient model Bellerophon's top considerations when implementing this trial design How IRT can equip study teams to successfully track chain of custody, ensure patient blinding, and handle logistical challenges
by Suvoda
The company anticipates reporting Phase I results in the second quarter of this year. If positive data is obtained, EDP-235 will be progressed to the next stage of clinical development in the second half of this year.
The Phase I trial will analyse the safety, tolerability and pharmacokinetics of once a day, oral dose of EDP-235 versus placebo in healthy subjects. 
It will have a single ascending dose (SAD), including a two-part food effect arm and multiple ascending dose (MAD) cohorts to enrol eight subjects. 
These participants will be randomised into a 3:1 ratio to receive either EDP-235 or a placebo.
Enanta president and CEO Jay Luly said: "SARS-CoV-2 continues to infect millions of individuals worldwide and new variants are still emerging, highlighting the limitations of current therapies and vaccines for Covid-19. 
"There remains an urgent need for highly potent, oral treatments designed specifically to treat and prevent Covid-19, and we believe that the profile of EDP-235 positions it to potentially be a best-in-class antiviral therapeutic."
EDP-235 is an inhibitor of coronavirus 3CL protease, also called the main coronavirus protease (Mpro). 
According to preclinical findings, EDP-235 was demonstrated to hinder SARS-CoV-2 replication in various cellular models, including primary human airway epithelial cells.
Furthermore, with once-daily dosing, the oral therapy demonstrated to possess good oral bioavailability without needing ritonavir for boosting in preclinical studies.
It also showed encouraging distribution into lung cells and various other crucial target tissues.
Enanta noted that EDP-235 possesses antiviral activity against other human coronaviruses, apart from SARS-CoV-2, facilitating the potential usage as a pan-coronavirus therapy.
In May last year, the company reported data from the first two dose cohorts of Part 2 of Phase Ib trial, where its EDP-514 lowered viral load in patients with chronic hepatitis B virus.
Free Case Study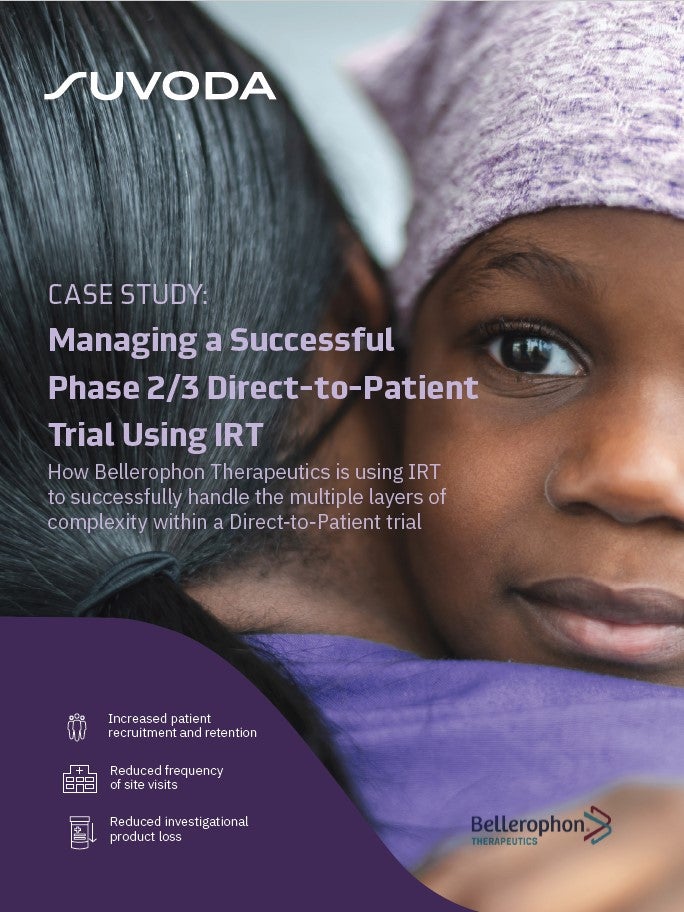 Direct-to-Patient Trials: How IRT Plays an Important Role in Bellerophon's Direct-to-Patient Trials
As the industry strengthens its focus on patient centricity, Direct-to-Patient clinical trials have emerged as a popular trial design that have the potential to increase patient recruitment and retention. IRT plays a crucial role in the success of a Direct-to-Patient trial. Because drug supplies are being managed and shipped from distribution facilities directly to patients' homes, a sponsor must have a high-quality system in place to accurately track the chain of custody, ensure patient-blinding and handle other logistical challenges. What You Will Learn Benefits and challenges associated with the Direct-to-Patient model Bellerophon's top considerations when implementing this trial design How IRT can equip study teams to successfully track chain of custody, ensure patient blinding, and handle logistical challenges
by Suvoda