Employing digital technologies in clinical trials, however, has presented new challenges including regulatory issues and reliability of data.
Free Case Study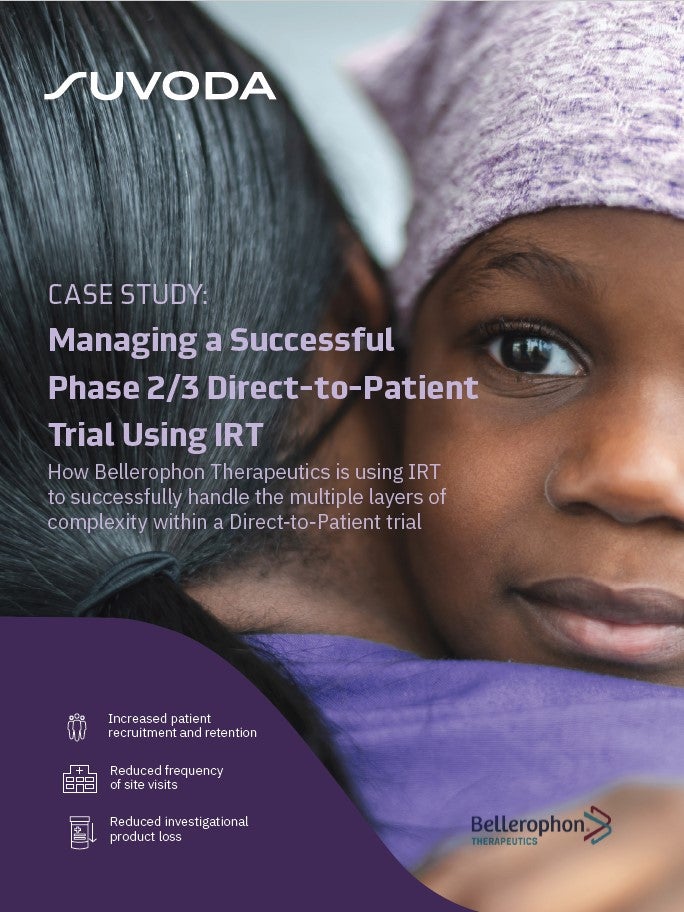 Direct-to-Patient Trials: How IRT Plays an Important Role in Bellerophon's Direct-to-Patient Trials
As the industry strengthens its focus on patient centricity, Direct-to-Patient clinical trials have emerged as a popular trial design that have the potential to increase patient recruitment and retention. IRT plays a crucial role in the success of a Direct-to-Patient trial. Because drug supplies are being managed and shipped from distribution facilities directly to patients' homes, a sponsor must have a high-quality system in place to accurately track the chain of custody, ensure patient-blinding and handle other logistical challenges. What You Will Learn Benefits and challenges associated with the Direct-to-Patient model Bellerophon's top considerations when implementing this trial design How IRT can equip study teams to successfully track chain of custody, ensure patient blinding, and handle logistical challenges
by Suvoda
In a poll Verdict has conducted to assess the barriers to using digital technologies in clinical trials, a majority 32% of the respondents expressed that ensuring data authenticity, integrity, and confidentiality is the main barrier.
Accessibility was considered as a major barrier by 17% of the respondents, while designing protocols that employ digital technologies is a barrier according to 15%.
Collecting, analysing, and interpreting the data, and regulatory challenges and preparation of supporting materials for regulatory submission were voted as barriers by 13% of the respondents each.
Selection of appropriate technology was considered a barrier by 10% of the respondents.
The analysis is based on 123 responses received from the readers of Clinical Trials Arena, a Verdict network site, between 08 February and 18 May 2021.
Barriers to using digital technologies in clinical trials
The rapid adoption of digital health technologies in clinical trials during COVID-19 highlighted their role in the quick development of vaccines and drugs, while also transforming the way clinicians engage with patients.
The use of digital technologies in clinical trials faces several challenges including integration of data collected digitally from patients as well as data collected on-site. Data surveillance, integration and interoperability of the technologies is crucial in such cases.
The shift towards digital is also encouraging companies to use data from electronic health records (EHRs), claims, and genomic databases. Accessing this data, however, raises concerns over security and patients' privacy requirements, which often vary between states and countries. Better data governance and ensuring patient consent of data may help address the issues.
The uncertainty regarding regulatory approval based on data collected using digital technologies is another challenge as regulatory requirements change from one country to another. Regulatory authorities and industry groups, however, are recognising the contribution of digital technologies in clinical trials and examining the ways in which they can be made mainstream.
Free Case Study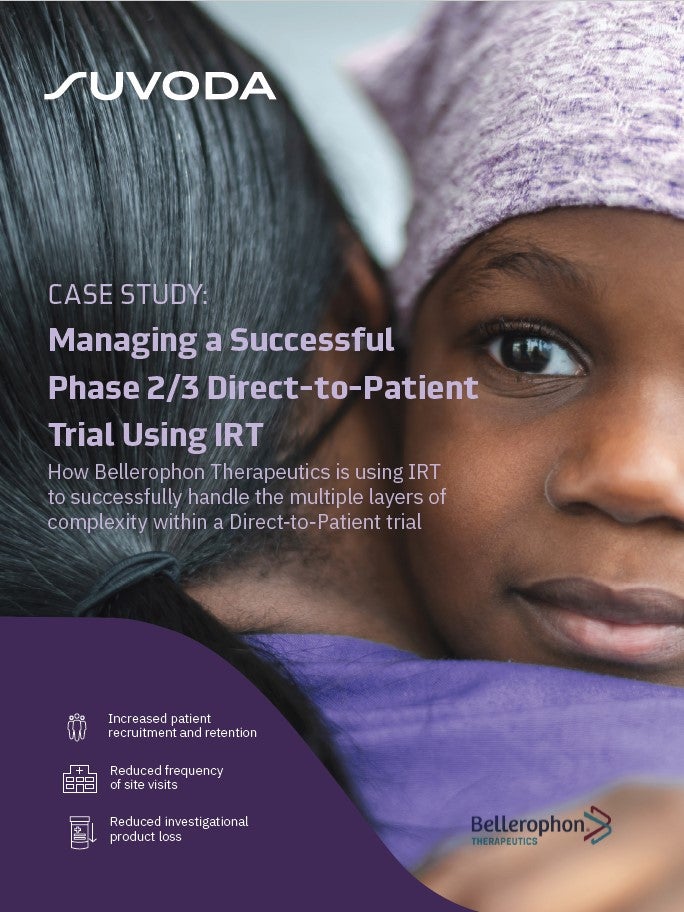 Direct-to-Patient Trials: How IRT Plays an Important Role in Bellerophon's Direct-to-Patient Trials
As the industry strengthens its focus on patient centricity, Direct-to-Patient clinical trials have emerged as a popular trial design that have the potential to increase patient recruitment and retention. IRT plays a crucial role in the success of a Direct-to-Patient trial. Because drug supplies are being managed and shipped from distribution facilities directly to patients' homes, a sponsor must have a high-quality system in place to accurately track the chain of custody, ensure patient-blinding and handle other logistical challenges. What You Will Learn Benefits and challenges associated with the Direct-to-Patient model Bellerophon's top considerations when implementing this trial design How IRT can equip study teams to successfully track chain of custody, ensure patient blinding, and handle logistical challenges
by Suvoda