Entasis Therapeutics has reported positive topline data from the international Phase III ATTACK clinical trial of sulbactam-durlobactam (SUL-DUR) drug in people with Acinetobacter baumannii-caused infections.
Free Case Study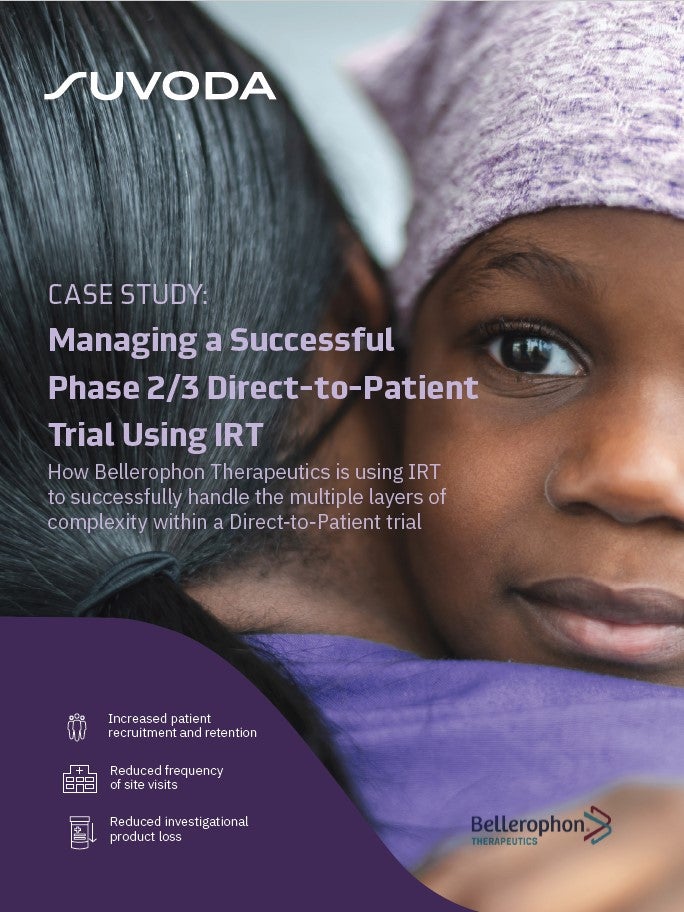 Direct-to-Patient Trials: How IRT Plays an Important Role in Bellerophon's Direct-to-Patient Trials
As the industry strengthens its focus on patient centricity, Direct-to-Patient clinical trials have emerged as a popular trial design that have the potential to increase patient recruitment and retention. IRT plays a crucial role in the success of a Direct-to-Patient trial. Because drug supplies are being managed and shipped from distribution facilities directly to patients' homes, a sponsor must have a high-quality system in place to accurately track the chain of custody, ensure patient-blinding and handle other logistical challenges. What You Will Learn Benefits and challenges associated with the Direct-to-Patient model Bellerophon's top considerations when implementing this trial design How IRT can equip study teams to successfully track chain of custody, ensure patient blinding, and handle logistical challenges
by Suvoda
The gram-negative, opportunistic human pathogen Acinetobacter infects critically ill people and occasionally leads to severe pneumonia and infections in the bloodstream.
An intravenous (IV) experimental drug, SUL-DUR combines an IV β-lactam antibiotic, sulbactam, and a new broad-spectrum IV inhibitor of β-lactamase, durlobactam.
Commenced in April 2019, the two-part Phase III trial analysed the safety and efficacy of SUL-DUR versus colistin.
It enrolled 207 subjects at 95 trial centres in 17 nations.
The randomised, comparative Part A segment had subjects with documented Acinetobacter baumannii hospital-acquired bacterial pneumonia (HABP), ventilated pneumonia (VP) ventilator-associated bacterial pneumonia (VABP), or bacteremia.
Part B was the open-labelled segment and enrolled participants with ABC infections who are resistant to or did not respond to therapy with colistin or polymyxin B.
Findings showed that SUL-DUR met the primary goal of 28-day all-cause mortality in subjects with carbapenem-resistant Acinetobacter infections (CRABC) m-MITT population of Part A.
This data signifies the statistical non-inferiority of the treatment against colistin.
Mortality was 19% in the SUL-DUR arm versus 32.3% in subjects who received colistin.
SUL-DUR also met the primary safety goal of the trial attaining a statistically significant decline in nephrotoxicity.
Nearly 61.9% in the SUL-DUR group had a statistically significant difference in clinical cure at test of cure (TOC) versus 40.3% in the colistin group.
Furthermore, the 28-day all-cause death was 17.9% in the Part B segment which is in line with the Part A data.
Overall adverse events (AEs) in the safety population were similar across the treatment arms.
Entasis Therapeutics CEO Manos Perros said: "ATTACK was a landmark clinical trial, the first to successfully evaluate an investigational agent targeting a specific drug-resistant Gram-negative pathogen.
"SUL-DUR is the first investigational drug to demonstrate efficacy in a 28-day all-cause mortality trial focused on carbapenem-resistant Acinetobacter, an 'Urgent' threat as designated by the CDC."
The company plans to include this data for new drug applications anticipated to be submitted mid-next year.
Free Case Study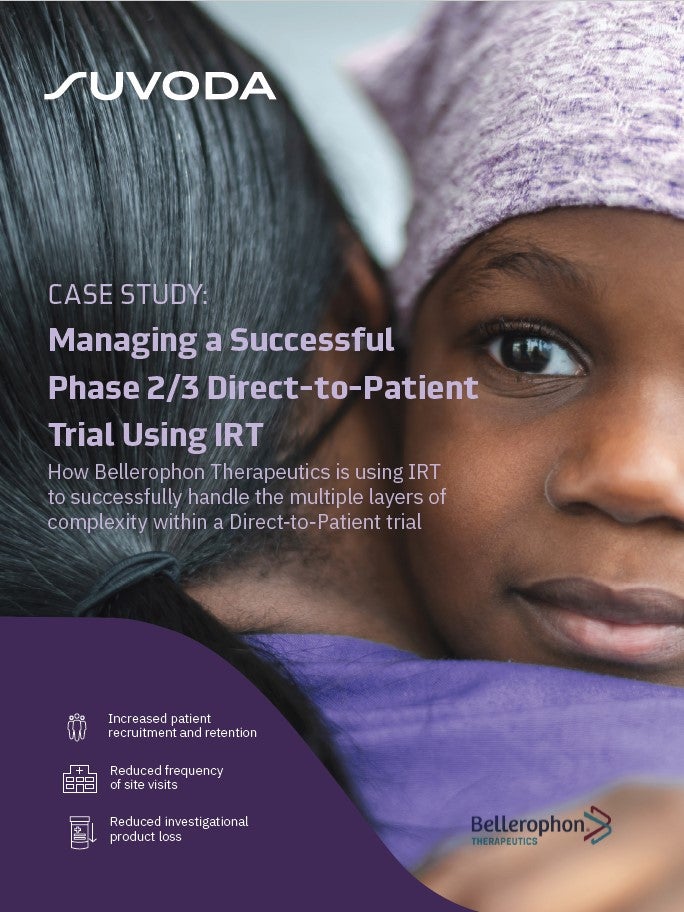 Direct-to-Patient Trials: How IRT Plays an Important Role in Bellerophon's Direct-to-Patient Trials
As the industry strengthens its focus on patient centricity, Direct-to-Patient clinical trials have emerged as a popular trial design that have the potential to increase patient recruitment and retention. IRT plays a crucial role in the success of a Direct-to-Patient trial. Because drug supplies are being managed and shipped from distribution facilities directly to patients' homes, a sponsor must have a high-quality system in place to accurately track the chain of custody, ensure patient-blinding and handle other logistical challenges. What You Will Learn Benefits and challenges associated with the Direct-to-Patient model Bellerophon's top considerations when implementing this trial design How IRT can equip study teams to successfully track chain of custody, ensure patient blinding, and handle logistical challenges
by Suvoda