Entasis Therapeutics has initiated the pivotal Phase III ATTACK clinical trial of ETX2514SUL to treat pneumonia and bloodstream infections caused due to carbapenem-resistant Acinetobacter baumannii.
Free Case Study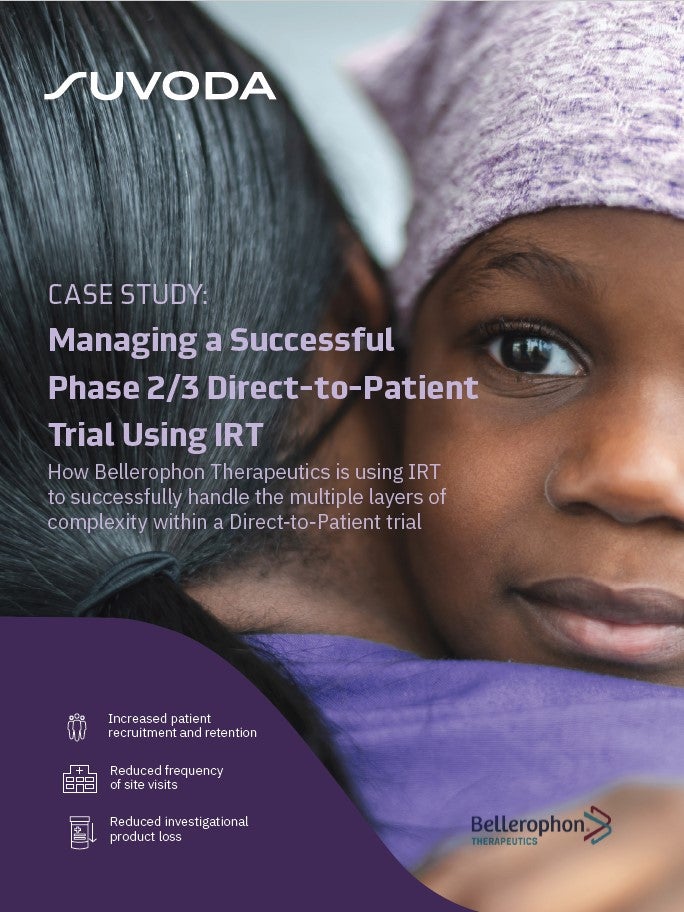 Direct-to-Patient Trials: How IRT Plays an Important Role in Bellerophon's Direct-to-Patient Trials
As the industry strengthens its focus on patient centricity, Direct-to-Patient clinical trials have emerged as a popular trial design that have the potential to increase patient recruitment and retention. IRT plays a crucial role in the success of a Direct-to-Patient trial. Because drug supplies are being managed and shipped from distribution facilities directly to patients' homes, a sponsor must have a high-quality system in place to accurately track the chain of custody, ensure patient-blinding and handle other logistical challenges. What You Will Learn Benefits and challenges associated with the Direct-to-Patient model Bellerophon's top considerations when implementing this trial design How IRT can equip study teams to successfully track chain of custody, ensure patient blinding, and handle logistical challenges
by Suvoda
Acinetobacter baumannii is a gram-negative bacterium known to cause severe infections and exhibit increasing rates of antibiotic resistance.
ETX2514SUL is a fixed-dose combination of the company's broad-spectrum β-lactamase inhibitor ETX2514 with sulbactam. ETX2514 is designed to inhibit class A, C, and D β-lactamases.
A generic β-lactam, sulbactam is known to exhibit intrinsic antibacterial activity against acinetobacter baumannii but is associated with β-lactamase-mediated resistance.
Preclinical studies demonstrated that ETX2514 could restore sulbactam antibacterial activity against the bacteria.
"ETX2514SUL has great potential for the treatment of patients with carbapenem-resistant A. baumannii infections."
The global, two-part ATTACK trial will assess the safety and efficacy of ETX2514SUL given intravenously in a total of 300 patients across 18 countries.
Part A of the Phase III study will involve patients with acinetobacter baumannii-calcoaceticus complex (ABC) hospital-acquired bacterial pneumonia, ventilator-associated bacterial pneumonia or bacteremia.
The second part will recruit subjects with ABC infections who have failed colistin therapy.
The company intends to use its collaboration with Zai Lab to enrol patients in China. Entasis also hopes to offer early access in Asia-Pacific countries.
The trial will leverage the BioFire FilmArray Pneumonia Panel for patient enrolment.
Entasis Therapeutics CEO Manos Perros said: "It is the culmination of extensive preclinical development and multiple Phase I and II clinical trials, which have shown that ETX2514SUL has great potential for the treatment of patients with carbapenem-resistant A. baumannii infections."
The company expects that ATTACK data, which is anticipated to be available in the second half of next year, will be enough to support its regulatory submissions in the US and Europe.
Previously, ETX2514 with sulbactam was studied in single and multi-ascending dose Phase I trials and a Phase II trial for complicated urinary tract infections.
Free Case Study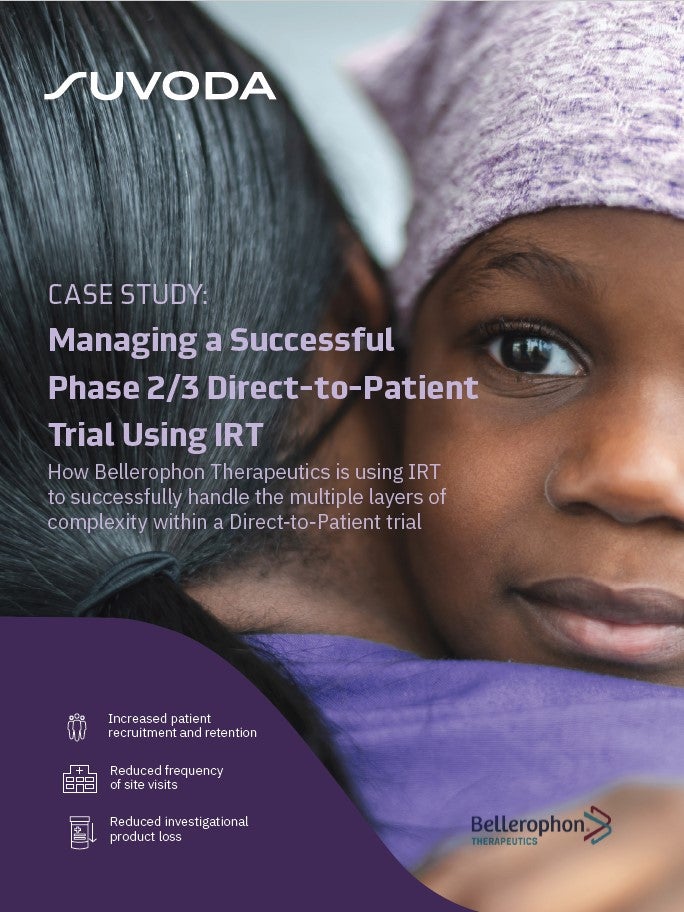 Direct-to-Patient Trials: How IRT Plays an Important Role in Bellerophon's Direct-to-Patient Trials
As the industry strengthens its focus on patient centricity, Direct-to-Patient clinical trials have emerged as a popular trial design that have the potential to increase patient recruitment and retention. IRT plays a crucial role in the success of a Direct-to-Patient trial. Because drug supplies are being managed and shipped from distribution facilities directly to patients' homes, a sponsor must have a high-quality system in place to accurately track the chain of custody, ensure patient-blinding and handle other logistical challenges. What You Will Learn Benefits and challenges associated with the Direct-to-Patient model Bellerophon's top considerations when implementing this trial design How IRT can equip study teams to successfully track chain of custody, ensure patient blinding, and handle logistical challenges
by Suvoda