The US Food and Drug Administration (FDA) has accepted Enzychem Lifesciences' investigational new drug (IND) application to assess EC-18 in a Phase II clinical trial in Covid-19 patients.
Free Case Study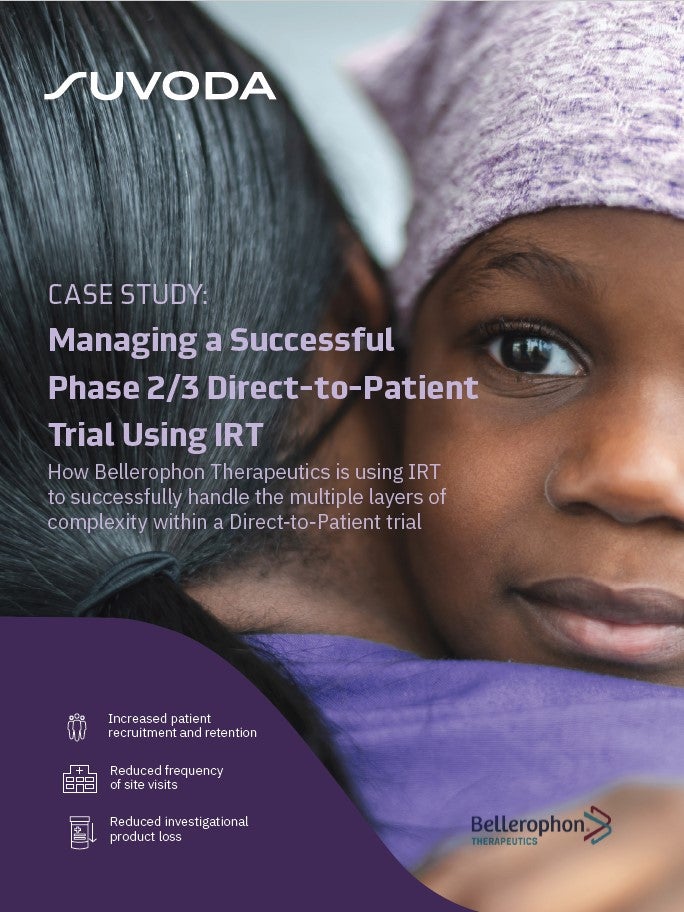 Direct-to-Patient Trials: How IRT Plays an Important Role in Bellerophon's Direct-to-Patient Trials
As the industry strengthens its focus on patient centricity, Direct-to-Patient clinical trials have emerged as a popular trial design that have the potential to increase patient recruitment and retention. IRT plays a crucial role in the success of a Direct-to-Patient trial. Because drug supplies are being managed and shipped from distribution facilities directly to patients' homes, a sponsor must have a high-quality system in place to accurately track the chain of custody, ensure patient-blinding and handle other logistical challenges. What You Will Learn Benefits and challenges associated with the Direct-to-Patient model Bellerophon's top considerations when implementing this trial design How IRT can equip study teams to successfully track chain of custody, ensure patient blinding, and handle logistical challenges
by Suvoda
The trial will enrol patients with acute respiratory disease syndrome (ARDS). A Phase II trial of EC-18 to prevent Covid-19-related ARDS is ongoing in South Korea.
During the multi-centre, randomised, double-blind, placebo-controlled Phase II trial in the US, EC-18's safety and efficacy will be investigated for preventing the progression of Covid-19 to severe pneumonia or ARDS.
From the FDA approval date, the trial will take place for 12 months. It will recruit a total of 60 participants across the EC-18 and placebo groups.
The trial's primary endpoint is the proportion of patients alive and free of respiratory failure at day 28.
EC-18 was found to regulate neutrophil infiltration in preclinical studies, modulating the inflammatory cytokine and chemokine signalling found in severe Covid-19 patients.
The drug candidate was also observed to improve lung function, mitigate inflammation and fibrosis in various animal models of inflammatory diseases, including immune-mediated acute lung injury and pneumonia.
Enzychem Lifesciences CEO and chairman Ki Young Sohn said: "We are extremely pleased with the FDA's decision and believe there is strong scientific rationale for the development of EC-18 to treat ARDS in Covid-19 patients.
"We look forward to advancing EC-18 as a potential new treatment option for patients with confirmed Covid-19, based on EC-18's unique mechanism of action."
EC-18 is obtained from Sika deer antler, which is known to function as Pattern Recognition Receptors (PRR) endocytic trafficking accelerator.
Dysregulation of the TLRs signaling pathway is involved in Covid-19-related ARDS.
EC-18's mechanism is expected to help potentially treat chemoradiation induced oral mucositis (CRIOM), chemotherapy induced neutropenia (CIN) and acute radiation syndrome (ARS).
Free Case Study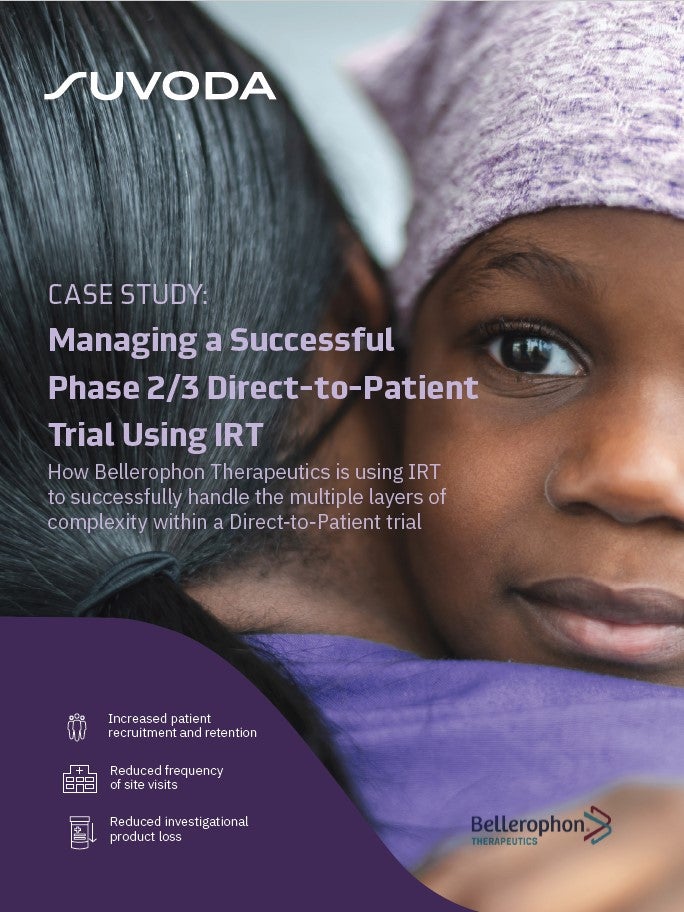 Direct-to-Patient Trials: How IRT Plays an Important Role in Bellerophon's Direct-to-Patient Trials
As the industry strengthens its focus on patient centricity, Direct-to-Patient clinical trials have emerged as a popular trial design that have the potential to increase patient recruitment and retention. IRT plays a crucial role in the success of a Direct-to-Patient trial. Because drug supplies are being managed and shipped from distribution facilities directly to patients' homes, a sponsor must have a high-quality system in place to accurately track the chain of custody, ensure patient-blinding and handle other logistical challenges. What You Will Learn Benefits and challenges associated with the Direct-to-Patient model Bellerophon's top considerations when implementing this trial design How IRT can equip study teams to successfully track chain of custody, ensure patient blinding, and handle logistical challenges
by Suvoda