Equillium has commenced the Phase III EQUATOR clinical trial of itolizumab to treat acute graft-versus-host disease (aGVHD) patients. 
Free Case Study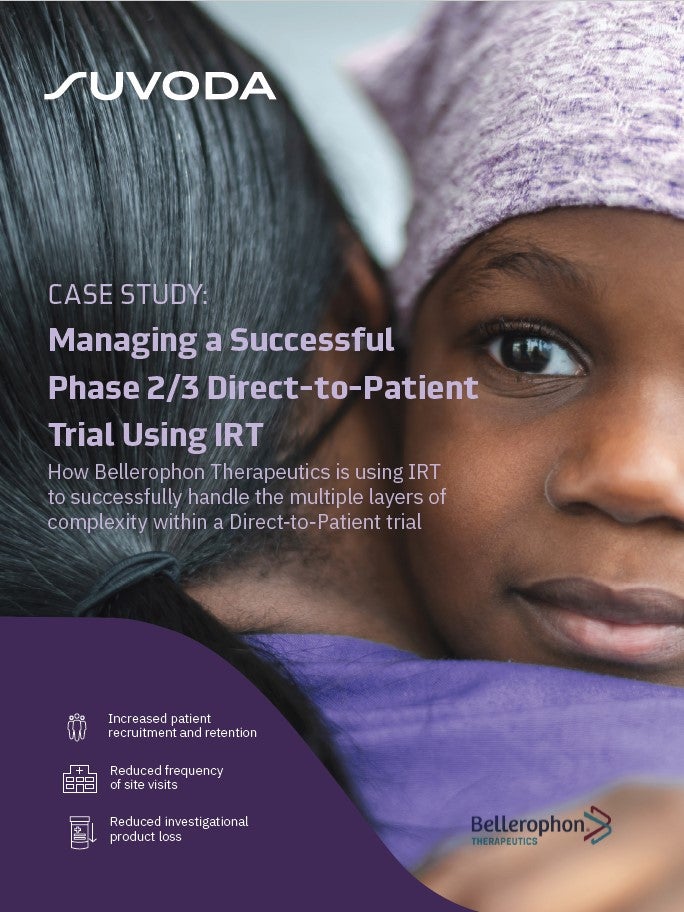 Direct-to-Patient Trials: How IRT Plays an Important Role in Bellerophon's Direct-to-Patient Trials
As the industry strengthens its focus on patient centricity, Direct-to-Patient clinical trials have emerged as a popular trial design that have the potential to increase patient recruitment and retention. IRT plays a crucial role in the success of a Direct-to-Patient trial. Because drug supplies are being managed and shipped from distribution facilities directly to patients' homes, a sponsor must have a high-quality system in place to accurately track the chain of custody, ensure patient-blinding and handle other logistical challenges. What You Will Learn Benefits and challenges associated with the Direct-to-Patient model Bellerophon's top considerations when implementing this trial design How IRT can equip study teams to successfully track chain of custody, ensure patient blinding, and handle logistical challenges
by Suvoda
The placebo-controlled, randomised, multicentre, double-blind trial will compare the safety and efficacy of intravenous doses of itolizumab against placebo as a first-line treatment for aGVHD plus corticosteroids.
It will enrol up to 200 adult and adolescent subjects with Grade III-IV aGVHD, or Grade II aGVHD with reduced GI involvement.
These trial subjects will be categorised in a 1:1 ratio to receive itolizumab or placebo, along with high doses of corticosteroids.
Complete response rate at day 29 is the primary endpoint of the trial.
Overall response rate at day 29 and complete response rate durability from day 29 to 99 are included as key secondary endpoints.
Early disease response is the primary goal while key secondary goals comprise assessing corticosteroid use, response durability, survival outcomes and occurrence of chronic GVHD.
Safety data from the trial will be consistently analysed by the independent data monitoring committee. The company intends to carry out an interim assessment on nearly 100 participants completing day 29 for futility and efficacy evaluations.
A clinical-stage anti-CD6 monoclonal antibody, itolizumab acts on the CD6-ALCAM pathway.
This pathway plays a key function in regulating T cell activity and trafficking that causes various immuno-inflammatory diseases.
Under an exclusive collaboration with Biocon, Equillium obtained rights to itolizumab.
Equillium CEO Bruce Steel said: "Patients who do not respond to existing standard of care – high-dose corticosteroids – have very poor outcomes with high mortality rates.
"Our Phase III study is supported by the compelling results from our EQUATE study demonstrating rapid and durable complete responses in high-risk acute GVHD patients.
"Haematologists and transplantation specialists have highlighted their enthusiasm for itolizumab as a potential therapeutic option and we are optimistic for these patients as we launch the EQUATOR study."
Free Case Study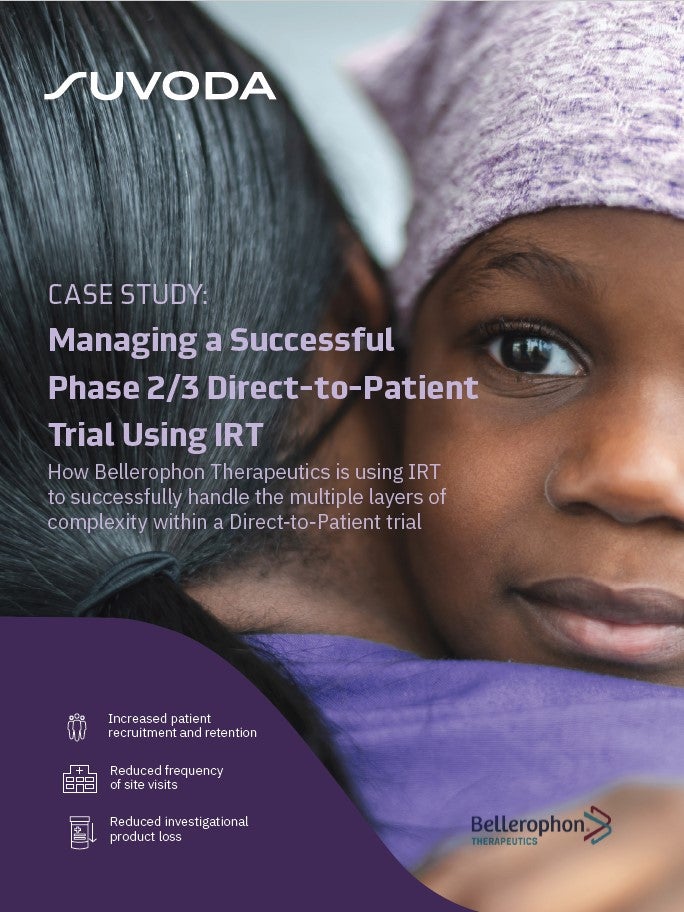 Direct-to-Patient Trials: How IRT Plays an Important Role in Bellerophon's Direct-to-Patient Trials
As the industry strengthens its focus on patient centricity, Direct-to-Patient clinical trials have emerged as a popular trial design that have the potential to increase patient recruitment and retention. IRT plays a crucial role in the success of a Direct-to-Patient trial. Because drug supplies are being managed and shipped from distribution facilities directly to patients' homes, a sponsor must have a high-quality system in place to accurately track the chain of custody, ensure patient-blinding and handle other logistical challenges. What You Will Learn Benefits and challenges associated with the Direct-to-Patient model Bellerophon's top considerations when implementing this trial design How IRT can equip study teams to successfully track chain of custody, ensure patient blinding, and handle logistical challenges
by Suvoda