Biotech firm Evelo Biosciences has completed enrolment of 24 patients in the Phase Ib EDP1815-101 trial cohort of investigational oral biologic EDP1815 for the treatment of mild to moderate atopic dermatitis (AD).
Free Case Study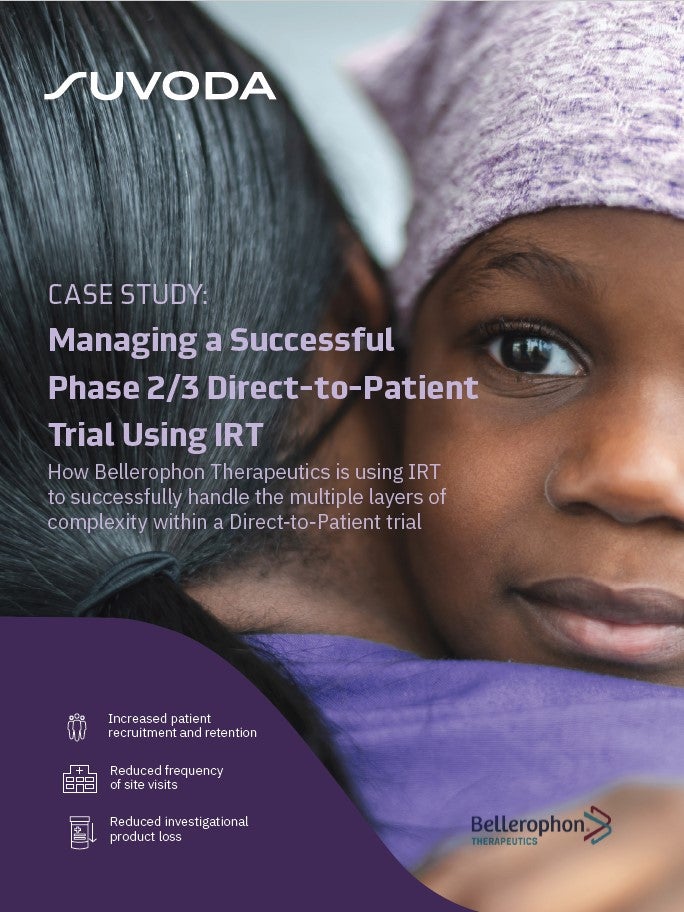 Direct-to-Patient Trials: How IRT Plays an Important Role in Bellerophon's Direct-to-Patient Trials
As the industry strengthens its focus on patient centricity, Direct-to-Patient clinical trials have emerged as a popular trial design that have the potential to increase patient recruitment and retention. IRT plays a crucial role in the success of a Direct-to-Patient trial. Because drug supplies are being managed and shipped from distribution facilities directly to patients' homes, a sponsor must have a high-quality system in place to accurately track the chain of custody, ensure patient-blinding and handle other logistical challenges. What You Will Learn Benefits and challenges associated with the Direct-to-Patient model Bellerophon's top considerations when implementing this trial design How IRT can equip study teams to successfully track chain of custody, ensure patient blinding, and handle logistical challenges
by Suvoda
EDP1815 is being developed for treating inflammatory diseases.
AD, also called as eczema, is a commonly seen chronic inflammatory skin disease in children and adults.
The double-blind, placebo-controlled study will analyse the safety and tolerability of EDP1815 in healthy participants and patients with psoriasis or AD.
In the AD cohort, patients were given oral dose of 2.76g of the enteric capsule formulation of EDP1815 or placebo once daily, for 56 days.
The trial's primary endpoint is safety and tolerability.
Key validated markers of AD including the Eczema Area and Severity Index (EASI), SCORing Atopic Dermatitis (SCORAD), Dermatology Life Quality Index (DLQI) and Pruritis Numerical Rating Scale (Pruritis NRS) form the secondary endpoints.
Early clinical and biomarker data in psoriasis showed that EDP1815 was well-tolerated and active on systemic inflammation.
Evelo chief medical officer Duncan McHale said: "The fast pace of enrolment reflects the dissatisfaction with current treatment options and the substantial demand for a new therapy for atopic dermatitis, as well as Evelo's commitment to executing with urgency to deliver on EDP1815's full potential.
"A range of preclinical data in models of Th2-inflammation, combined with the promising clinical data we have already seen in patients with mild and moderate psoriasis, gives us confidence that we can deliver on the unmet need in atopic dermatitis."
Trial results are anticipated early next year.
The company also started dosing patients in its Phase II clinical trial evaluating EDP1815 for the treatment of mild to moderate psoriasis.
In June, Evelo had included EDP1815 in Phase II / III TACTIC-E Covid-19-focused clinical trial, which is progressing in the UK.
Free Case Study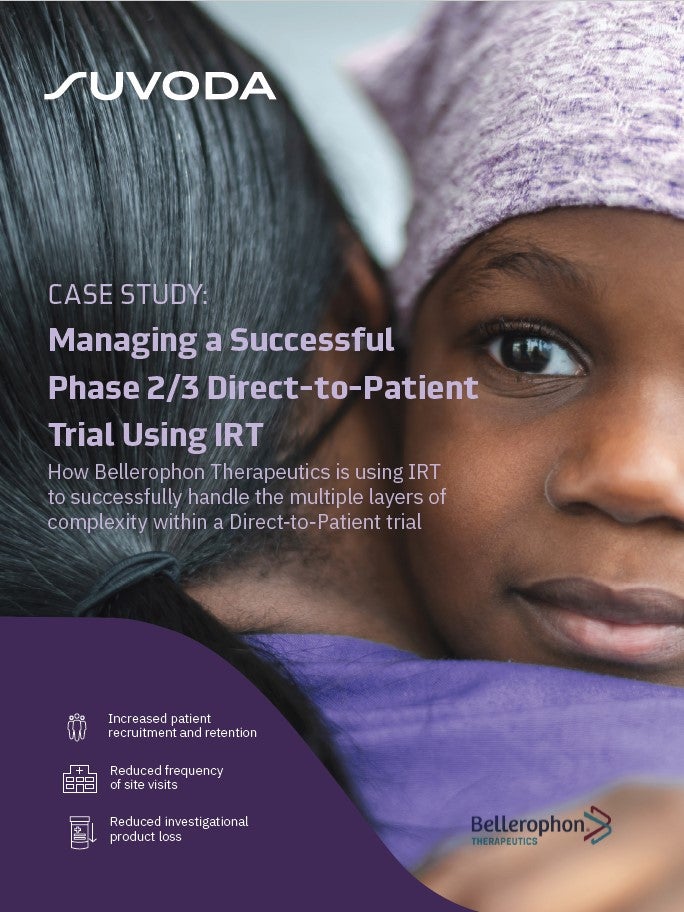 Direct-to-Patient Trials: How IRT Plays an Important Role in Bellerophon's Direct-to-Patient Trials
As the industry strengthens its focus on patient centricity, Direct-to-Patient clinical trials have emerged as a popular trial design that have the potential to increase patient recruitment and retention. IRT plays a crucial role in the success of a Direct-to-Patient trial. Because drug supplies are being managed and shipped from distribution facilities directly to patients' homes, a sponsor must have a high-quality system in place to accurately track the chain of custody, ensure patient-blinding and handle other logistical challenges. What You Will Learn Benefits and challenges associated with the Direct-to-Patient model Bellerophon's top considerations when implementing this trial design How IRT can equip study teams to successfully track chain of custody, ensure patient blinding, and handle logistical challenges
by Suvoda