EyePoint Pharmaceuticals has reported positive topline 36-month follow-up data from the second Phase III trial of YUTIQ (fluocinolone acetonide intravitreal implant) 0.18mg three-year micro-insert.
Free Case Study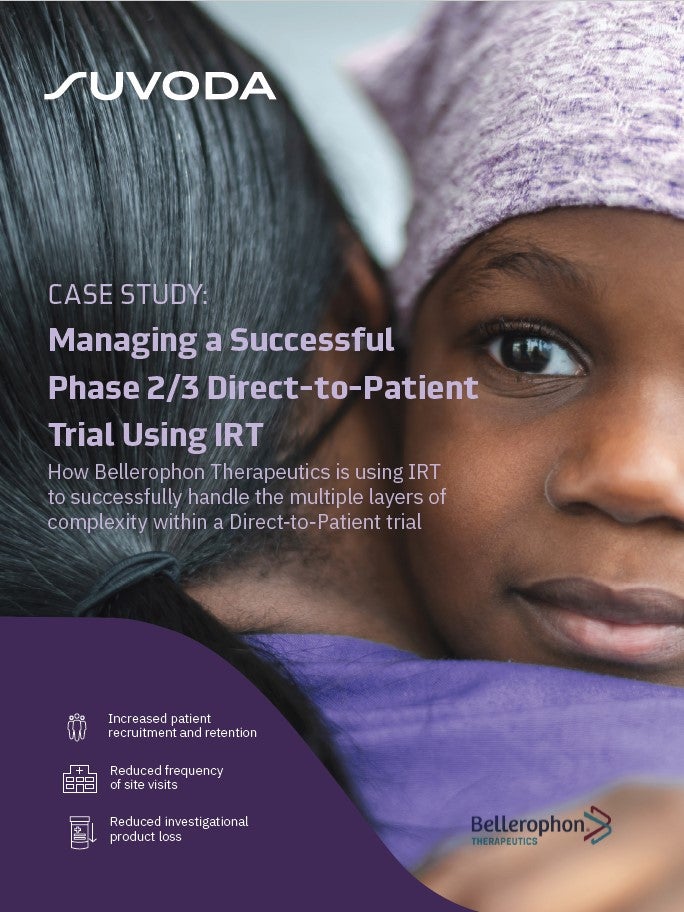 Direct-to-Patient Trials: How IRT Plays an Important Role in Bellerophon's Direct-to-Patient Trials
As the industry strengthens its focus on patient centricity, Direct-to-Patient clinical trials have emerged as a popular trial design that have the potential to increase patient recruitment and retention. IRT plays a crucial role in the success of a Direct-to-Patient trial. Because drug supplies are being managed and shipped from distribution facilities directly to patients' homes, a sponsor must have a high-quality system in place to accurately track the chain of custody, ensure patient-blinding and handle other logistical challenges. What You Will Learn Benefits and challenges associated with the Direct-to-Patient model Bellerophon's top considerations when implementing this trial design How IRT can equip study teams to successfully track chain of custody, ensure patient blinding, and handle logistical challenges
by Suvoda
This drug is intended to treat chronic non-infectious uveitis impacting the posterior segment of the eye.
EyePoint Pharmaceuticals president and CEO Nancy Lurker said: "We continue to believe YUTIQ is a differentiated treatment option compared to existing therapies because of its highly efficacious and solid safety profile, coupled with its convenient, single administration and long-term consistent dosing of drug.
"The 36-month results provide additional support in its long-acting potential, a characteristic consistently regarded by treating physicians as a critical treatment advantage. Our commercial efforts are yielding increased reception and adoption from uveitis specialists across the US, as well as positive patient feedback on the YUTIQ product profile."
This second randomised, double-masked, Phase III trial of YUTIQ saw an enrollment of 153 patients in 15 clinical centres in India. Out of the 153 patients, 101 eyes were treated with YUTIQ, while 52 eyes received sham injections.
At 36-months, the recurrence rate in YUTIQ randomised eyes was found to be substantially lower than in sham-treated eyes.
Visual acuity gains or losses of three-lines or more were also found to be similar between treatment groups.
Fewer YUTIQ-treated eyes (8.9%) required the assistance of adjunctive intraocular/periocular injection medication for uveitic inflammation as against the sham-treated eyes (51.9%).
Furthermore, 31.7% of YUTIQ treated eyes required the assistance of an adjunctive systemic steroid or immunosuppressant as against 32.7% for sham-treated eyes.
In 75.8% of YUTIQ treated eyes, Macular edema was resolved, while 53.8% of sham-treated eyes had edema recorded at baseline.
At 36 months, mean intraocular pressure (IOP) was 14.8 mmHg in YUTIQ treated eyes and 13.4 mmHg in sham-treated eyes.
In 74.3% of YUTIQ treated eyes, intraocular pressure-lowering drops were used, and 73.1% in sham-treated eyes.
IOP lowering surgeries were carried out in 2% of YUTIQ treated eyes, while it was none in the sham-treated eyes.
By month 36, for patients with phakic eyes, cataracts were extracted from 70.5% of patients administered with YUTIQ and 26.5% of patients administered sham.
YUTIQ was approved by the FDA in October 2018.
Free Case Study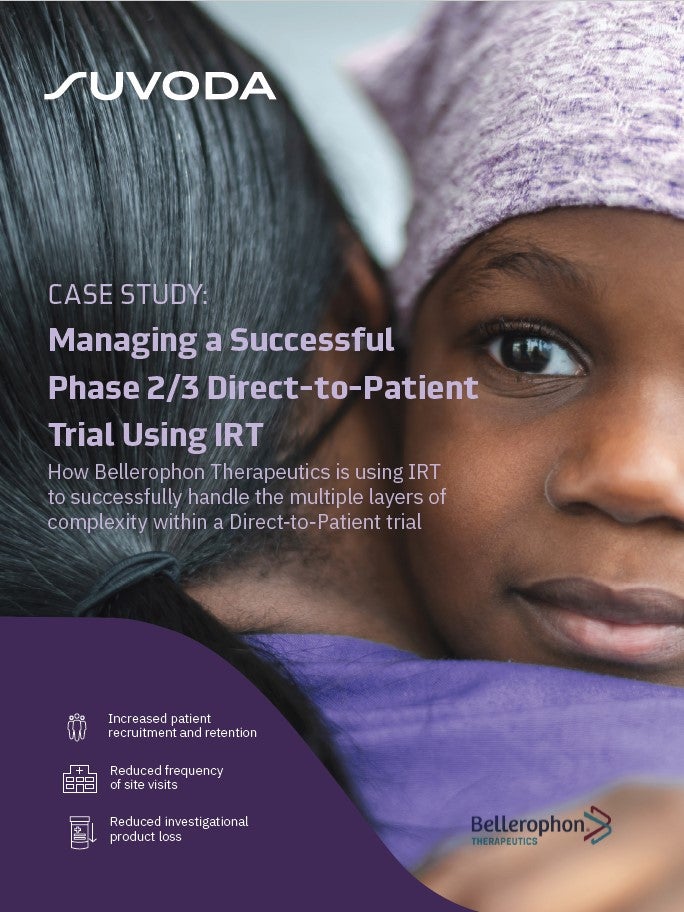 Direct-to-Patient Trials: How IRT Plays an Important Role in Bellerophon's Direct-to-Patient Trials
As the industry strengthens its focus on patient centricity, Direct-to-Patient clinical trials have emerged as a popular trial design that have the potential to increase patient recruitment and retention. IRT plays a crucial role in the success of a Direct-to-Patient trial. Because drug supplies are being managed and shipped from distribution facilities directly to patients' homes, a sponsor must have a high-quality system in place to accurately track the chain of custody, ensure patient-blinding and handle other logistical challenges. What You Will Learn Benefits and challenges associated with the Direct-to-Patient model Bellerophon's top considerations when implementing this trial design How IRT can equip study teams to successfully track chain of custody, ensure patient blinding, and handle logistical challenges
by Suvoda