The US Food and Drug Administration (FDA) has issued a draft guidance as part of its efforts to encourage drug developers to enroll more patients in clinical trials.
Free Case Study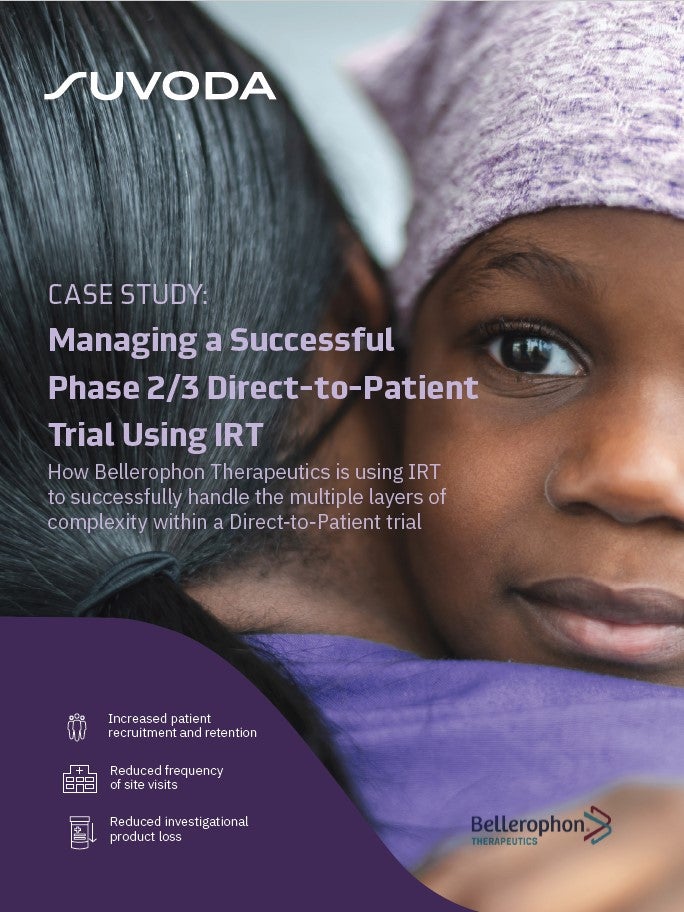 Direct-to-Patient Trials: How IRT Plays an Important Role in Bellerophon's Direct-to-Patient Trials
As the industry strengthens its focus on patient centricity, Direct-to-Patient clinical trials have emerged as a popular trial design that have the potential to increase patient recruitment and retention. IRT plays a crucial role in the success of a Direct-to-Patient trial. Because drug supplies are being managed and shipped from distribution facilities directly to patients' homes, a sponsor must have a high-quality system in place to accurately track the chain of custody, ensure patient-blinding and handle other logistical challenges. What You Will Learn Benefits and challenges associated with the Direct-to-Patient model Bellerophon's top considerations when implementing this trial design How IRT can equip study teams to successfully track chain of custody, ensure patient blinding, and handle logistical challenges
by Suvoda
The guidance builds on the earlier efforts by FDA to expand clinical trial eligibility criteria and bring in several underrepresented patient populations into clinical trials.
FDA draft stated: "This guidance recommends approaches that sponsors of clinical trials to support a new drug application (NDA) or a biologics license application (BLA) can take to broaden eligibility criteria, when scientifically and clinically appropriate, and increase enrollment of underrepresented populations in their clinical trials."
Some group of patients that are often excluded from trials without strong clinical or scientific justification, include women, the elderly, HIV, etc.
However, by excluding such patients, FDA states that drugmakers are likely to miss key safety signals.
FDA has recommended sponsors to look into each exclusion criteria between Phase II and III studies and remove those criteria that are no longer required for patient safety.
For clinical trials on rare diseases, the guidance offers a separate set of recommendations.
FDA stated: "Traditionally, participants are often ineligible for a phase 3 trial if they had been previously exposed to the drug in an earlier-phase trial; however, with so few participants in rare disease trials, re-enrolling participants may facilitate the analysis of safety and efficacy in the broadest possible population."
According to the agency, patient participation should be encouraged by ensuring all study participants have access to the investigational treatment.
Free Case Study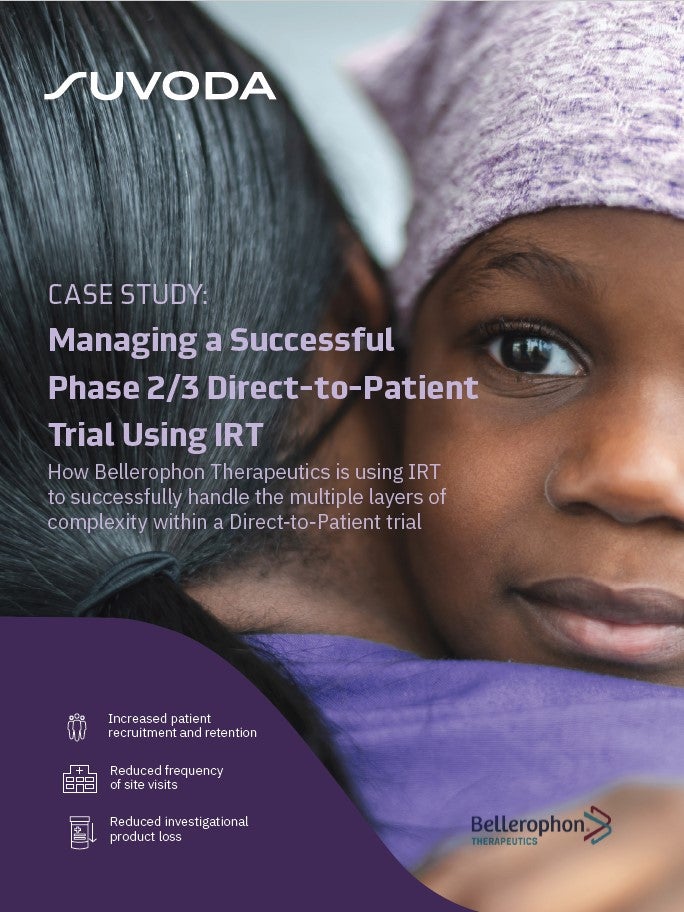 Direct-to-Patient Trials: How IRT Plays an Important Role in Bellerophon's Direct-to-Patient Trials
As the industry strengthens its focus on patient centricity, Direct-to-Patient clinical trials have emerged as a popular trial design that have the potential to increase patient recruitment and retention. IRT plays a crucial role in the success of a Direct-to-Patient trial. Because drug supplies are being managed and shipped from distribution facilities directly to patients' homes, a sponsor must have a high-quality system in place to accurately track the chain of custody, ensure patient-blinding and handle other logistical challenges. What You Will Learn Benefits and challenges associated with the Direct-to-Patient model Bellerophon's top considerations when implementing this trial design How IRT can equip study teams to successfully track chain of custody, ensure patient blinding, and handle logistical challenges
by Suvoda