The US Food and Drug Administration (FDA) has granted authorisation to progress Inovio's Phase III INNOVATE trial of its Covid-19 vaccine candidate, INO-4800, in the country.
Free Case Study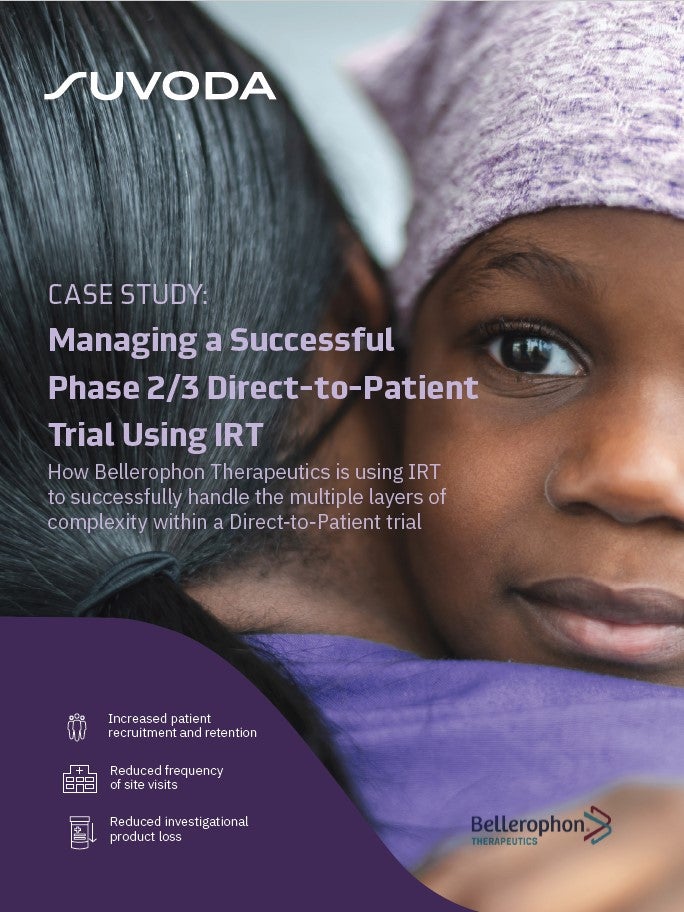 Direct-to-Patient Trials: How IRT Plays an Important Role in Bellerophon's Direct-to-Patient Trials
As the industry strengthens its focus on patient centricity, Direct-to-Patient clinical trials have emerged as a popular trial design that have the potential to increase patient recruitment and retention. IRT plays a crucial role in the success of a Direct-to-Patient trial. Because drug supplies are being managed and shipped from distribution facilities directly to patients' homes, a sponsor must have a high-quality system in place to accurately track the chain of custody, ensure patient-blinding and handle other logistical challenges. What You Will Learn Benefits and challenges associated with the Direct-to-Patient model Bellerophon's top considerations when implementing this trial design How IRT can equip study teams to successfully track chain of custody, ensure patient blinding, and handle logistical challenges
by Suvoda
INO-4800 has deoxyribonucleic acid (DNA) plasmid and is given as an intradermal injection, following electroporation using a CELLECTRA 2000 delivery device.
The regulatory agency placed a partial clinical hold in September 2020 as it sought additional information, including data on this device.
The FDA has now lifted the partial clinical hold on reviewing further non-clinical, clinical, and device data submitted by the company.
Inovio president and CEO Dr J Joseph Kim said: "We are pleased to have the opportunity for US clinical trial participants to potentially contribute to the enrolment in our INNOVATE Phase III segment.
"The US announcement builds on our intensive global efforts in India, Brazil, Philippines, Mexico, Colombia, and Thailand where we have received authorisations to date."
In collaboration with Advaccine Biopharmaceuticals Suzhou, Inovio is conducting Phase III trials in several countries.
The international trial is designed to investigate the efficacy of a 2mg dose of Covid-19 vaccine administrated as two doses at a gap of one month in adult subjects.
Virologically confirmed symptomatic Covid-19 is the primary endpoint of the trial.
Claimed to be stable at room temperature for over a year, at 37°C for more than a month, the vaccine potentially comes with a five-year shelf life at regular refrigeration temperatures.
Furthermore, freezing is not required for the transportation or storage of the vaccine.
Earlier this month, the Central Drugs Standard Control Organization's Drug Controller General of India authorised commencing the Phase III trial of the INO-4800 vaccine.
Free Case Study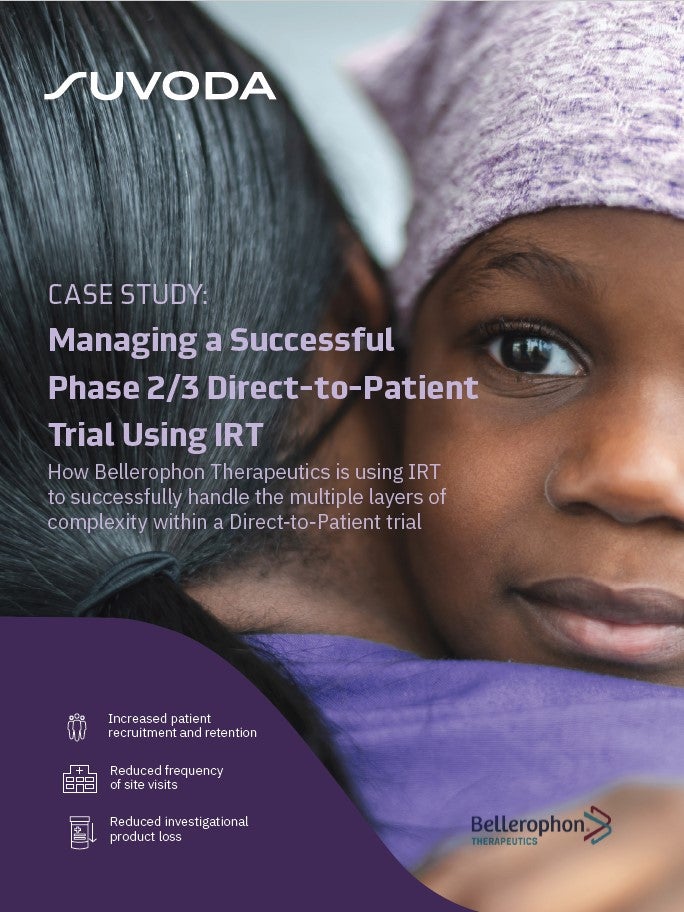 Direct-to-Patient Trials: How IRT Plays an Important Role in Bellerophon's Direct-to-Patient Trials
As the industry strengthens its focus on patient centricity, Direct-to-Patient clinical trials have emerged as a popular trial design that have the potential to increase patient recruitment and retention. IRT plays a crucial role in the success of a Direct-to-Patient trial. Because drug supplies are being managed and shipped from distribution facilities directly to patients' homes, a sponsor must have a high-quality system in place to accurately track the chain of custody, ensure patient-blinding and handle other logistical challenges. What You Will Learn Benefits and challenges associated with the Direct-to-Patient model Bellerophon's top considerations when implementing this trial design How IRT can equip study teams to successfully track chain of custody, ensure patient blinding, and handle logistical challenges
by Suvoda