The US Food and Drug Administration (FDA) has granted clearance to Pharmazz's Investigational New Drug (IND) application to commence a Phase II clinical trial of centhaquine to treat critically ill Covid-19 patients with acute respiratory distress syndrome (ARDS).
Free Case Study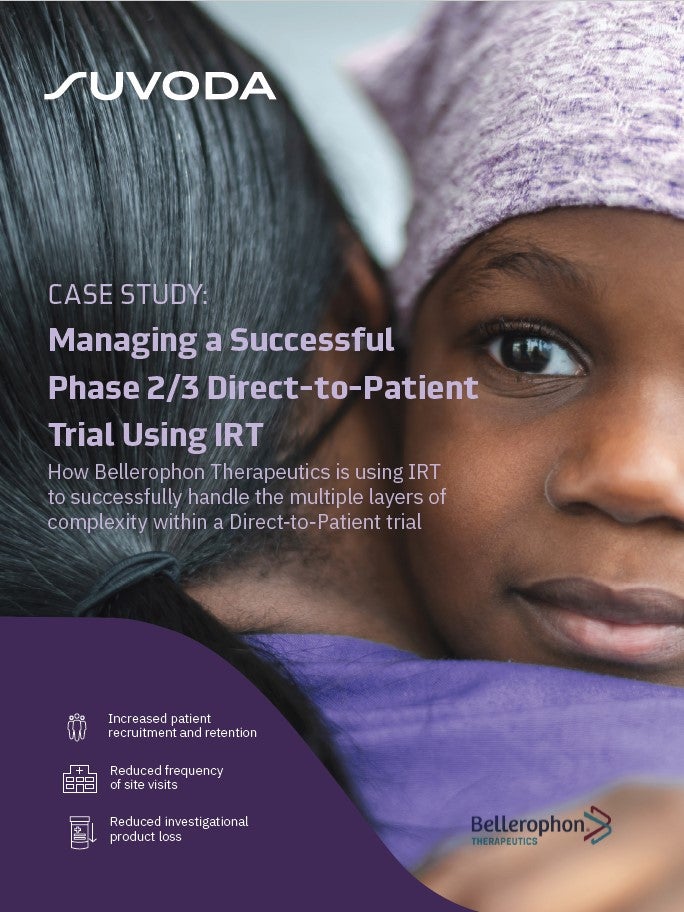 Direct-to-Patient Trials: How IRT Plays an Important Role in Bellerophon's Direct-to-Patient Trials
As the industry strengthens its focus on patient centricity, Direct-to-Patient clinical trials have emerged as a popular trial design that have the potential to increase patient recruitment and retention. IRT plays a crucial role in the success of a Direct-to-Patient trial. Because drug supplies are being managed and shipped from distribution facilities directly to patients' homes, a sponsor must have a high-quality system in place to accurately track the chain of custody, ensure patient-blinding and handle other logistical challenges. What You Will Learn Benefits and challenges associated with the Direct-to-Patient model Bellerophon's top considerations when implementing this trial design How IRT can equip study teams to successfully track chain of custody, ensure patient blinding, and handle logistical challenges
by Suvoda
The treatment is intended to be used as an adjuvant to the standard of care (SoC) in such individuals.
A resuscitative therapy that is free of arterial constriction, centhaquine is available in the Indian market.
It demonstrated enhanced systemic hemodynamics and clinical improvement for ARDS in individuals suffering hypovolemic shock.
The multicentre, randomised, double-blind, placebo-controlled trial will analyse the safety and efficacy of centhaquine in 60 subjects.
These participants will be categorised to receive either an intravenous 0.01mg/kg dose of centhaquine or a placebo, along with SoC. 
The company noted that another dose of centhaquine will be given to subjects if oxygenation is needed or SBP continues or drops below or equal to 90 mmHg.
An additional dose of the agent will not be administered within 24 hours of the initial dose in this scenario.
The improvement of PaO₂/FiO₂ ratio greater than or equal to 100mmHg will be the trial's primary endpoint. 
Pharmazz founder, CEO and board chairman Anil Gulati said: "Centhaquine acts by improving cardiac output and blood circulation without arterial constriction.
"In addition to hemodynamic stability, centhaquine significantly improved acute respiratory distress syndrome (ARDS) and multiple organ dysfunction score (MODS) in clinical trials conducted on hypovolemic shock patients."
Centhaquine is set to enter a Phase III trial to treat hypovolemic shock in the US.
Free Case Study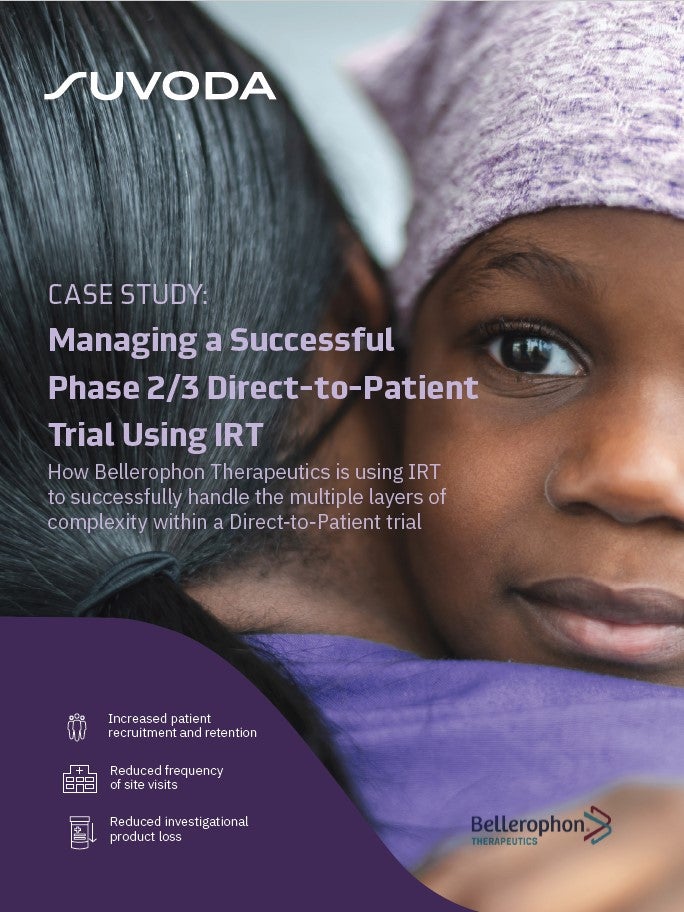 Direct-to-Patient Trials: How IRT Plays an Important Role in Bellerophon's Direct-to-Patient Trials
As the industry strengthens its focus on patient centricity, Direct-to-Patient clinical trials have emerged as a popular trial design that have the potential to increase patient recruitment and retention. IRT plays a crucial role in the success of a Direct-to-Patient trial. Because drug supplies are being managed and shipped from distribution facilities directly to patients' homes, a sponsor must have a high-quality system in place to accurately track the chain of custody, ensure patient-blinding and handle other logistical challenges. What You Will Learn Benefits and challenges associated with the Direct-to-Patient model Bellerophon's top considerations when implementing this trial design How IRT can equip study teams to successfully track chain of custody, ensure patient blinding, and handle logistical challenges
by Suvoda