The US Food and Drug Administration (FDA) has granted clearance for the Investigational New Drug (IND) application of Verismo Therapeutics to begin a Phase I clinical trial of SynKIR-110 for mesothelin expressing ovarian cancer, cholangiocarcinoma, and mesothelioma.
In August this year, Verismo filed the IND application with the regulatory agency to begin this trial.
Named STAR-101, the first-in-human trial will evaluate the safety, tolerability, and initial efficacy of SynKIR-110 in these patients.
The company intends to commence subject enrolment in the first quarter of next year at the Hospital of the University of Pennsylvania, US.
SynKIR-110 is the first product of the company to utilise the KIR-CAR platform.
A dual-chain CAR T cell therapy, the KIR-CAR platform showed to preserve antitumor T-cell activity in challenging solid tumour environments in preclinical models.
This trial is said to be the first human trial of SynKIR T cells, a next-generation approach to cell therapy for addressing solid tumours, leveraging the KIR-CAR platform. 
The multi-chain KIR-CAR construct of these cells lowers the exhaustion of T cells via a natural on-and-off switch that permits the cells to rest when not attached to the tumour.
It also boosts surface stability to enhance the cells' performance in the solid tumour microenvironment.
Verismo Therapeutics CEO Dr Bryan Kim said: "Pre-clinical data have shown enhanced efficacy in murine models with no additional safety concerns.
"The FDA's clearance of our SynKIR-110 IND represents a new chapter for Verismo as we initiate the first-ever clinical trial for KIR-CAR T cells.
"It also validates the years of innovative research and hard work by industry pioneers at Penn and the Verismo team."
Cell & Gene Therapy coverage on Clinical Trials Arena is supported by Cytiva.
Editorial content is independently produced and follows the highest standards of journalistic integrity. Topic sponsors are not involved in the creation of editorial content.
Free Whitepaper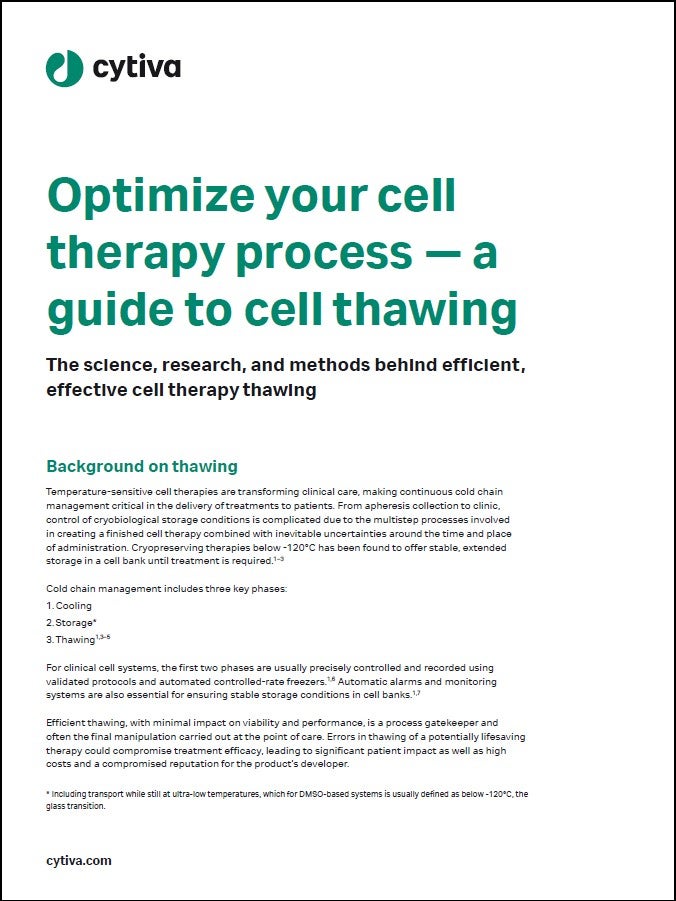 Optimise your cell therapy process: a guide to cell thawing
Typically carried out at the point of care, errors in cell therapy thawing could compromise treatment efficacy, leading to significant patient impact as well as high costs and a compromised reputation for the product's developer. This guide addresses how cell thawing has historically developed into the new techniques used today, along with the physical and biological implications of key metrics and components such as warming rate and ice structure. Also included are reviews of key studies from scientific literature and a consideration of the interactions between cooling and warming rates, as applicable to cell and gene therapies.
by Cytiva Thematic
By clicking the Download Free Whitepaper button, you accept the terms and conditions and acknowledge that your data will be used as described in the Cytiva Thematic privacy policy By downloading this Whitepaper, you acknowledge that we may share your information with our white paper partners/sponsors who may contact you directly with information on their products and services.

Visit our privacy policy for more information about our services, how we may use, process and share your personal data, including information on your rights in respect of your personal data and how you can unsubscribe from future marketing communications. Our services are intended for corporate subscribers and you warrant that the email address submitted is your corporate email address.