Viridian Therapeutics has received clearance from the US Food and Drug Administration (FDA) to commence a Phase I clinical trial of its antibody VRDN-002 to treat thyroid eye disease (TED).
Free Case Study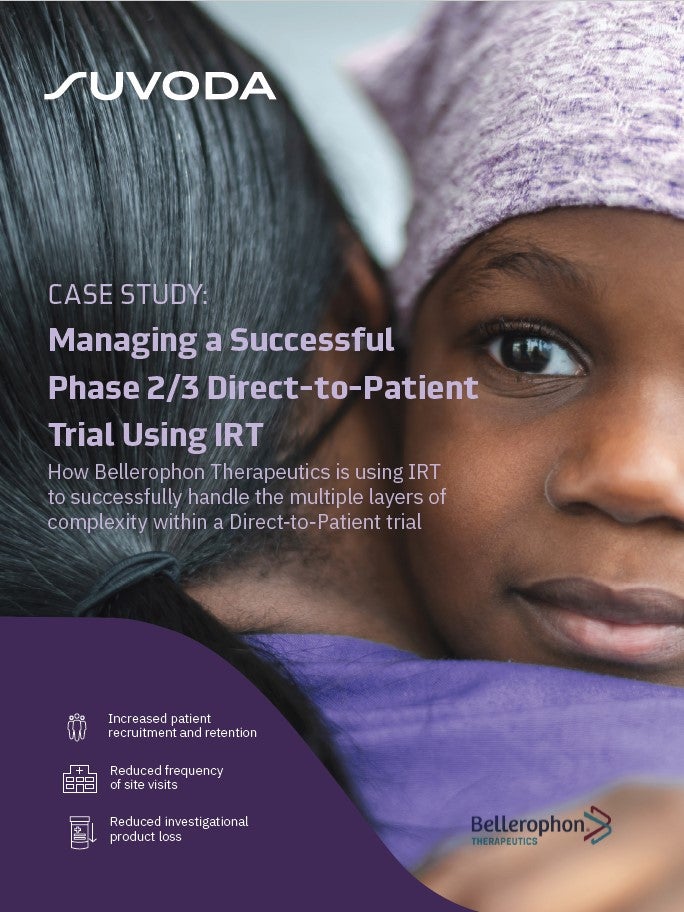 Direct-to-Patient Trials: How IRT Plays an Important Role in Bellerophon's Direct-to-Patient Trials
As the industry strengthens its focus on patient centricity, Direct-to-Patient clinical trials have emerged as a popular trial design that have the potential to increase patient recruitment and retention. IRT plays a crucial role in the success of a Direct-to-Patient trial. Because drug supplies are being managed and shipped from distribution facilities directly to patients' homes, a sponsor must have a high-quality system in place to accurately track the chain of custody, ensure patient-blinding and handle other logistical challenges. What You Will Learn Benefits and challenges associated with the Direct-to-Patient model Bellerophon's top considerations when implementing this trial design How IRT can equip study teams to successfully track chain of custody, ensure patient blinding, and handle logistical challenges
by Suvoda
Viridian anticipates results from the trial in the middle of this year.
VRDN-002 is an insulin-like growth factor 1 receptor (IGF-1R) humanised monoclonal antibody.
It incorporates half-life extension technology to facilitate administration as a low-volume subcutaneous (SC) injection to treat TED.
The company had filed the IND application with the FDA for VRDN-002 in December last year.
The first-in-human, single ascending dose trial will analyse the safety, tolerability, pharmacokinetics and pharmacodynamics of intravenous doses of VRDN-002 in healthy subjects.
The company will provide information on the feasibility of a low-volume and/or low-frequency SC dosing regimen of the antibody in individuals with TED.
Viridian Therapeutics president and CEO Jonathan Violin said: "We believe the incorporation of half-life extension technology into VRDN-002 may enable a differentiated, low volume subcutaneous injection, offering TED patients improved convenience and broader settings of care.
"This IND acceptance is the first of multiple regulatory, clinical, and operational milestones expected in 2022, including top-line data from our VRDN-001 Phase I/II proof of concept trial in the second quarter of 2022, and top-line data from our VRDN-002 Phase I trial in mid-2022."
Apart from VRDN-002, the company has another differentiated targeting IGF-1R monoclonal antibody, VRDN-001.
A debilitating autoimmune disease, TED leads to inflammation and fibrosis within the orbit of the eye. This could cause double vision, pain and potentially blindness.
Several remedial surgical procedures to the orbit, eye muscles and eyelids are frequently needed for individuals with severe disease.
Free Case Study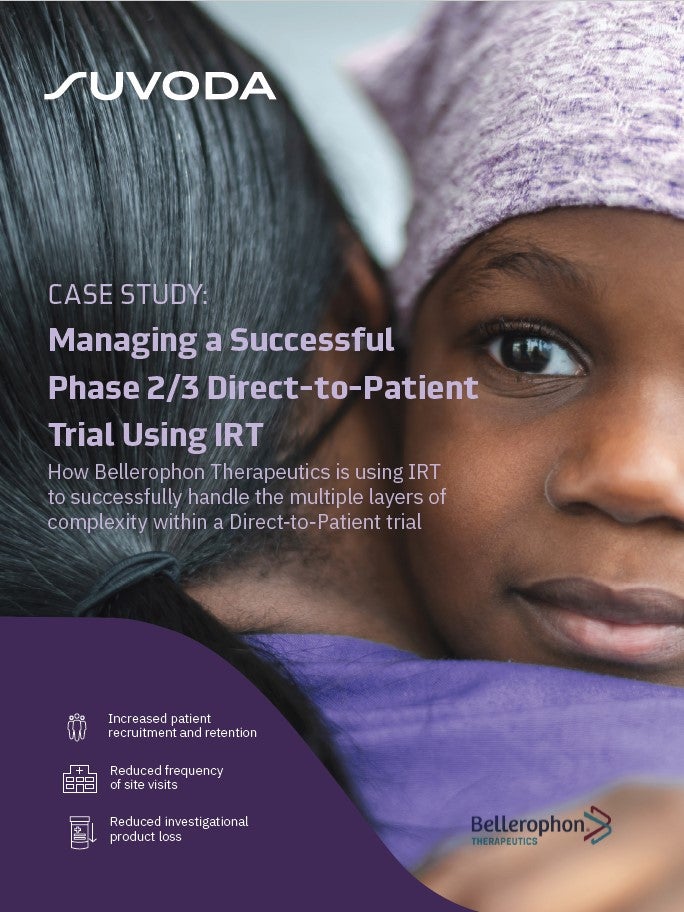 Direct-to-Patient Trials: How IRT Plays an Important Role in Bellerophon's Direct-to-Patient Trials
As the industry strengthens its focus on patient centricity, Direct-to-Patient clinical trials have emerged as a popular trial design that have the potential to increase patient recruitment and retention. IRT plays a crucial role in the success of a Direct-to-Patient trial. Because drug supplies are being managed and shipped from distribution facilities directly to patients' homes, a sponsor must have a high-quality system in place to accurately track the chain of custody, ensure patient-blinding and handle other logistical challenges. What You Will Learn Benefits and challenges associated with the Direct-to-Patient model Bellerophon's top considerations when implementing this trial design How IRT can equip study teams to successfully track chain of custody, ensure patient blinding, and handle logistical challenges
by Suvoda