FibroGen has started patient enrolment for a Phase II/III clinical trial of pamrevlumab for the treatment of severe Covid-19 infection in Italy.
Free Case Study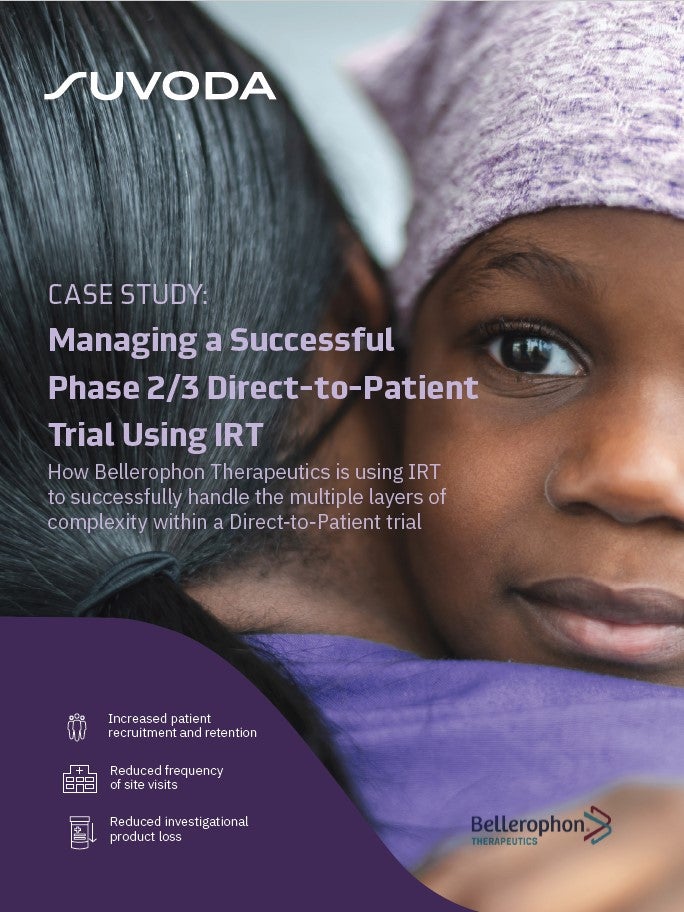 Direct-to-Patient Trials: How IRT Plays an Important Role in Bellerophon's Direct-to-Patient Trials
As the industry strengthens its focus on patient centricity, Direct-to-Patient clinical trials have emerged as a popular trial design that have the potential to increase patient recruitment and retention. IRT plays a crucial role in the success of a Direct-to-Patient trial. Because drug supplies are being managed and shipped from distribution facilities directly to patients' homes, a sponsor must have a high-quality system in place to accurately track the chain of custody, ensure patient-blinding and handle other logistical challenges. What You Will Learn Benefits and challenges associated with the Direct-to-Patient model Bellerophon's top considerations when implementing this trial design How IRT can equip study teams to successfully track chain of custody, ensure patient blinding, and handle logistical challenges
by Suvoda
Pamrevlumab is an antibody designed to block the activity of connective tissue growth factor (CTGF), which is associated with fibrotic and proliferative diseases with persistent and excessive scarring that can cause organ dysfunction and failure.
The drug is in Phase III development to treat idiopathic pulmonary fibrosis (IPF) and locally advanced unresectable pancreatic cancer (LAPC), and in Phase II development for Duchenne muscular dystrophy (DMD) and Covid-19.
FibroGen Clinical Development, Drug Safety, and Pharmacovigilance senior vice-president Elias Kouchakji said: "Connective tissue growth factor (CTGF) may promote vascular leakage and lead to pulmonary edema.
"Administration of pamrevlumab, an anti-CTGF monoclonal antibody, may reverse this edema, and thus improve oxygenation in patients with Covid-19-induced pneumonia."
The open-label, randomised, parallel-arm Phase II/III BOREA trial will assess the safety and efficacy of the drug in about 68 patients. Participants will be given pamrevlumab or standard of care.
The primary objective of the trial is the effect of the drug on blood oxygenation in patients.
The study will evaluate the drug's impact on patient time to and on ventilatory support, along with its potential to decrease mortality and fibrotic sequelae in the lung.
FibroGen also announced plans to launch two separate randomised, double-blind, placebo-controlled Phase II studies of the drug in patients with severe Covid-19 in the US.
The US Food and Drug Administration (FDA) approved the first trial to evaluate the safety and efficacy of pamrevlumab in about 130 hospitalised patients in the acute setting.
Meanwhile, the second trial is under discussion with the FDA and is intended to assess the longer term safety and efficacy of the drug in patients who recovered or are recovering from Covid-19 with evidence of interstitial lung disease.
Free Case Study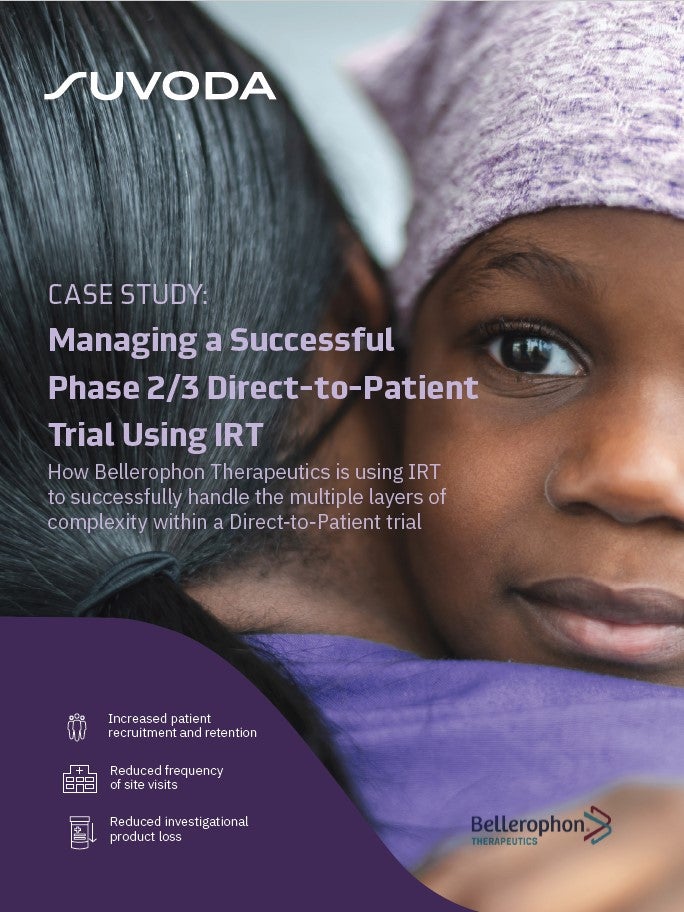 Direct-to-Patient Trials: How IRT Plays an Important Role in Bellerophon's Direct-to-Patient Trials
As the industry strengthens its focus on patient centricity, Direct-to-Patient clinical trials have emerged as a popular trial design that have the potential to increase patient recruitment and retention. IRT plays a crucial role in the success of a Direct-to-Patient trial. Because drug supplies are being managed and shipped from distribution facilities directly to patients' homes, a sponsor must have a high-quality system in place to accurately track the chain of custody, ensure patient-blinding and handle other logistical challenges. What You Will Learn Benefits and challenges associated with the Direct-to-Patient model Bellerophon's top considerations when implementing this trial design How IRT can equip study teams to successfully track chain of custody, ensure patient blinding, and handle logistical challenges
by Suvoda