Fujifilm Toyama Chemical has announced plans to terminate subject enrolment in the Phase III clinical trial of Avigan tablet (favipiravir) for treating Covid-19 patients in Japan. 
Free Case Study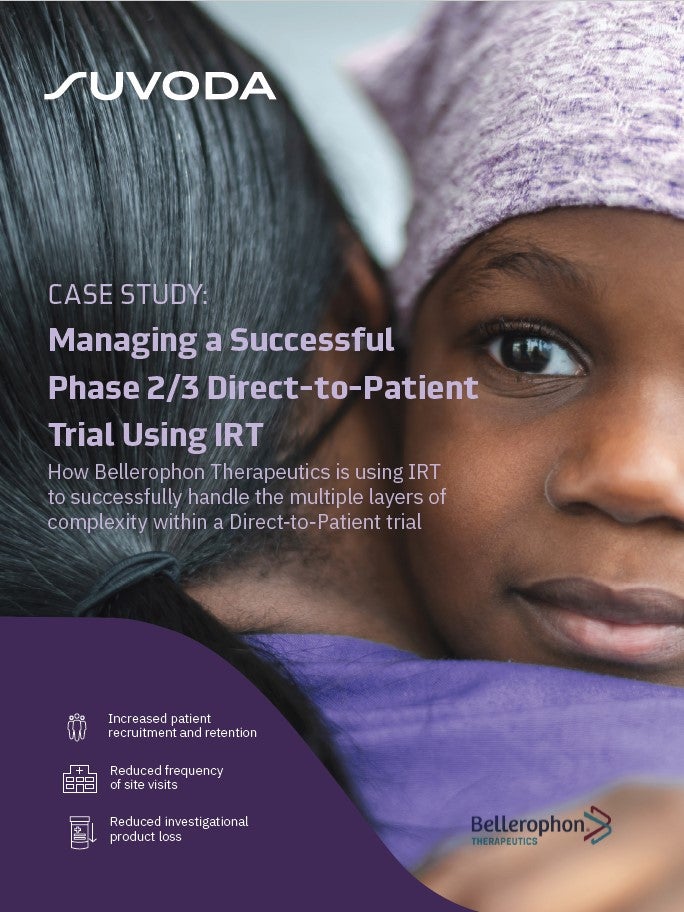 Direct-to-Patient Trials: How IRT Plays an Important Role in Bellerophon's Direct-to-Patient Trials
As the industry strengthens its focus on patient centricity, Direct-to-Patient clinical trials have emerged as a popular trial design that have the potential to increase patient recruitment and retention. IRT plays a crucial role in the success of a Direct-to-Patient trial. Because drug supplies are being managed and shipped from distribution facilities directly to patients' homes, a sponsor must have a high-quality system in place to accurately track the chain of custody, ensure patient-blinding and handle other logistical challenges. What You Will Learn Benefits and challenges associated with the Direct-to-Patient model Bellerophon's top considerations when implementing this trial design How IRT can equip study teams to successfully track chain of custody, ensure patient blinding, and handle logistical challenges
by Suvoda
Enrolment of early-onset Covid-19 patients with disease progression risk is currently underway in the trial. Fujifilm intends to halt subject enrolment by the end of this month.
The company attributed the termination of new subject enrolment to the spread of the Omicron variant of the SARS-CoV-2 virus. 
The company noted that even if trials progressed according to the existing trial protocol, it would be hard to establish the efficacy of Avigan in preventing symptoms from becoming severe and continuing the placebo control trial would not benefit trial participants.
The double-blind, placebo-controlled trial is analysing the efficacy of Avigan to avert progression to severe disease in individuals infected with Covid-19.
The ratio of subjects whose symptoms became severe will be the primary endpoint of the trial.
Compared to other viral strains, Omicron has reduced rates of symptom severity and most of the patients being enrolled in the trial were infected by this strain.
In accordance with the trial protocol, the clinical data of the subjects enrolled in the trial will be evaluated in the future.
To date, serious adverse events that are directly linked to the investigational drug were not observed in the trial.
In April last year, Fujifilm started the Phase III trial of Avigan tablet in Japan for the treatment of Covid-19 patients.
An anti-influenza drug, Avigan received domestic manufacturing and marketing approval in the country in 2014 for treating infection caused by new or re-emerging influenza viruses.
Free Case Study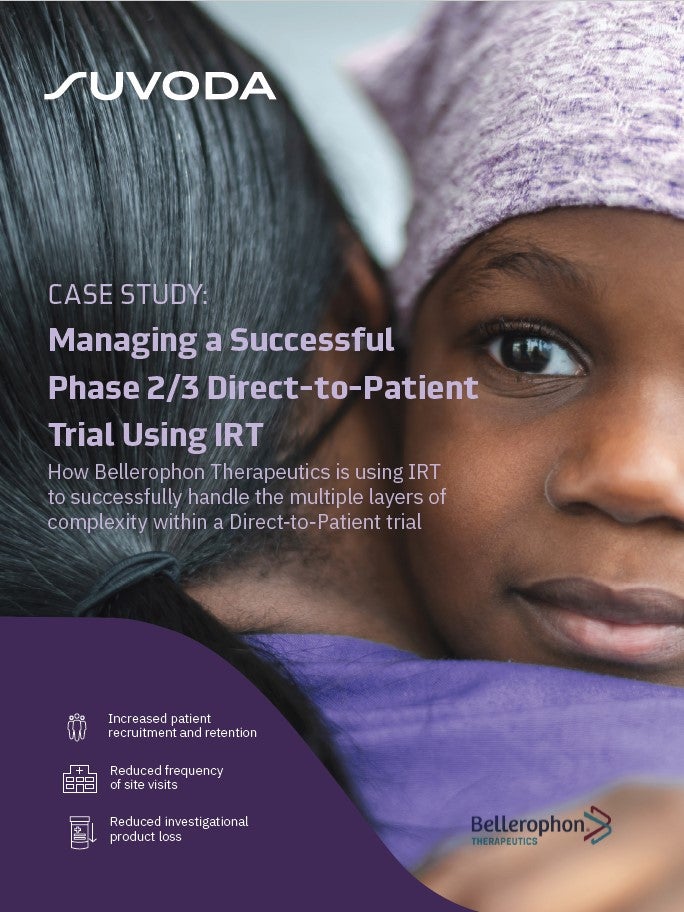 Direct-to-Patient Trials: How IRT Plays an Important Role in Bellerophon's Direct-to-Patient Trials
As the industry strengthens its focus on patient centricity, Direct-to-Patient clinical trials have emerged as a popular trial design that have the potential to increase patient recruitment and retention. IRT plays a crucial role in the success of a Direct-to-Patient trial. Because drug supplies are being managed and shipped from distribution facilities directly to patients' homes, a sponsor must have a high-quality system in place to accurately track the chain of custody, ensure patient-blinding and handle other logistical challenges. What You Will Learn Benefits and challenges associated with the Direct-to-Patient model Bellerophon's top considerations when implementing this trial design How IRT can equip study teams to successfully track chain of custody, ensure patient blinding, and handle logistical challenges
by Suvoda