Fulcrum Therapeutics has received the US Food and Drug Administration (FDA ) authorisation to conduct a Phase III clinical trial of its muscle disorder drug, losmapimod, to treat hospitalised Covid-19 patients at higher risk.
Free Case Study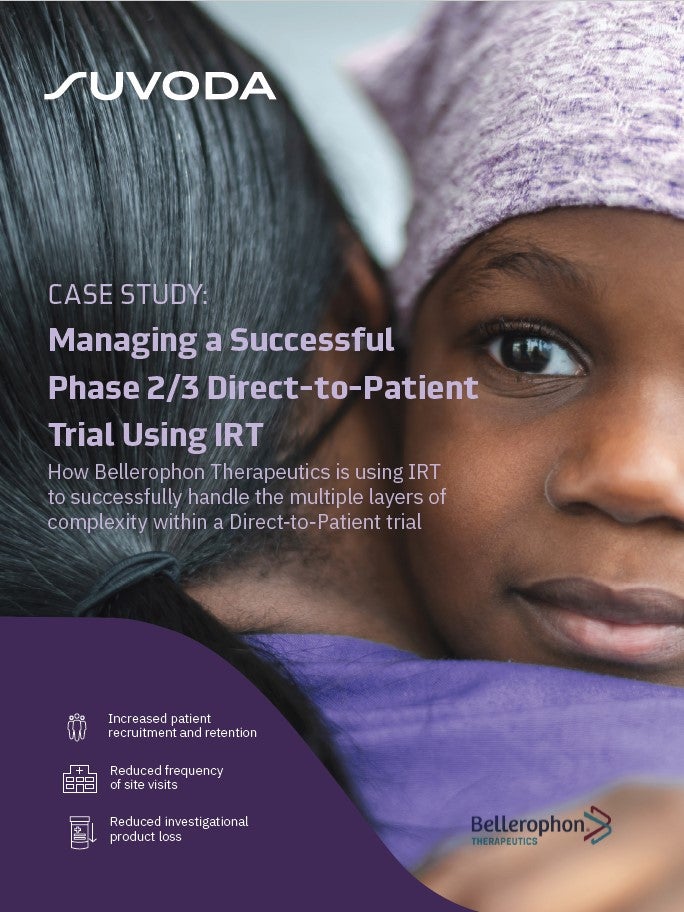 Direct-to-Patient Trials: How IRT Plays an Important Role in Bellerophon's Direct-to-Patient Trials
As the industry strengthens its focus on patient centricity, Direct-to-Patient clinical trials have emerged as a popular trial design that have the potential to increase patient recruitment and retention. IRT plays a crucial role in the success of a Direct-to-Patient trial. Because drug supplies are being managed and shipped from distribution facilities directly to patients' homes, a sponsor must have a high-quality system in place to accurately track the chain of custody, ensure patient-blinding and handle other logistical challenges. What You Will Learn Benefits and challenges associated with the Direct-to-Patient model Bellerophon's top considerations when implementing this trial design How IRT can equip study teams to successfully track chain of custody, ensure patient blinding, and handle logistical challenges
by Suvoda
Losmapimod is an oral, selective inhibitor of p38α/β mitogen activated protein kinase (MAPK), which is known to be a mediator of acute response to stress, including acute inflammation.
Fulcrum exclusively licensed the drug from GlaxoSmithKline (GSK ). Currently, the drug is being developed for the treatment of facioscapulohumeral muscular dystrophy (FSHD).
Based on the mechanism of action and data from preclinical and clinical studies, losmapimo's inhibition of the p38 MAPK pathway is expected to help treat Covid-19 via decrease in the exaggerated pro-inflammatory responses to the disease.
The drug is also expected to restore the antigen-specific immune responses, which are required for viral clearance and potentially improve clinical outcomes.
Named LOSVID, the new international, multi-centre Phase III Covid-19 study will evaluate the safety and efficacy of 15mg twice daily oral losmapimod given for 14 days, along with standard of care.
The trial will enrol about 400 hospitalised adults who are at risk of progression to critical illness depending on older age and higher systemic inflammation.
Primary endpoint of the study is the proportion of patients progressing to death or respiratory failure by day 28.
Meanwhile, secondary endpoints include clinical status on days seven and 14, total number of study days free of oxygen supplementation, all-cause mortality, duration of hospitalisation and ICU stay, adverse events and viral clearance.
Fulcrum Therapeutics president and CEO Robert Gould said: "We have several anticipated upcoming data readouts in the next six to 12 months from both the Covid-19 and FSHD trials and we look forward to the outcomes of these trials which will tell us more about losmapimod's impact in both these patient populations.
"Additionally, we continue our progress with FTX-6058 towards the clinic for the potential treatment of sickle cell disease."
An interim analysis of the LOSVID trial will be performed in the fourth quarter of this year, with top-line results expected in the first quarter of next year.
Free Case Study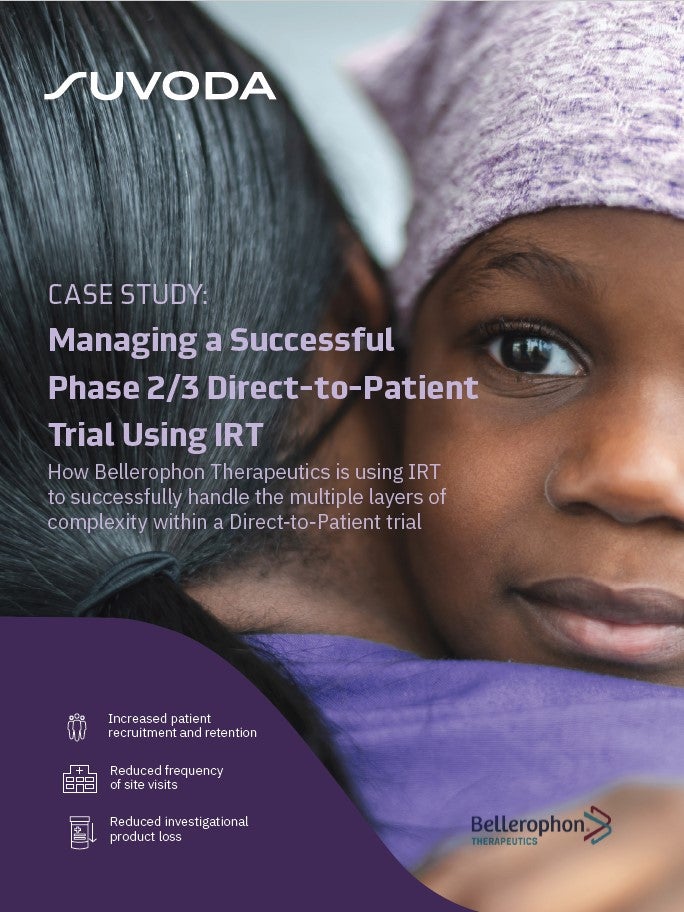 Direct-to-Patient Trials: How IRT Plays an Important Role in Bellerophon's Direct-to-Patient Trials
As the industry strengthens its focus on patient centricity, Direct-to-Patient clinical trials have emerged as a popular trial design that have the potential to increase patient recruitment and retention. IRT plays a crucial role in the success of a Direct-to-Patient trial. Because drug supplies are being managed and shipped from distribution facilities directly to patients' homes, a sponsor must have a high-quality system in place to accurately track the chain of custody, ensure patient-blinding and handle other logistical challenges. What You Will Learn Benefits and challenges associated with the Direct-to-Patient model Bellerophon's top considerations when implementing this trial design How IRT can equip study teams to successfully track chain of custody, ensure patient blinding, and handle logistical challenges
by Suvoda