The Medicines and Healthcare Products Regulatory Agency (MHRA) of the UK has approved GeneTx Biotherapeutics and Ultragenyx Pharmaceutical's clinical trial application to start Phase I/II clinical study of GTX-102 to treat Angelman syndrome in children.
Free Case Study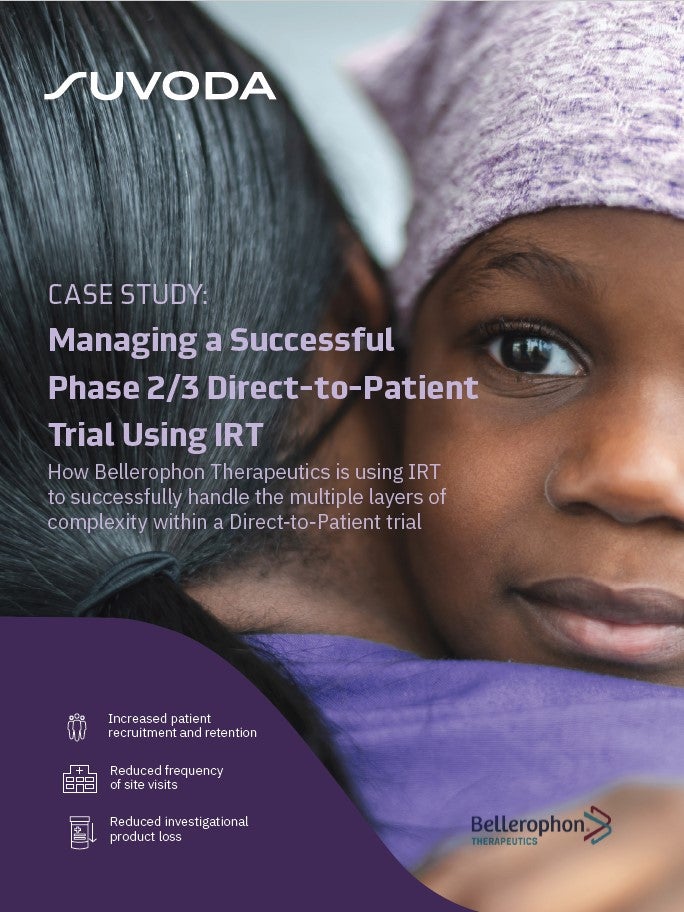 Direct-to-Patient Trials: How IRT Plays an Important Role in Bellerophon's Direct-to-Patient Trials
As the industry strengthens its focus on patient centricity, Direct-to-Patient clinical trials have emerged as a popular trial design that have the potential to increase patient recruitment and retention. IRT plays a crucial role in the success of a Direct-to-Patient trial. Because drug supplies are being managed and shipped from distribution facilities directly to patients' homes, a sponsor must have a high-quality system in place to accurately track the chain of custody, ensure patient-blinding and handle other logistical challenges. What You Will Learn Benefits and challenges associated with the Direct-to-Patient model Bellerophon's top considerations when implementing this trial design How IRT can equip study teams to successfully track chain of custody, ensure patient blinding, and handle logistical challenges
by Suvoda
Angelman syndrome is a neurogenetic disease that develops due to loss-of-function of the maternally inherited allele of the UBE3A gene.
An investigational antisense oligonucleotide, GTX-102 targets and blocks UBE3A-AS expression. In non-clinical studies, GTX-102 decreased UBE3A-AS levels and reactivated the expression of the paternal UBE3A allele in neurons of the CNS.
The US Food and Drug Administration (FDA) granted rare pediatric disease designation, orphan drug designation and fast track designation for the therapeutic candidate.
The UK MHRA approval follows the receipt of clearance to enrol patients for the Phase I/II study in Canada.
Patient enrolment in the UK and Canada is expected to commence in the coming months and some patients' clinical data is anticipated to be available before the year-end.
The open-label, multiple-dose, dose-escalating trial will assess the tolerability, safety, plasma and cerebrospinal fluid concentrations of GTX-102 in paediatric patients with Angelman syndrome.
It will involve patients with a genetically confirmed full maternal UBE3A gene deletion.
Around 12 patients will be recruited into two cohorts. Patients aged four to seven will be enrolled into Cohort 4 and eight to 17-year-olds will be part of Cohort 5.
GeneTx chief medical officer Scott Stromatt said: "GTX-102 has demonstrated clinical activity in the first five patients dosed in the study, and the modified trial design approved by the MHRA and Health Canada intends to explore the benefit of repeat doses at the lower end of the dosing range previously tested in order to help mitigate the risk for serious adverse events caused by localised inflammation."
Ultragenyx added that both the companies also discussed the Phase I/II trial of GTX-102 with the FDA.
Following the meeting, GeneTx is planning to submit a revised protocol to FDA to potentially resume the study in the US.
Free Case Study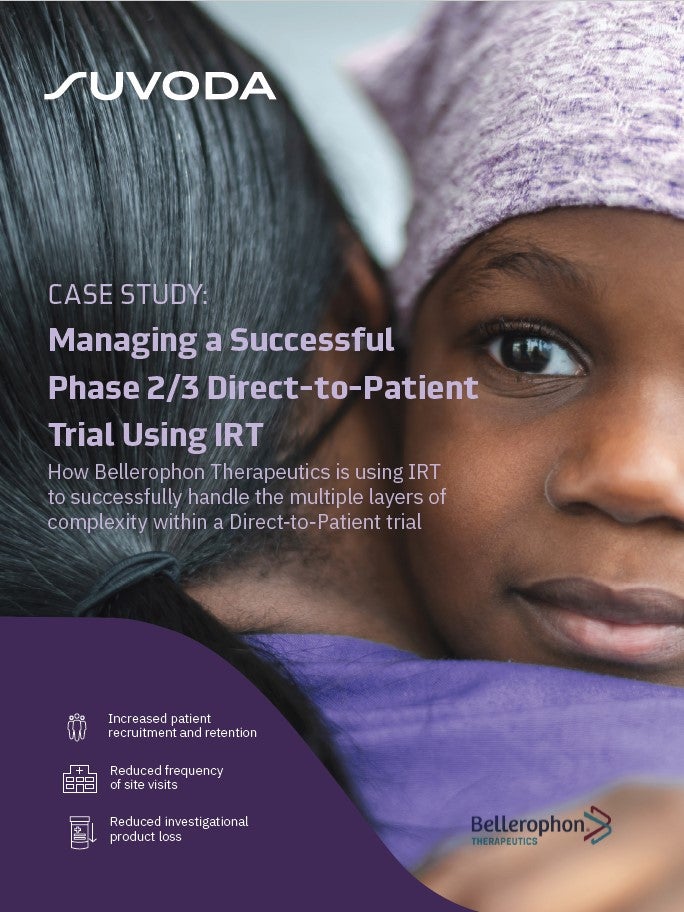 Direct-to-Patient Trials: How IRT Plays an Important Role in Bellerophon's Direct-to-Patient Trials
As the industry strengthens its focus on patient centricity, Direct-to-Patient clinical trials have emerged as a popular trial design that have the potential to increase patient recruitment and retention. IRT plays a crucial role in the success of a Direct-to-Patient trial. Because drug supplies are being managed and shipped from distribution facilities directly to patients' homes, a sponsor must have a high-quality system in place to accurately track the chain of custody, ensure patient-blinding and handle other logistical challenges. What You Will Learn Benefits and challenges associated with the Direct-to-Patient model Bellerophon's top considerations when implementing this trial design How IRT can equip study teams to successfully track chain of custody, ensure patient blinding, and handle logistical challenges
by Suvoda