GenSight Biologics has reported that results from the Phase I/IIa REVEAL clinical trial of LUMEVOQ (lenadogene nolparvovec) gene therapy demonstrated a favourable safety profile in individuals with ND4 Leber hereditary optic neuropathy (LHON).
The trial also determined the dose used in the Phase III RESCUE and REVERSE trials.
Launched in 2014, the open-label, single-centre, dose escalation study analysed the safety and tolerability of LUMEVOQ in 15 participants with ND4 LHON who were followed for up to five years after administering a single intravitreal injection to their worst-affected eye.
Participants were enrolled in four cohorts of three subjects each, with each cohort given increasing doses of the gene therapy.
Dose escalation continued only after a safety evaluation by an independent data safety monitoring board (DSMB). A final extension cohort received the dose that the DSMB determined to have the best benefit-risk ratio among those administered to the four previous cohorts.
Data showed that LUMEVOQ was well-tolerated over the follow-up period of five years, with no serious adverse events noted.
These results are the first to show the favourable safety profile of the gene therapy while hinting at the efficacy analysed in the Phase III trials.
This safety profile was then affirmed in the Phase III RESCUE and REVERSE trials.
GenSight co-founder Dr José-Alain Sahel said: "This study confirms the gene therapy's favourable long-term safety and further demonstrates that the trends that were initially observed have been maintained for at least five years."
The company noted that REVEAL trial data and analyses were main components of the evidence package submitted to the European Medicines Agency (EMA) last September.
The submission was made seeking Marketing Authorisation Application (MAA) for LUMEVOQ for treating patients with visual loss due to ND4 LHON. The EMA decision is expected in the fourth quarter of this year.
Cell & Gene Therapy Coverage on Clinical Trials Arena supported by Cytiva.
Editorial content is independently produced and follows the highest standards of journalistic integrity. Topic sponsors are not involved in the creation of editorial content.
Free Whitepaper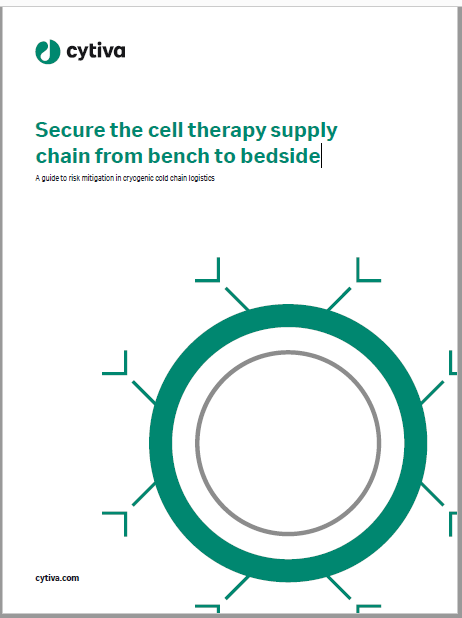 Secure the cell therapy supply chain from bench to bedside
The development of cell therapies is changing healthcare, delivering new hope to thousands of patients around the world. The vein-to-vein workflow for these therapies, however, is not without challenges, many of which will increase as we scale up to treat more patients. Download this free guide from Cytiva to learn more about the challenges and risks associated with the cryogenic supply chain for cell therapies, and how supply chain disruptions can best be mitigated.
by Cytiva Thematic
By clicking the Download Free Whitepaper button, you accept the terms and conditions and acknowledge that your data will be used as described in the Cytiva Thematic privacy policy

By downloading this Whitepaper, you acknowledge that we may share your information with our white paper partners/sponsors who may contact you directly with information on their products and services.

Visit our privacy policy for more information about our services, how we may use, process and share your personal data, including information on your rights in respect of your personal data and how you can unsubscribe from future marketing communications. Our services are intended for corporate subscribers and you warrant that the email address submitted is your corporate email address.