Gilead Sciences and Everest Medicines have jointly reported that sacituzumab govitecan met the primary goal of overall response rate (ORR ) in the Phase IIb EVER-132-001 clinical trial of metastatic triple-negative breast cancer (TNBC) patients.
Free Case Study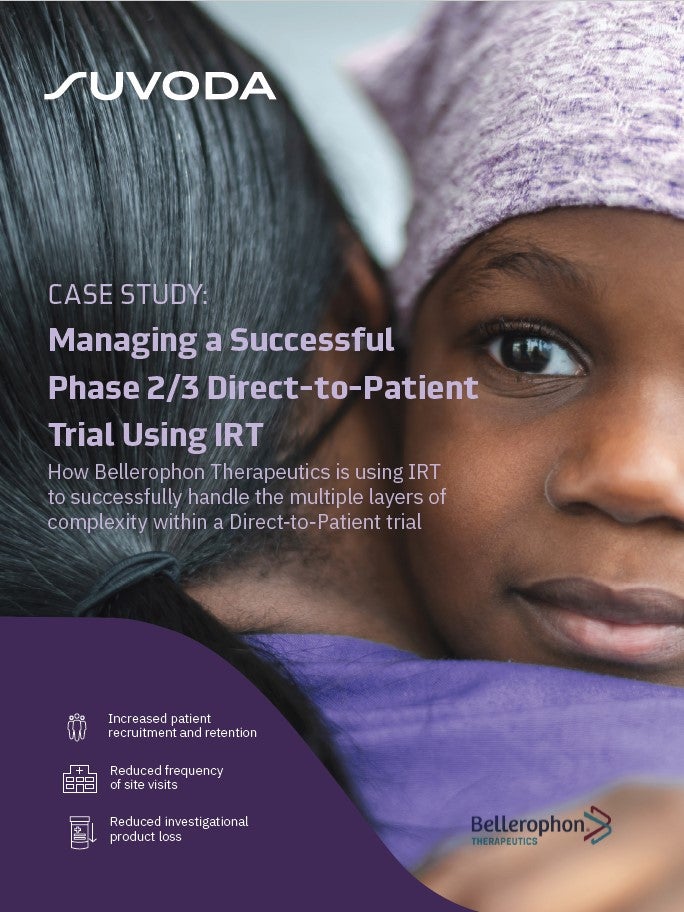 Direct-to-Patient Trials: How IRT Plays an Important Role in Bellerophon's Direct-to-Patient Trials
As the industry strengthens its focus on patient centricity, Direct-to-Patient clinical trials have emerged as a popular trial design that have the potential to increase patient recruitment and retention. IRT plays a crucial role in the success of a Direct-to-Patient trial. Because drug supplies are being managed and shipped from distribution facilities directly to patients' homes, a sponsor must have a high-quality system in place to accurately track the chain of custody, ensure patient-blinding and handle other logistical challenges. What You Will Learn Benefits and challenges associated with the Direct-to-Patient model Bellerophon's top considerations when implementing this trial design How IRT can equip study teams to successfully track chain of custody, ensure patient blinding, and handle logistical challenges
by Suvoda
Marketed in the US as Trodelvy, sacituzumab govitecan is an antibody and topoisomerase inhibitor conjugate that acts on the Trop-2 receptor.
Under a licensing deal with Gilead, Everest holds exclusive rights to develop and market the drug for various cancers in Greater China, South Korea and some nations in South-East Asia.
The multicentre, single arm, registrational trial is analysing sacituzumab govitecan in a total of 80 adult subjects with unresectable locally advanced or metastatic TNBC in China.
These patients were already treated with two or more previous systemic therapies, at least one for metastatic disease.
Findings showed that ORR was 38.8%, as assessed by an Independent Review Committee.
The safety profile of the drug was also in line with previously reported trials without any novel safety signals detected.
Gilead noted that the latest data was consistent with findings observed in the international Phase III ASCENT trial.
Everest Medicines Oncology chief medical officer Yang Shi said: "These topline results confirm that sacituzumab govitecan has the potential to help change the treatment outlook for people in China living with mTNBC.
"These data, along with the benefit seen in the global ASCENT study, support its potential as a novel treatment for patients who currently have extremely limited options."
Last month, Gilead and Merck (MSD) entered a clinical trial partnership and supply agreement to evaluate the efficacy of Trodelvy, along with the latter's Keytruda (pembrolizumab) for TNBC treatment.
The companies will analyse the combination as first-line therapy to treat locally advanced or metastatic TNBC patients.
Free Case Study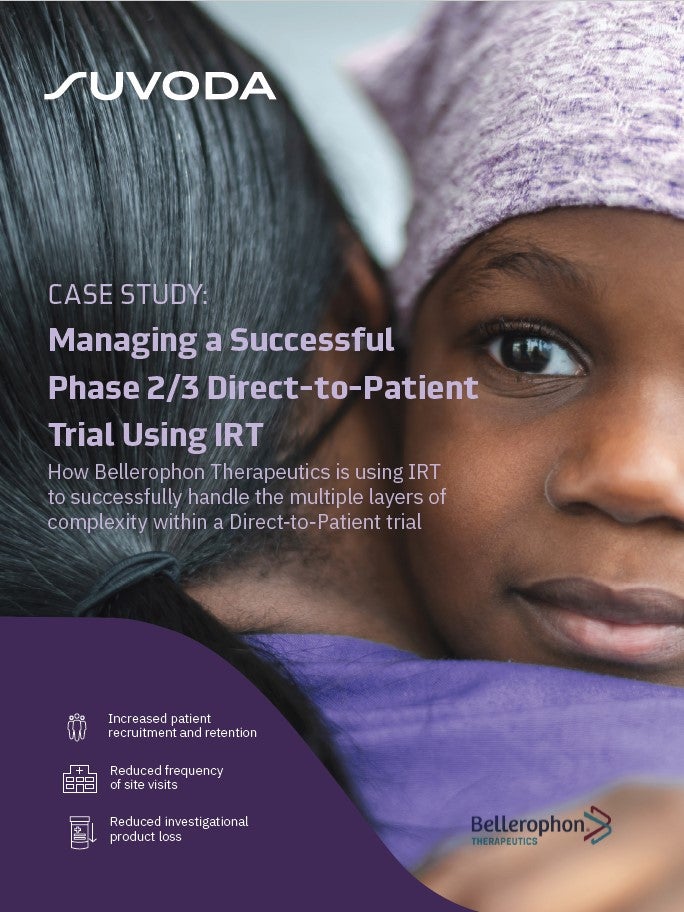 Direct-to-Patient Trials: How IRT Plays an Important Role in Bellerophon's Direct-to-Patient Trials
As the industry strengthens its focus on patient centricity, Direct-to-Patient clinical trials have emerged as a popular trial design that have the potential to increase patient recruitment and retention. IRT plays a crucial role in the success of a Direct-to-Patient trial. Because drug supplies are being managed and shipped from distribution facilities directly to patients' homes, a sponsor must have a high-quality system in place to accurately track the chain of custody, ensure patient-blinding and handle other logistical challenges. What You Will Learn Benefits and challenges associated with the Direct-to-Patient model Bellerophon's top considerations when implementing this trial design How IRT can equip study teams to successfully track chain of custody, ensure patient blinding, and handle logistical challenges
by Suvoda