Top-line data reported by Gilead Sciences has revealed that the Phase II Atlas clinical trial of cilofexor, firsocostat and selonsertib did not meet the primary endpoint in nonalcoholic steatohepatitis (NASH) patients with bridging fibrosis (F3) and compensated cirrhosis (F4).
Free Case Study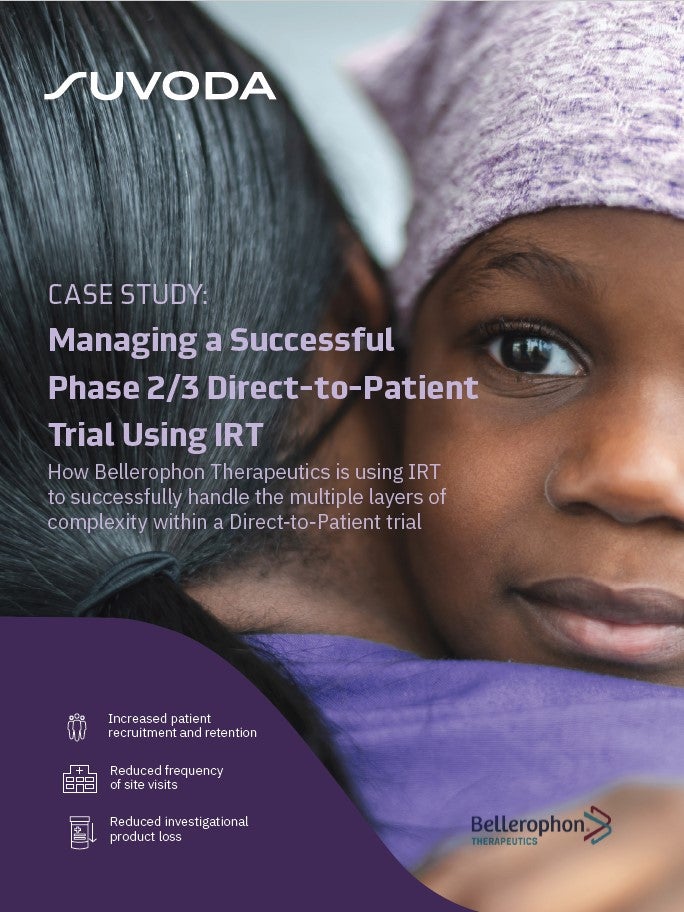 Direct-to-Patient Trials: How IRT Plays an Important Role in Bellerophon's Direct-to-Patient Trials
As the industry strengthens its focus on patient centricity, Direct-to-Patient clinical trials have emerged as a popular trial design that have the potential to increase patient recruitment and retention. IRT plays a crucial role in the success of a Direct-to-Patient trial. Because drug supplies are being managed and shipped from distribution facilities directly to patients' homes, a sponsor must have a high-quality system in place to accurately track the chain of custody, ensure patient-blinding and handle other logistical challenges. What You Will Learn Benefits and challenges associated with the Direct-to-Patient model Bellerophon's top considerations when implementing this trial design How IRT can equip study teams to successfully track chain of custody, ensure patient blinding, and handle logistical challenges
by Suvoda
The 48-week randomised, double-blind, placebo-controlled trial assessed the drugs as monotherapy and dual combination regimens in 392 patients.
Each of the drugs exhibits different mechanisms of action. Cilofexor is a nonsteroidal farnesoid X receptor (FXR) agonist, firsocostat is an acetyl-CoA carboxylase (ACC) inhibitor, and selonsertib is an apoptosis signal-regulating kinase 1 (ASK1) inhibitor.
According to the results, no regimen demonstrated a statistically significant increase in the proportion of participants with a ≥1-stage improvement in fibrosis without worsening of NASH, which was the primary efficacy endpoint of the study.
However, the firsocostat and cilofexor combination led to statistically significant improvements in various fibrosis and liver function measures compared to placebo.
In the trial, the selonsertib monotherapy group was discontinued after the termination of the STELLAR trials.
The drugs were generally well-tolerated as monotherapies and dual combination regimens in the Atlas study. The most common adverse events with firsocostat plus cilofexor were mild to moderate pruritus, headache, diarrhoea and nausea.
Gilead Sciences chief medical officer Merdad Parsey said: "NASH is a complex disease driven by multiple mechanisms. The results from the Atlas study suggest the potential for a combination therapeutic approach for patients with advanced fibrosis by targeting different aspects of this disease.
"We continue to analyse the Atlas data and will work with regulators to determine appropriate next steps for these therapies."
Gilead is also evaluating cilofexor and firsocostat in combination with Novo Nordisk's GLP-1 analogue semaglutide to treat NASH patients.
Free Case Study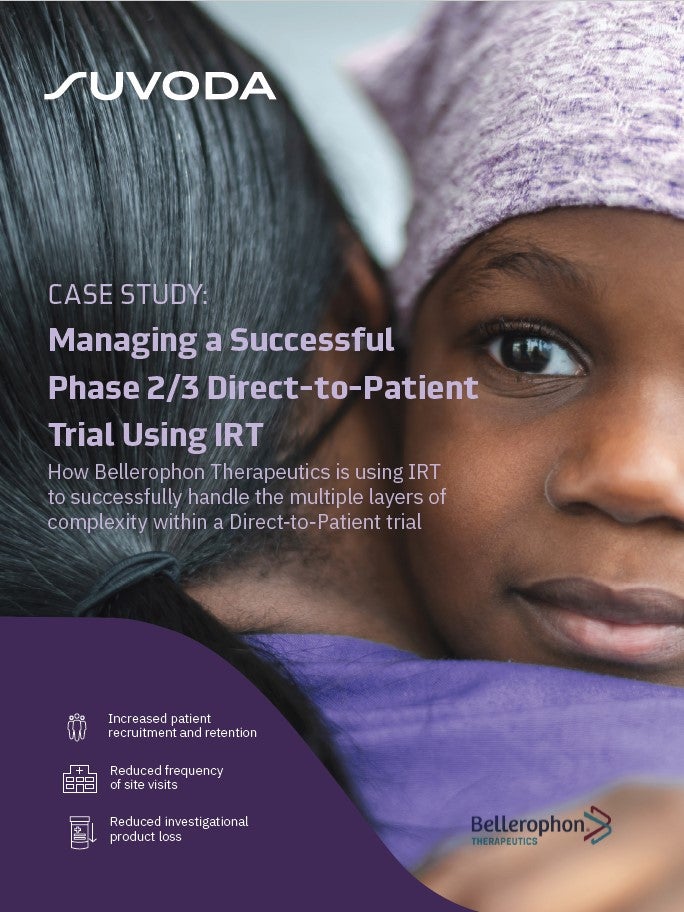 Direct-to-Patient Trials: How IRT Plays an Important Role in Bellerophon's Direct-to-Patient Trials
As the industry strengthens its focus on patient centricity, Direct-to-Patient clinical trials have emerged as a popular trial design that have the potential to increase patient recruitment and retention. IRT plays a crucial role in the success of a Direct-to-Patient trial. Because drug supplies are being managed and shipped from distribution facilities directly to patients' homes, a sponsor must have a high-quality system in place to accurately track the chain of custody, ensure patient-blinding and handle other logistical challenges. What You Will Learn Benefits and challenges associated with the Direct-to-Patient model Bellerophon's top considerations when implementing this trial design How IRT can equip study teams to successfully track chain of custody, ensure patient blinding, and handle logistical challenges
by Suvoda